Do not install radiant barrier incorrectly! Home Depot, APS, Arizona Public Service, Salt River Project, SRP, attic insulation, radient barrier, radiant barrier for attic, inergy systems, inergysystems.com, inergy systems, SP 3000, load controller, Pensar load controller, APS load controller, demand controller, inergy systems SP 3000, Electrosem, what is a load controller?, combined advantage rate, PV solar, solar systems, solar hot water,
Commercial Residential Industrial
Contact us: 602 867 3176

PROPRIETARY PATENTED SUSTAINABLE BUILDING PRODUCTS
Check out our best selling products:
Click here for solutions on how to lower your demand charges.
Building New? Remodeling? Need to turn your patio into a comfortable living space?
Make your Arizona room comfortable during the summer?
Reach out to us for advice. Call for available consultation times. 602 867 3176
Before adding more attic insulation in a hot climate: Click here
Phoenix Home Energy Audit click for special rates

This 2200 sq foot desert home in a Phoenix suburb uses less than $234 per year for heating and cooling (without solar). Our proprietary designs and systems integration allows an average of 92% of the energy used is done during less expensive off peak times.
This will insure you will have the most efficient, comfortable, safe (concrete walls), secure and healthy home from the ground up. Consultations, plan reviews, complete design and plan service now available. Call: 602-867-3176

Click here for more information on how to build the most efficient, comfortable home in a hot climate.
---
Before you consider purchasing any energy saving products, heat pumps, shade screens or attic insulation, have a BPI Certified Energy Auditor advise you on how best to achieve your goals of lower bills and increased
comfort.

Call and schedule today! 602 867 3176 or email: pleasesavenrg@gmail.com
Below is the result of one of our NRG Packages installed on a 2450 sq foot home: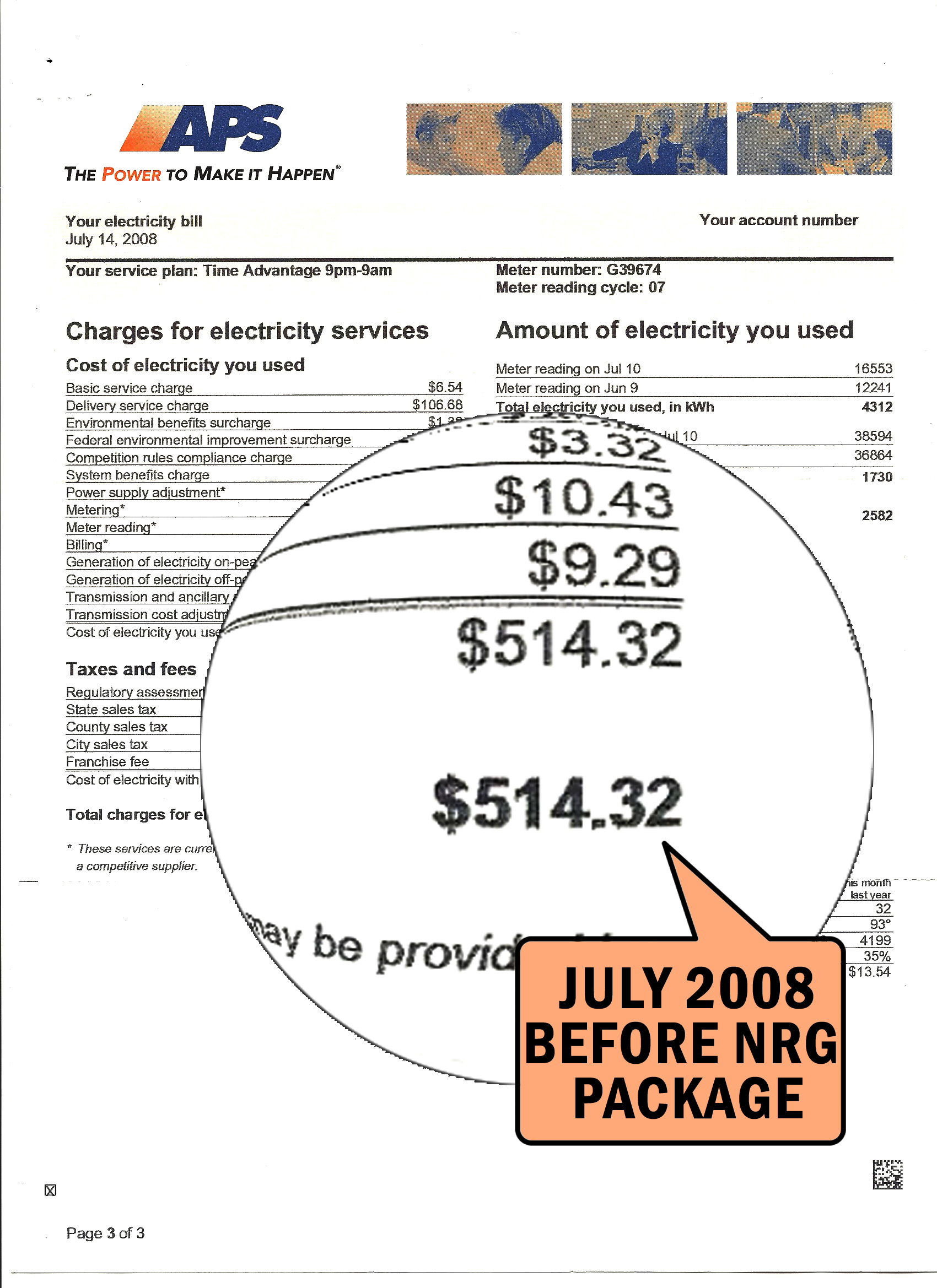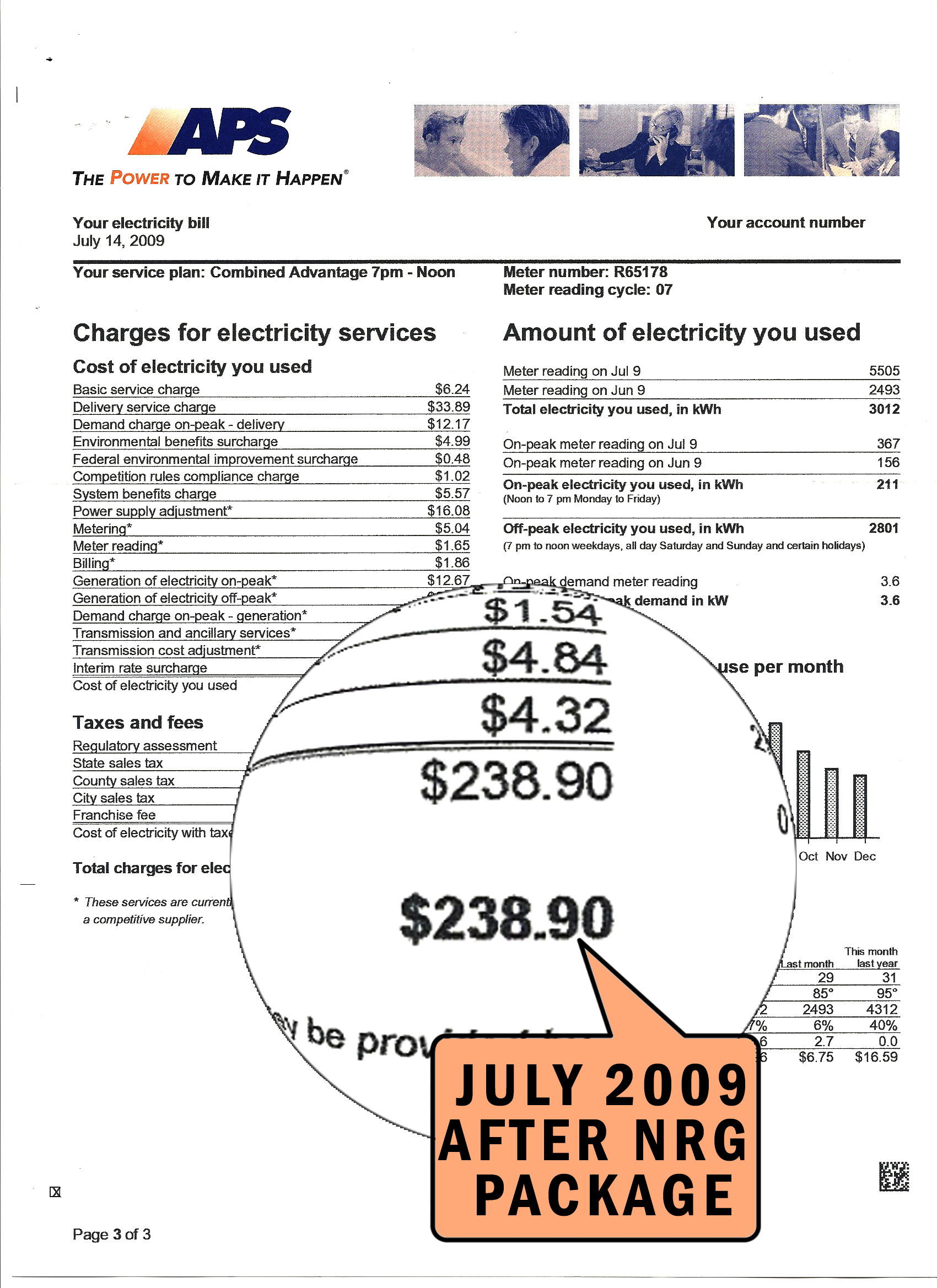 Here's an acutal bill one year after our Demand Reduction Package (DRP) on a 2450sq foot home.
Many things work in synergy to obtain these savings while at the same time making the home more comfortable than it's ever been before. Hot rooms disappear, dust is reduced and indoor air quality is improved.
This is a 2450 sq foot Phoenix home that had not only had high energy bills but even at this cost per month the a/c units ran non stop and at the peak of the summer could not cool the home below 81F. Hot rooms, high bills, blasts of hot air out of the ducts when the units started, dust problems, duct leaks are not problems, they are symptoms of existing problems. We have turn key solutions to all of these problems. It all starts with an $89 home inspection.
A BPI certified home inspector will evaluate your home, identify problems and write you a succinct proposal for the solutions.
The demand went from 12kw to 3.5kw and the comfort was significantly increased. Here's what the home owners have to say: Click here
NEW CONSTRUCTION MULTI-FAMILY
This is the Frank Luke Senior Center Phoenix Arizona 650 North 16th Street
Frank Luke under construction. Note the TCM and Diamondback stucco foam being installed.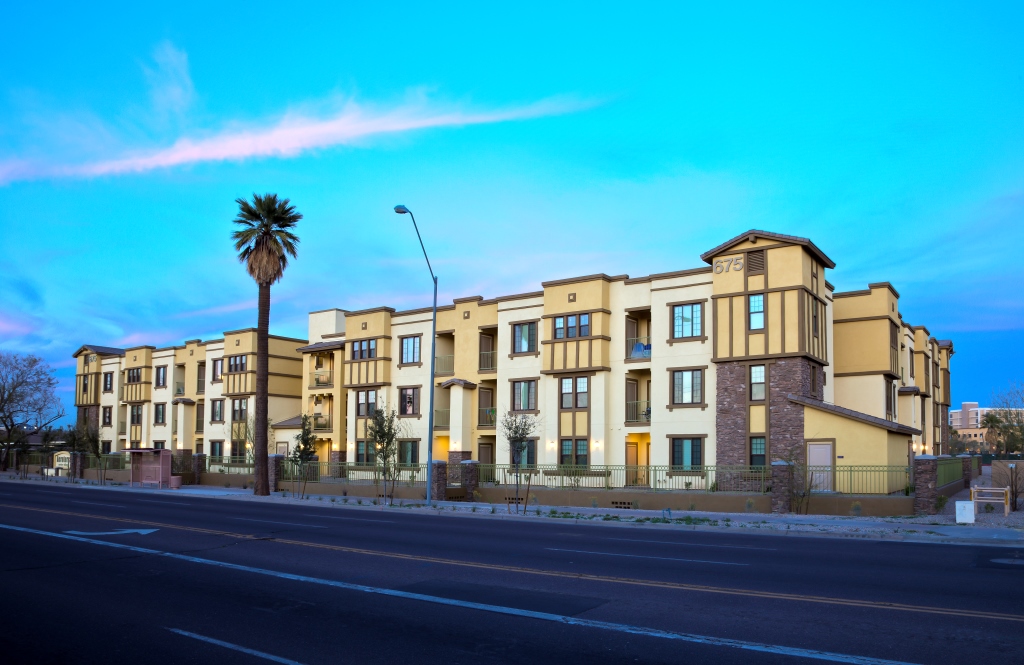 Frank Luke Completed. The most efficient multi-family building in Arizona. Archictect: Biltform.
This three story assisted care center is going to be comfortable and easy to cool due to the installation of Thermal Control Membrane and our new
Diamondback Stucco Foam product on the walls and attic. This combination effectively keeps heat from moving into or out of the building through
the walls. We used a similar system when we applied our technology to the most efficient home ever built on ABC's Extreme Makeover Home Edition.
Helpful links:
Online NRG Store | German Attic Fans | Window Tint | Heat Pumps | Phoenix Residents | Roof vents |
Duct Wrap | Duct Losses | Extreme Makeover Home Edition Project | Dealer Opportunity | Our product testing
| About us | Videos | Steel Building Insulation
Phoenix residents click here
The time has come to move quickly on making decisions to reduce our consumption of finite, fossil fuels, propagate renewable energy and
nurture our planet. All of us are caretakers and have a responsibility to make changes at every level and inculcate into our children and
others, by example, a move in this direction.
We must immediately address archaic building codes which are not climate specific and begin using available proven technologies as found
on this site. We need to move now to build more energy efficient, sustainable and comfortable homes and buildings. Our proven products
will help you meet these goals. Before building, buying or remodeling, read this web site thoroughly and please be prepared to "think outside
the box".


Now would be a good time to bookmark this site and share it with others
Our raw materials, parts, machines and innovations are proudly


Helping you conserve energy since 1978
Horizon Energy Systems

Copyright 1997-2018 all images, text and HTML copyrighted by Horizon Energy Systems.
All rights reserved and violators will be prosecuted.
Information in this document is subject to change without notice.
Other products and companies referred to herein are
trademarks or registered trademarks of their
respective companies or mark holders.