Ductless mini split, ductless ac, mini split, Home Depot, APS, SRP, Arizona Public Service Company, Salt River Project, high bills, energy conservation, duct losses, duct repair, adding more attic insulation, attic insulation, saving energy, Wal Mart

s
Ductless Mini Split Heat Pumps and Air Conditioners
What is a ductless Mini Split?
Most people are aware that our comfort comes from the vents in the ceilings or walls which bring cool air in the summer and warm air in the winter. This is done by blowing air from a central location and then distributing it throughout the house.
Blowing conditioned air through a duct system has recently come under increased scrutiny as recent testing has revealed that systems can lose 5% to 15% just in leaks and depending on the climate (sub zero winters and desert homes are the worst), thermal losses (heat loss in the winter and heat gain in the summer) can add up to 50% loss of energy from the time it leave the furnace or air conditioning coil exits the register in your room. This means on the hottest day your 4 ton unit is really only delivering 2 tons of cooling but consuming 4 tons worth of energy.
Further, the more extreme the temperature, the more losses that are incurred so when you need it the most you are getting the least. That's just basic thermodynamic principles in effect.
Mini splits do not have ducts so there are no losses due to leaks or thermal losses or gains. Every cent you spend on your comfort you are getting 100% of. Why? Systems with ducts have a centrally located large Freon evaporator coil where a large blower moves warm moist air over the coil which removes some of the heat from the air. The coil is inside of a sheet metal box which is then connected to a duct system.
There several problems with this. No matter how hot it is outside or what demand is on the system to provide comfort, the unit is running at 100% of it's capacity. And in most cases, cooling rooms that don't require comfort because there is no one in them. Mini splits or multi-splits (more than one evaporator on one condensing unit)
Even if you only need 2 tons to cool the house, your 4 or 5 ton system is cranking away using 1.6kw/ton whether it's mild outside or stifling hot.
Mini splits have "inverter technology" which is a fancy way of saying the compressors are variable speed. In many units, so are the condenser fans which raises the SEER rating a bit.
Each wall evaporator/blower is sized to create comfort room by room so you only turn on the unit where you will be occupying. In my case, I have a 1 ton heat pump mini split in my main living area and one in my master bedroom. Since I'm not in both places at the same time, only one unit is running providing cooling in the summer and heat in the winter and while doing it only consumes 700watts of power, not the 8600watts my roof top mounted 4 ton Carrier system used to use.
Images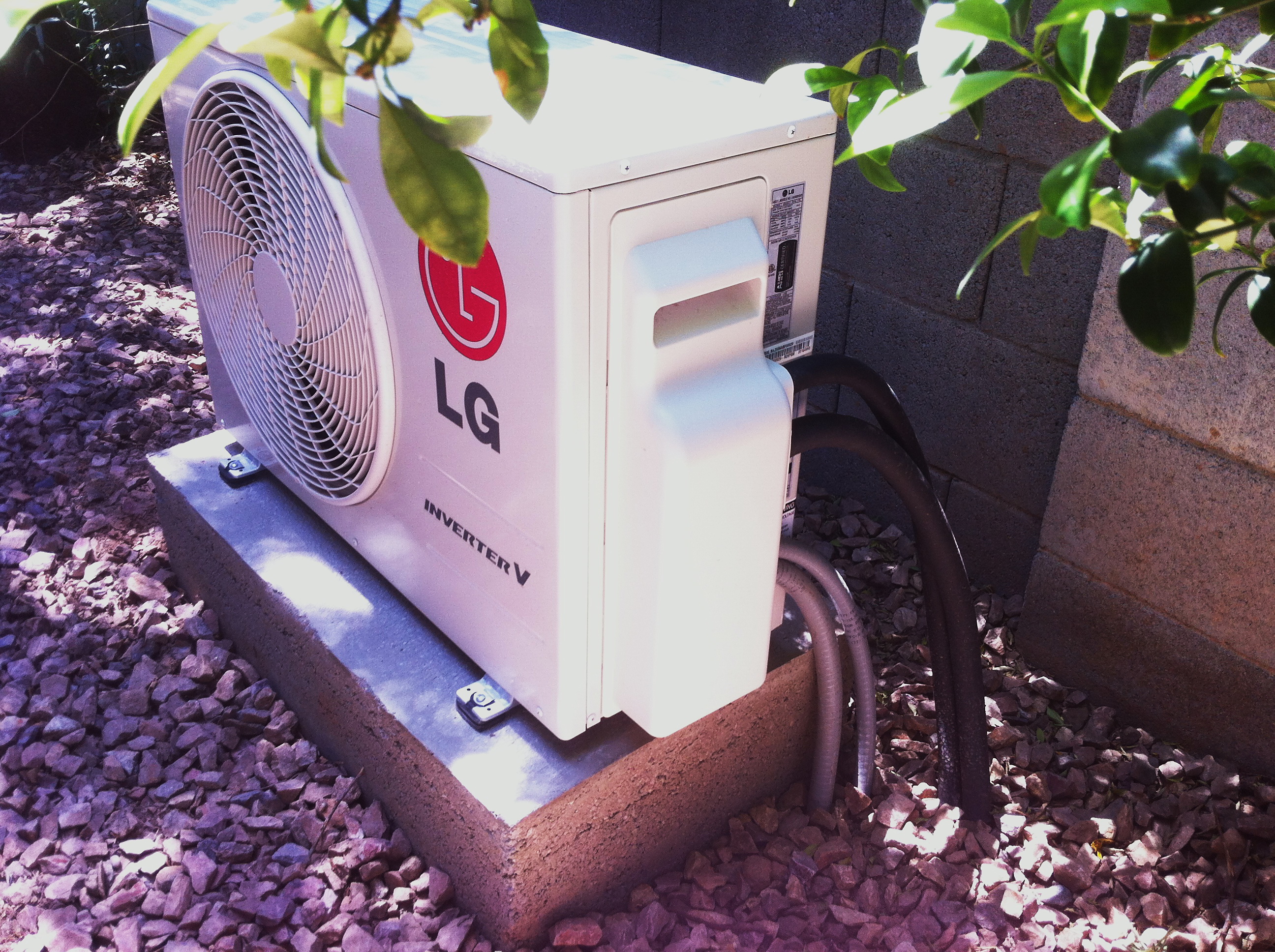 LG 2 ton with Inverter technology. The compressor is variable speed and only draws the power that is demanded by the sensors on the indoor coil. Nice unit, easy to work with, quality components throughout, on the higher end as far as price is concerned.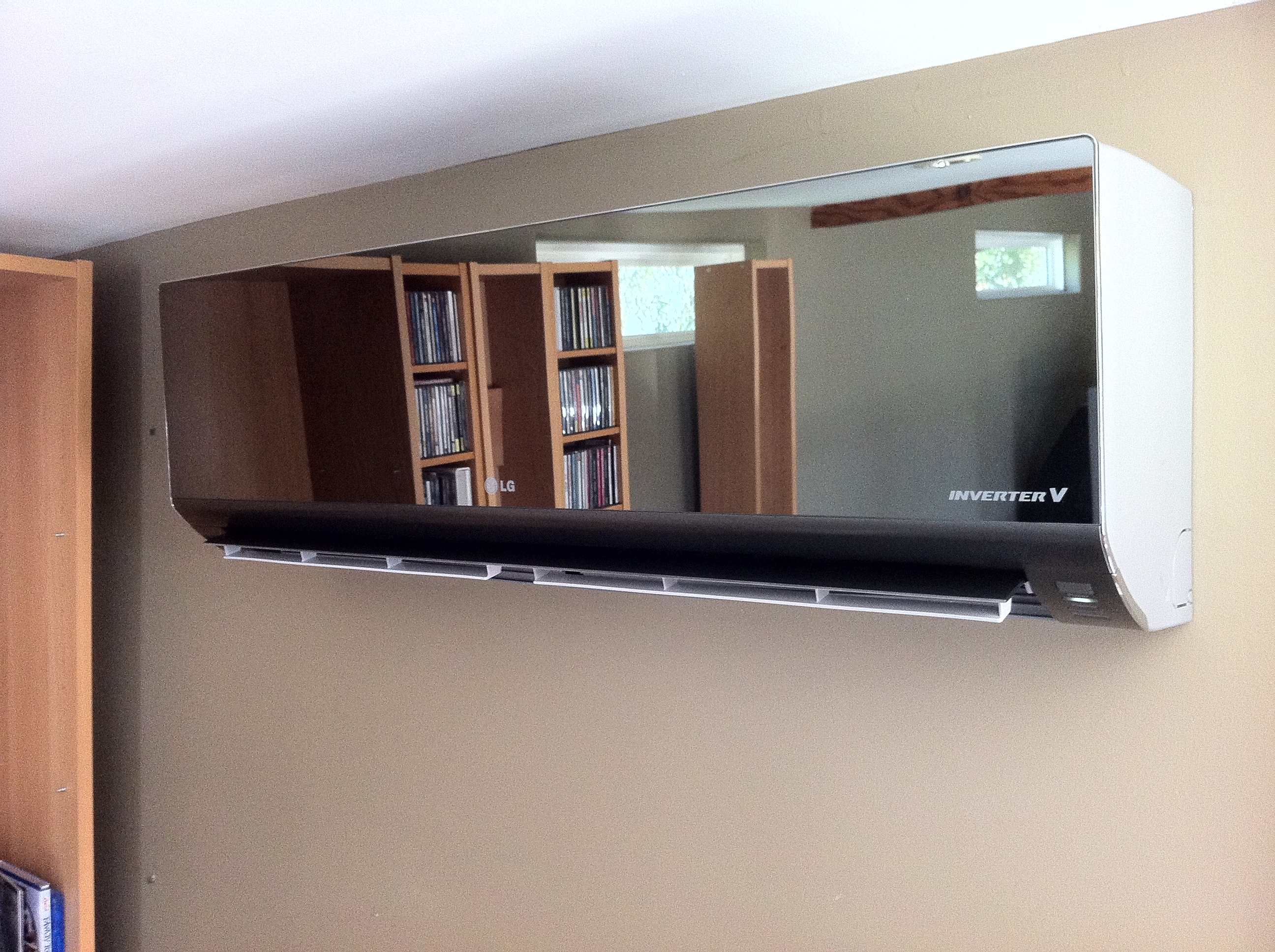 This is the LG indoor coil. There are several styles to choose from to match your decor with LG and this is the smoked glass front unit. This is so efficient at cooling (originally designed to cool one wing), the client only uses his central duct system when the outside temp goes above 115F.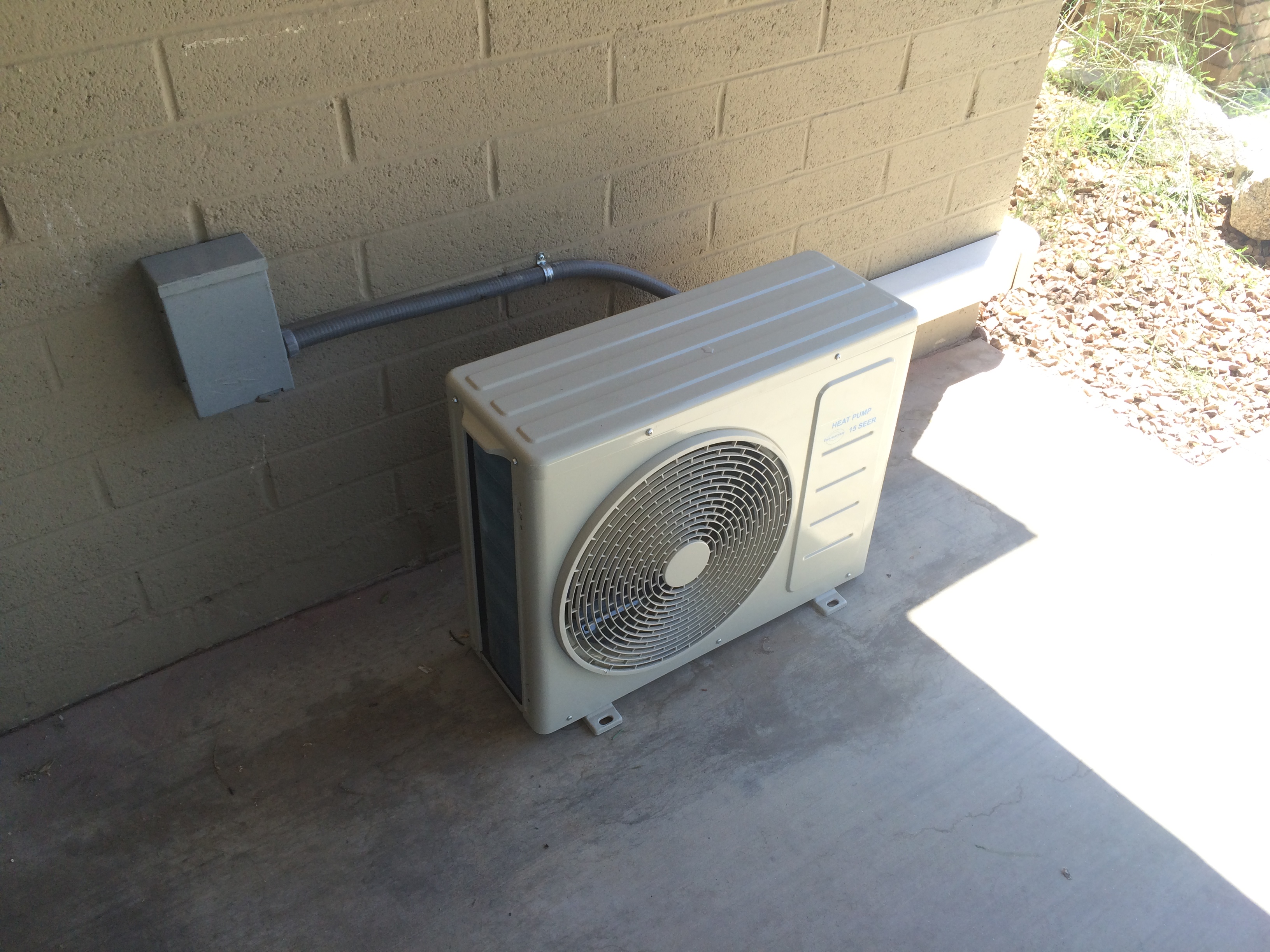 This is a 1 ton Mirage heat pump. This is cooling half of 5 bedroom ranch since he had
Thermal Control Membrane in his attic
installed in the attic and a
German Attic fan
to remove the solar heat. Mirage is a lower cost, no frills, reliable and quiet system. I would not hesitate to recommend them and the price is right.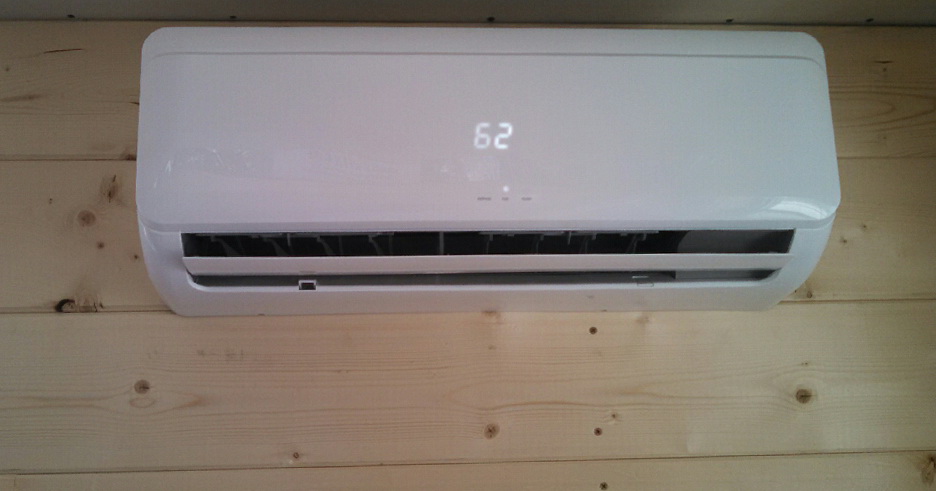 This is the mirage indoor wall unit. Very quiet and powerful fan projects air 30' and keeps the house comfortable during expensive on peak hours. The rooftop 5 ton is shut off and only this is running all day non stop. Some days the compressor spins faster than others as this brand also has Inverter Technology.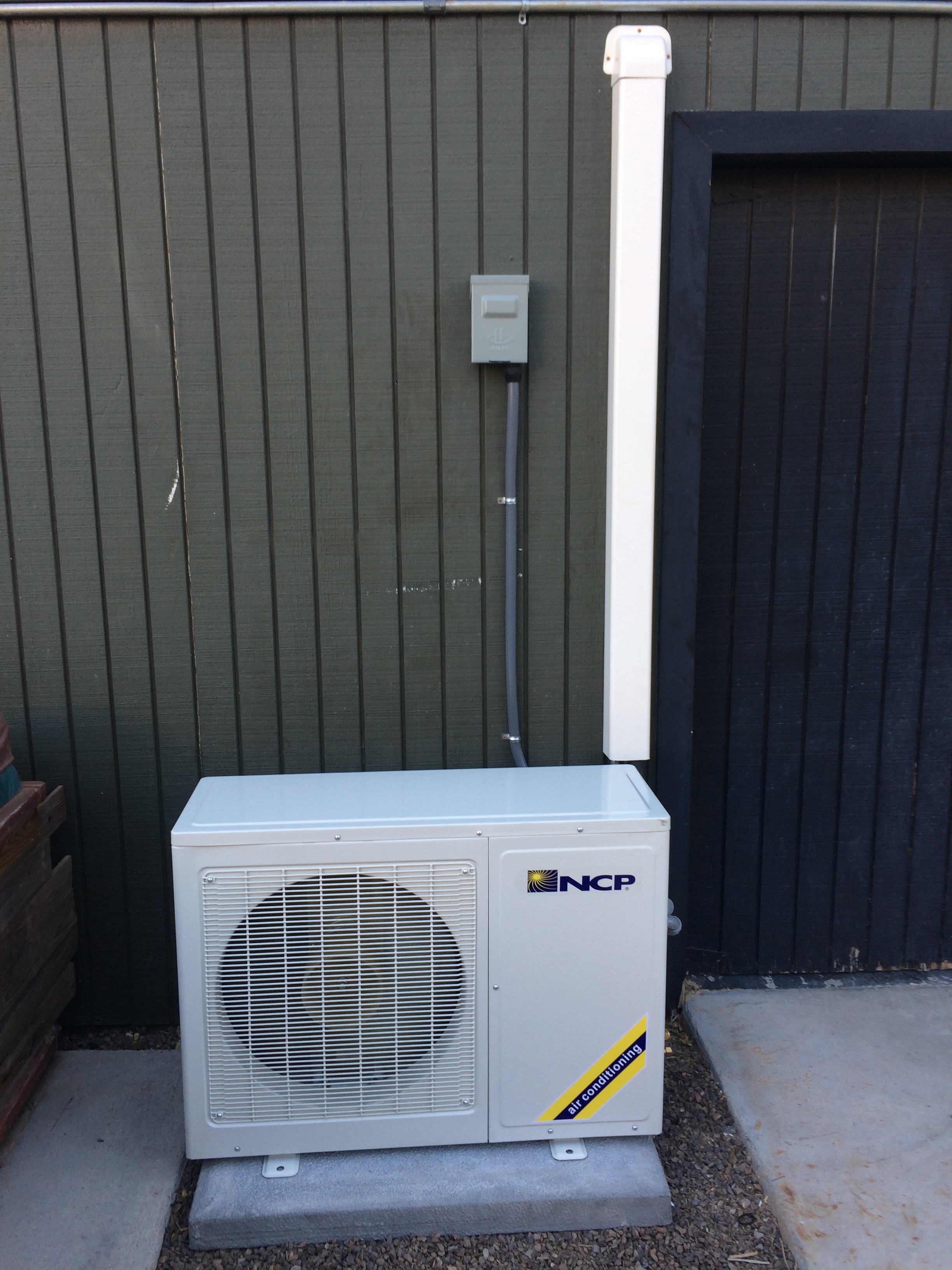 This is a National Cooling Products 2 ton a/c only serving a 800 sq foot guest house. No need for ducting when the system puts out this much cooling in one spot.
My house is super energy efficient, my load controller is able to maintain a peak use of 1500watts (yes even in the summer), yet after removing my 4 ton roof unit and switching to mini splits my APS bill was reduced by 50%
The mini splits were installed the 3rd week in June. Look at the results and my comfort went up, not down. When you have 9,000btu's cooling your master bedroom you can keep it like an icebox at night for pennies.
Call today for a free inspection and accurate quote: 602 867 3176
click here

Webpage design and maintained by B Rad Design Group
Copyright 2009 2016 Horizon Energy Systems. All rights reserved.
Information in this document is subject to change without notice.
Other products and companies referred to herein are trademarks or registered
trademarks of their respective companies or mark holders.