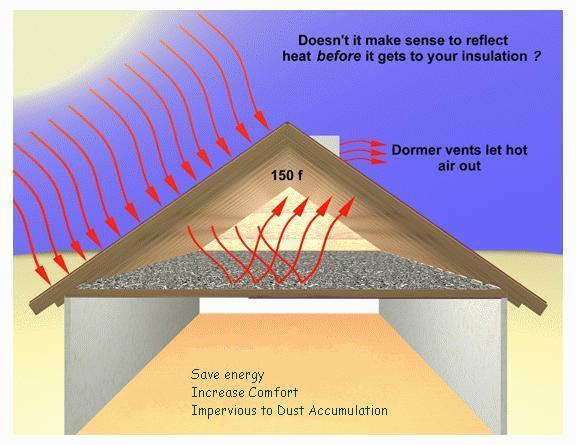 This graphic pretty much explains it in a visual concept and physics dictates the rest. Heat no longer flows into your insulation. Instead, it's reflected back towards the roof. Cooling bills go down, comfort goes up. In cold climates, TCM keeps the heat in your home and virtually eliminates
ice dams
TCM is non toxic, easy to install and lasts forever.
Click here to see animation of heat movement in your home during summer
The opposite is true during the winter as the reflective surfaces keep heat in.
A close up picture shows the multiple layers which allows TCM to last forever.

There are three types of heat transfer:
Conduction
Convection
Radiation
The insulation you have in your attic now only
resists (R Factor)
convective and conductive heat flow. Think about this: given a choice of being able to resist the flow of heat into or out of your home, or change the direction of heat, which would you choose? The same physics that gives a thermos bottle the ability to keep hot coffee hot and ice tea cold works in your attic by using TCM. In layman's terms, TCM is a flexible Thermos bottle. Here's an overview of basic thermodynamics:
Heat always moves from a higher temperature to a lower temperature
Direction of the heat flow with regards to infrared radiation is irrelevant (heat rises? Why do we get hot when the sun is above us?)
The larger the Delta T (temperature differential between two entities), the faster heat moves.
Infrared radiation moves at 186,000 miles per second, the speed of light
Infrared heat can only be absorbed or reflected


Conventional insulation does not reflect radiant heat, it absorbs it then emits it later


Your attic insulation is the largest surface area with the largest Delta T
The focus on energy savings should be the ceiling of your home
TCM effectively changes the direction of heat, forever...back into your house during the winter and out during the summer. TCM is unaffected by dust, moisture, gravity, time, mold or bugs. This product, once installed, will pay for itself many times over in savings and comfort.
INSTALLING TCM
Simply roll out TCM over your existing attic insulation. No need for staples, tape or fastening. Or staple it up on your new home or addition (not recommended for use under vinyl siding products).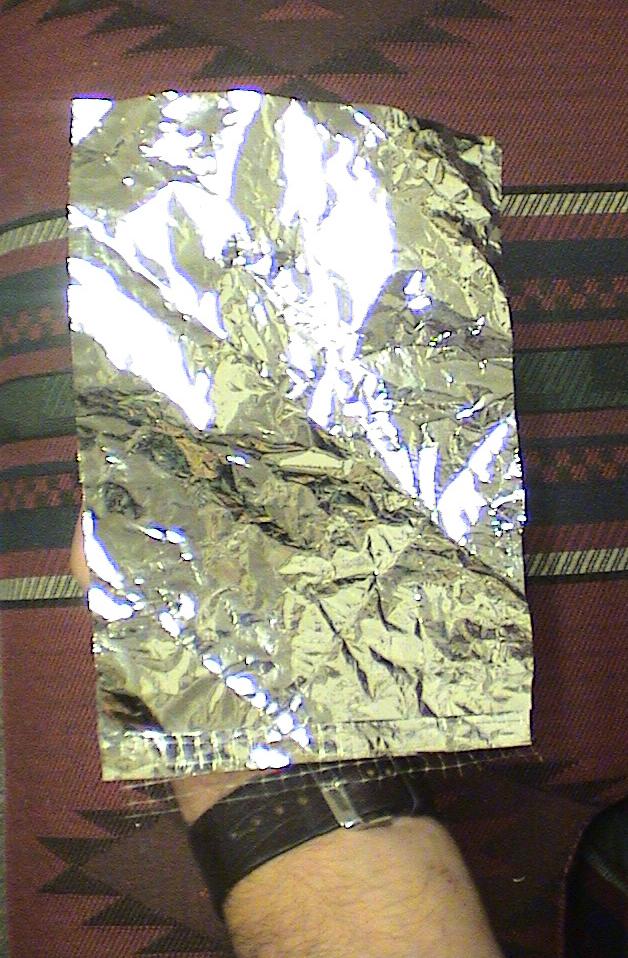 TCM is available in two configurations: TCM4 and TCM6. TCM4 is used on walls/crawlspaces/ducts/garage doors.
TCM6 is used in attics.
Both TCM products are available in perforated and non perforated configurations. What's the difference? Perforated TCM allows for moisture egress and non perforated creates a vapor barrier.
If you are not sure which product to use, please contact us prior to ordering.
If you are convinced this reflective membrane is the answer to rising energy costs,
click here to be whisked to our order page!