Sweater Effect:

If you live in a hot climate and plan on adding
more attic insulation to save energy, please read this first.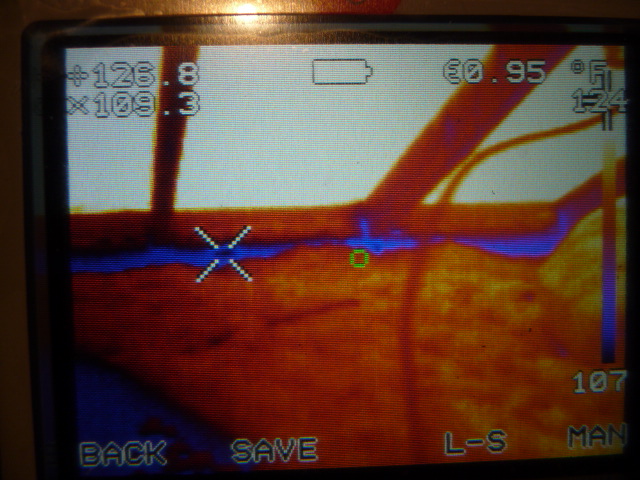 This is an infrared image from a Whal 5000 IR imager. There are several data point options while scanning and
this option has color and has high and low floating data points. The X is the lowest temperature in the frame
and the + is the hottest. The + is white and can't be seen becasue of the large white background.
This translates into the blue areas being structural lumber (upper wall plate and hurricane straps) and the
white being the bottom of the hot roof deck. This image was captured 9am. The orange and yellow is the
top of the attic insulation just getting beamed by the hot roof with infrared heat, just like a broiler.
Notice where it's yellow it's closer to the hot roof.
Then, the sun goes down. Then what happens? The roof gets blue from deep space and the insulation is white.
All night white. Your a/c unit has to pump that out all night just so it can get recharged when the sun comes up.
Repeat as needed for comfort.
We change this. Forever.
Hot roof beaming infrared heat into the insulation. Image captured in Phoenix AZ at 9am
AZ Republic
Beliefs about insulating homes may be changing
Republic Newspaper article 3/11/2016
"Nearly four years ago, The Arizona Republic featured a local contractor at odds with the
utility industry because he claimed his radiant barrier material was more effective at keeping homes
cool than common insulation.

Last week, two major homebuilders in the area lent some credence to what Horizon Energy Systems
Inc. owner Brad Lindsay has been saying for years — that too much insulation can actually make
homes hotter.

Rick Andreen, president of Shea Homes Active Lifestyle Communities, said his company has tested
homes side by side, and at a certain level, too much insulation in Arizona attics makes homes harder
to cool. Sure, an extra-thick layer of insulation keeps the heat out during the day, but it retains the heat
and keeps the homes warm at night.
Lindsay, who sells radiant barriers, calls this the "sweater effect" because too much attic insulation
acts like a sweater on homes. Andreen said his company has found the same thing.
"That mass (of insulation) heats up all day, and finally gets all the way through (to the home)," Andreen
said. "Then what happens is it takes all night long to cool off."

Shea is working with Arizona State University to find the most efficient way to keep houses cool.
Meritage Homes Corp. also is a fan of radiant barriers, vice president of environmental affairs
C.R. Herro said, but the company is using a different approach. "We take it a step further and we
condition our attics," Herro said. "Radiant barriers eliminate peak heat. We bring the attic into the
conditioned space. We get more comfort and energy savings by insulating below the roof line."
Meritage doesn't blow air-conditioned air into attics, but because the insulation is sprayed on the
bottom of the roof deck, the attics are normally kept within 5 degrees of the home, keeping heat
out of the homes, he said.

It seems the conventional wisdom about adding insulation to attics may change".
- Ryan Randazzo
Visit our website, get informed about how your home got built wrapped in sweaters (insulation),
and our proprietary solutions then schedule a no cost, in home energy audit.
Go to www.savenrg.com or if you want to schedule an appt: 602 867 3176
Copyright 1994 Horizon Energy Systems Inc.
Twenty years of building science and designing effective Climate Specifictm products was
the result of documenting how heat moves into and out of buildings using an infrared camera.
Homes built in sunny climates need different methods of controlling infrared heat vs
convective heat losses which need addressing in cold climates. Basic laws of
thermodynamics dictate "heat always moves from a higher temperature to a lower
temperature". But how the heat moves is critical to understand when designing new
or retrofitting existing structures. First question: "Is heat loss or heat gain the main
design criteria?".
If it's sub zero weather and high winds you need to protect against then an exterior air barrier
like Tyvek, sufficient insulation to resist convective losses and a tight building should be high
on your list of means and methods to keep energy consumption in check.
However, if the building is baking under the sun all day and has a hot roof which is radiating
infrared heat down into the insulation then a different plan should be considered using different
products. A plan of reflecting the unwanted infrared heat with a proven radiant barrier and
then a means to exhaust the waste heat using natural or powered venting.
We call using insulation in a hot climate the "Sweater Effect" which would be akin to putting
on a sweater to increase comfort before going outside to do yard work in the sun in August.
Our national building codes demand we do exactly this in homes in hot climates. We have
homes being built in all types of climates: humid tropical, desert and the frozen Midwest and
North yet the national building code requires the same products in all buildings regardless
of what environment they are being built in?
This has to change to see any significant energy savings, espeically in hot sunny climates
because attic insulation becomes heat storage system over your entire ceiling.
Phoenix Residents
If you would like an evaluation of your home and how our climate specific products and designs
can increase your comfort and lower your APS or SRP bills please call to set an appointment
at 602 867 3176.
Here's an article on our discoveries of the "Sweater Effect"
Related links and stories: Click here
:
Maricopa County Home Show radio blog: Click here
This email came in 1/30/16:
"I have a house in New Mexico and I'm at my wits' end. I've had a lot of
insulation work done in my attic and it's now R-50, but the house is
still incredibly uncomfortable in summer. In fact after adding 10" of
fiberglass to the attic floor, I spent more money on cooling than I did
during the prior summer, and the house was much less comfortable, too.
The attic is unbearably hot inside.
Will any of your products remedy this situation? I have already spent a
lot of money for nothing. Fool me once, shame on you…
It does get cold here, but not too cold (occasional snow, but it rarely
goes below 20f). It's so dry that I doubt condensation will be a
problem. The relative humidity in the house never rises above 30%. The
attic has trusses 24" OC".
Nate
Do you have a similar story to tell? Did you add more insulation and
see your bills go up or your home be harder to cool?
Tell us about it: pleasesavenrg@gmail.com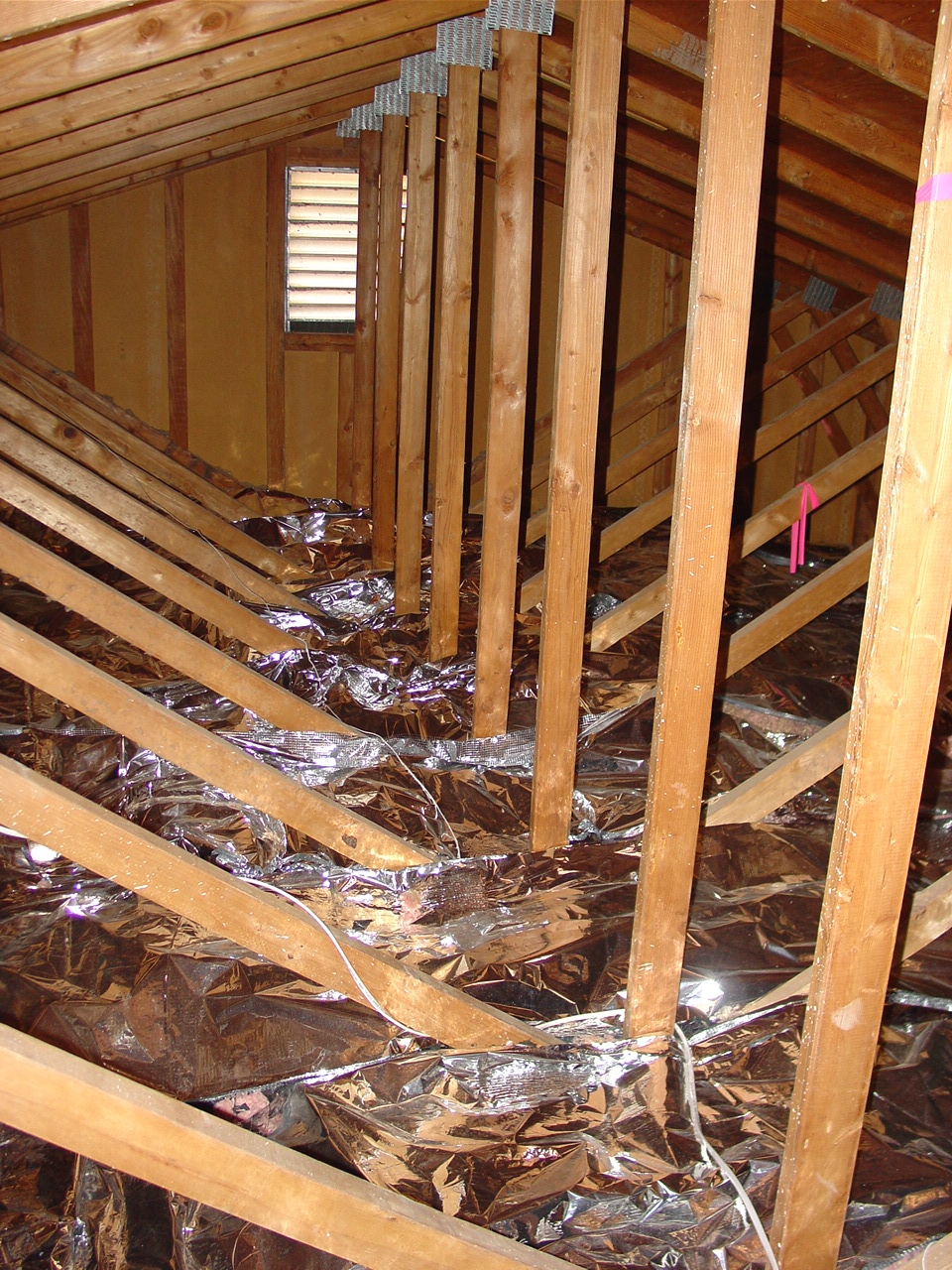 Don't you think in the last 40 years something better, something not carcinogenic or irritating? Something easy and quick to install that
doesn't take special tools or skills?
It has, click here.
The term "Sweater Effect" is a trademark of Horizon Energy Systems and is not to be used for reproduction
without permission.