attic i nsula tion, e nergy conservation, high heating bills, lower heating bills, save money, radiant barrier


Save your heating dollars and be more comfortable


Keep the heat IN your home with
Radiant Barrier Chipstm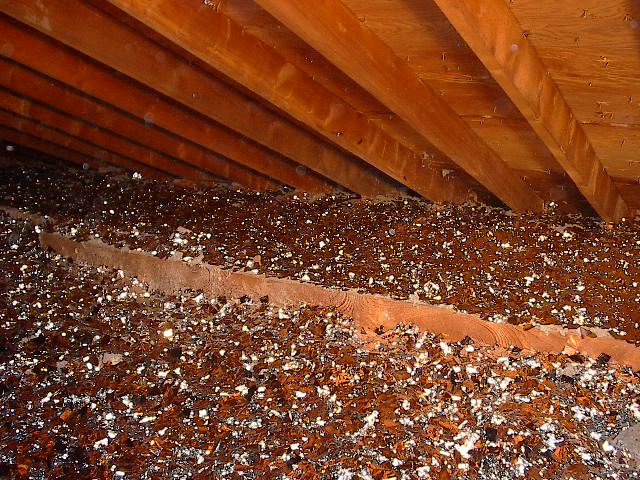 Radiant Barrier Chips installed over existing attic insulation
Millions of reflective surfaces blown in over your
existing insulation change the direction of heat
through your ceiling...back down in during cold winters,
out during the hot summer. It's not rocket science.
It's basic physics and simple logictm
Laying them in your hand you can feel it working
within seconds as your hand gets warmer from the
heat being reflected back to your skin.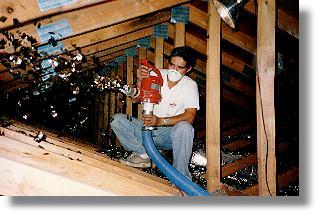 Installing RBS Chips is easy!

About Ridge Venting:
Question: "How tall is the gap of a ridge vent?"
Answer: Anywhere from 1/2" to 5/8" tall.
Question: "When do you need attic venting the most?"
Answer: After a snow fall so the roof will stay below 32 degrees, won't melt the snow and create ice dams.
Question: "How many inches of snow does it take to render a running ridge vent useless?"
Answer: One inch of snow. Four or more inches and depending on the outdoor temperature you may experience:
Icicles
Ice dams
Water leaking through your ceiling
Water soaking the insulation in your walls
Rotting wood
Damaged roof decking
Hazardous molds/mildews
All of which we have seen during our home inceptions in cold climates.
So, if not running ridge vents then what? Our residential home testing in all climates have found the old fashioned, highly efficient pitched dormer vent (at left below), the best for allowing air to move freely from an attic. The opening in the roof for this vent provides 400 square inches of free air venting. These can be installed on the back of the roof near the ridge and painted. You may also want to consider a power attic ventilator if you have a tile or metal or do not wish to make roof penetrations.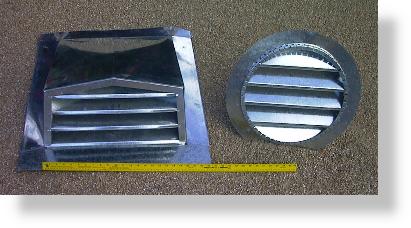 (three foot yellow ruler for reference)






Conventional Home Construction
Let's discuss what insulation is and what it's designed to do.
Conventional fibrous insulation is designed to resist the movement of convective and conductive heat. When walls are built with studs there is a gap of 3 1/2" deep by 16" or 24" wide which, when heated or cooled on one side, will create an internal convective motion of air. This movement increases heat to move faster through the walls. Placing a fibrous insulation in this cavity keeps air from moving and thereby reduces energy use. Since it has very low density there is very little conductive heat moving through.

Winter Radiant Heat Movement
One basic fact of physics defines the movement of heat: from hot to cold. Radiation is no different. During the winter your warm ceiling conducts heat through your insulation which is then finally radiated to the cold roof. Since insulation is designed to slow convective heat by keeping air from moving and limit conduction by having a low density, radiant heat readily passes through it. Put a reflective surface above the insulation and you stop this movement at the top of the insulation by changing or "bouncing" infrared heat back the source. This will make the ceiling warmer (more comfort) and allow the furnace to run less (lowers heating costs and makes furnace last longer).
However, placing a sheet of material above insulation in a cold climate has been proven to create other problems like the formation of ice and trapping moisture.
Radiant Barrier Chips allow moisture to pass but not infrared heat.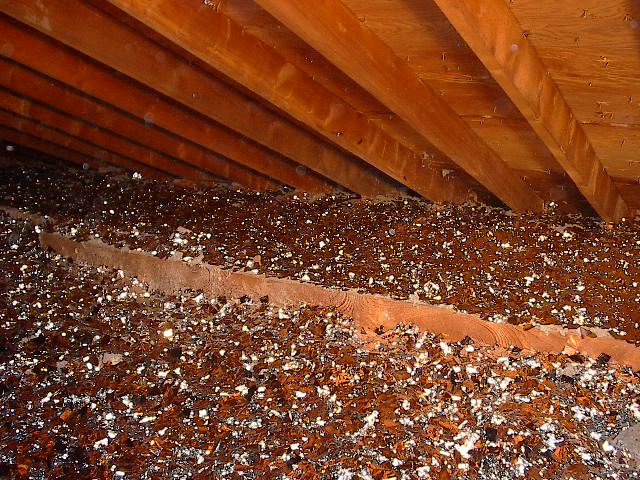 The solution? Install Radiant Barrier Chips. The multiple layers and small pieces allow for the settling of dust yet allow for the transmission of moisture.

Do to overwhelming response for this product we can best provide prompt
and accurate via email. From your email our energy auditors can best
address what your needs are including requests for samples, brochures,
appointment setting for installations or the scheduling of an energy audit
(recommended starting point). Please provide your phone number and best time
to contact you if you are requesting a return call.
All inquiries replied to in the order they are received.
Email us at rbschips@yahoo.com



Visit our new Ice Dam page click here

Photo Section
Your attic before RBS Chips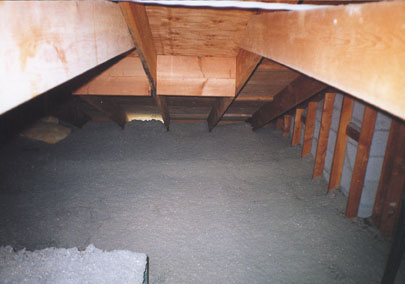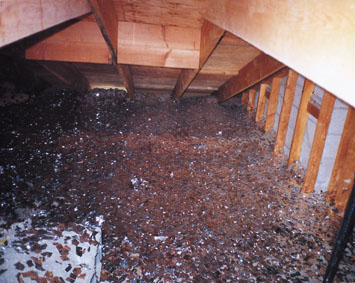 Your attic with RBS Chips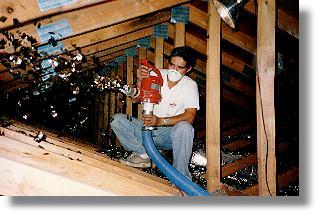 It takes 45 minutes to cover 1000 square feet.
Do it yourself while it's still available from the factory and save!
RBS Chips are non toxic and safe.
RBS Chips have a Class A fire rating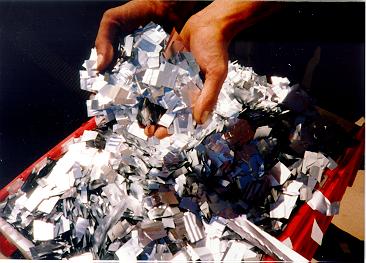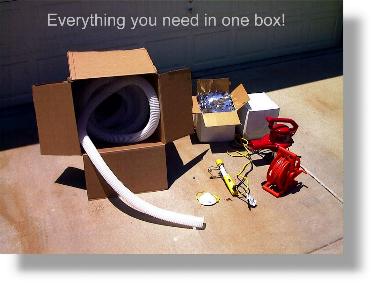 50' of hose, our lightweight chip blower, 100' feet of power cord, light, mask and instructions. Natural gas and fuel oil prices are unstable. Order now be prepared while we still have adequate stock and available machines. Check for the availability of equipment in your area.

Summary
It should be clear that a reflective surface is the part of a total thermal energy break. Insulation only covers two of the three types of heat so why add more?
You will be keeping more of your heat inside your home as well as more of your taxed income.

Adding our Radiant Barrier Chips on top your insulation completes the package. Need more information on RBS Chips? Click here
In closing it must be noted that the more level your insulation, the higher performance you will see when using Radiant Barrier Chips. For availability or more information just email us click here.

Testimonials:
"Since you have installed the radiant barrier chips in my home I have noticed a significant difference. Our home is plenty warm even in the bitter temps of Michigan. I have had my thermostat dialed down at least 6 - 8 degrees cooler. Just so my husband and I won't break out in a sweat watching T V. All of my rooms are surprisingly comfortable. We no longer have a cool drafty feeling when we enter a room. I can't thank you enough for all the hard work. Fox 2 news ran your spot on Saturday and again on Monday night. You got two nights of Detroit area exposure. Also a friend of ours was so impressed about your product he placed your business card on his classified ad page. Radiant Barrier chips will soon be all the rage here in Michigan. (next to ice and snow)."
Colleen Beattie
Single story home, 1450 sq. feet
gas heat no A/C
Dan and Colleen Beattie, Sterling Heights, Michigan
(installed 1/03/01)
"It's good to know your business is swamped. We love our Radiant Barrier Chips insulation. This house stays much cooler in this heat. Our neighbor came over last week in 90+ degree heat and humidity and the first thing she said when she entered the house was "Wow - you guys are so lucky to have air conditioning!" She couldn't believe that we didn't when I told her it was a new insulation product. There is an immediate, noticeable difference in temperature from the outside to the inside. We used 28% less propane for heating last winter and no more icicles or ice dams on the gutters! All of our neighbors had ice problems this year. We highly recommend this product to everyone we know! Good luck, you have a great product!"
Caryl L. Oxford Michigan
"I could not believe the immediate difference in comfort of our upstairs bedrooms. I thought my kids kept playing with the thermostat because the upstairs, which was normally cold, was very warm. We had to lower the temperature of our boiler to maintain comfort at the thermostat settings we used to use. We have had the chips for two years and have already realized a return on our investment, a more comfortable home, no ice dams on our roof and oh yeah, so much cooler in the summer"
L. L. Butcher, Rochester
I am so thrilled with the new Radiant Barrier that was installed in my attic yesterday. Already I notice a difference. You may think that's unusual but as I was getting ready for work this morning it felt as though I could feel heat coming down on my head and shoulders. It reminded me of the electric heat that was put in ceilings nearly thirty years ago when I was in Idaho. I was surprised myself. My furnace has hardly ran yet I am very comfortable with the temperature of the house. There are no hot or cold spots, just an even temperature no matter what part of the room you are in. Thank you for the excellent job"
Sincerely, Audrey Hawker, Mesa Arizona

To order RBS Chips Click here



Visit our new Ice Dam page click here

If you are considering adding more insulation to save energy, you should visit our radiant barrier chip page by clicking here first.


Back to our home page click here
Email us for more information click here



Web page design and maintained by B Rad Design Group
Copyright 2006-2014 Horizon Energy Systems. All rights reserved.
Information in this document is subject to change without notice.
Other products and companies referred to herein are trademarks or registered
trademarks of their respective companies or mark holders.