attic insulation, ra diant barrier, energy conservation, heat pumps, Phoenix,
Return To Home Page
Arizona


Insulation vs. radiant barrier: Which is best?

Actually, you need both, but read below what we learned on two identical test homes built side by side in 1986 in Phoenix Arizona.
RBS HOME
The RBS home had no insulation, only radiant barrier in the walls and ceiling. NOTE: This was prior to the manufacturing of the RBS Chips so only sheet type RBS was used for this experiment.
CONVENTIONAL HOME
The other home had R-19 batt walls and R-30 blown fiberglass in the attic. This home was occupied by a couple who both worked during the day so the house was empty. The RBS home was occupied by a family of seven. Data collection was set up by Dr. Byard Wood of ASU who installed 15 thermocouples in each home to monitor temperatures every 10 minutes of attic, ceiling, roof, duct, interior, and ambient temperatures. Testing began in the winter of 1986 and continued 24/7 until late summer 1987.
This is where we discovered the potential insulation has for storing and re-emitting heat into the home.
FACTS:
The attic temperature in the RBS home was never more than a few degrees above the outdoor temperature while the insulation house was over 145f every summer day. Discussions with Dr. Wood followed regarding the low temperature of the RBS attic and was suggested that the lack of insulation was cooling the attic. Each home was then fitted with two KWH meters, (image here), one for each heat pump. These meters showed a 35% reduction of energy needed for cooling and the home was more comfortable. Further, the RBS house was unoccupied during the day by a family of seven while the insulation house was occupied by a working couple who turned the thermostat up to 85 when they left for work each day. Despite these obvious disparities in the test, the RBS house was more comfortable and returned 35% savings over the identical home next door with convention insulation.
Late summer it was decided to add blown attic insulation to the RBS home to reduce the noise from the busy street the homes were built on. Just hours after the insulation was installed the attic temperature in the RBS home was hotter than it had ever been. Further, the attic stayed hotter longer after the sun went down as compared the RBS only attic.
Installing RBS Chips yourself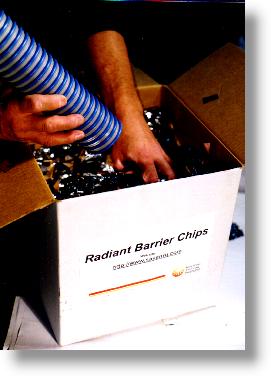 A box of RBS Chips and the feed hose





RBS Chips being blown in the attic



We will ship you everything you need to do the installation yourself:
RBS Chips
RBS Chip blower
Installation hose
Attic lighting system
Cords
Mask
Complete instructions
Easy to install: The blower you see above draws the non toxic RBS Chips into the hose from the box and blows them into the attic. You can cover 1000sq of insulation in 30 minutes. The average home (1500 sq. feet), needs three to four boxes if applied over blown cellulose. If you do not have blown cellulose it is recommended that a layer of cellulose be added to the top of what is in your attic now. This will allow the RBS Chips to perform best.


The RBS Chips carry a lifetime, non-prorated, transferable performance warranty. To read this warranty, click here
If you have an open, conventionally framed attic there is a less expensive alternative to RBS Chips, our new roll-out radiant barrier called "Thermal Control Membrane". Click here for more information.


Click your back button to return or click here
Visit our main page click here.

Click here to email us for more information or brochures on our products.




Web page design and maintained by B Rad Design Group
Copyright 1997-2014 Horizon Energy Systems. All rights reserved and
all violators will be prosecuted. Information in this document is subject to change
without notice. Other products and companies referred to herein are trademarks or
registered trademarks of their respective companies or mark holders.