Solar hot water, Phoenix, solar systems, PV system, soler electric panels, solar hot water arizona, solar panels, solar company in Phoenix, free hot water, APS, SRP, utility incentives, attic insulation, energy conservation.

About us | Videos | Phoenix Home Energy Audit | Online Energy Store
Solar Hot Water Systems
We are a certified solar contractor and have been designing, installing and servicing solar systems since 1978. Trust us with your solar needs. We have Arizona certified, Registar of Contractor approved, APS and SRP certified installing contractors we trust with our installations. Be wary of companies that have recently jumped on the solar band wagon with little experience.
What to look for in your solar hot water heater
OG300 Certification
Five year installation warranty
Tempered glass glazing for highest performance.
All copper absorber
Ten Year glass lined steel tank
Centrally located office facilitates quick service
Showroom
What to avoid in a solar hot water system
Unsightly, inefficient exposed plumbing on the roof
Plastic components. (would you trust plastic on your roof in the sun?)
Unglazed plastic solar panels are not insulated and have high heat losses

---
Radco Drainback system shown below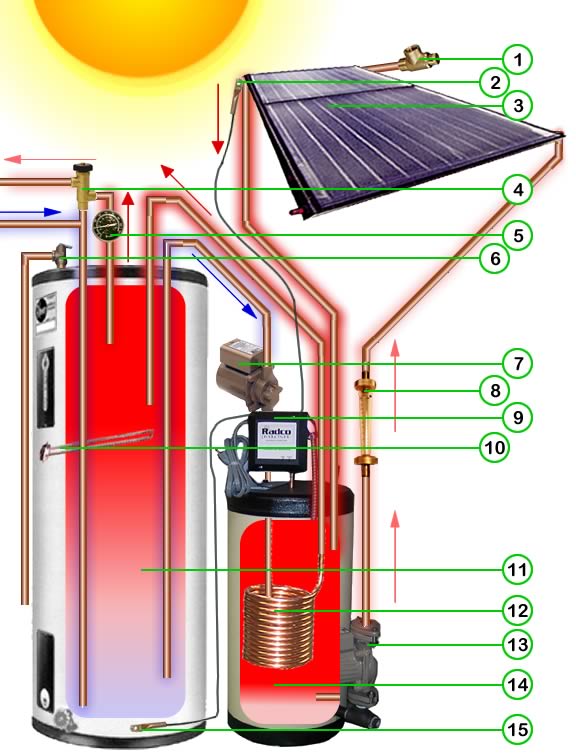 List identifying parts in the diagram
1. Pressure relief valve for drainback reservoir loop
2. 10 k sensor
3. Solar panel (typically a 4'x10' panel and an 80 gallon storage tank
4. Mixing valve so children don't get scaulding hot water in the summer
5. Pentair In-Line temperature gauge
6. Temperature/Pressure valve
7. Taco 006-B4 circulator is pumping water from the bottom of the solar storage tank through the heat-exchanger into the top of the solar storage tank.
8. Flow meter shows system is in operation
9. Goldline GL-30 differential solar controller
10. 4500 watt electric heating element for extended cloudy days (only heats 40 gallons)
11. 80 gallon Solar Storage tank replaces existing tank
12. internal heat exchanger inside the Radco DBHX drainback tank, surrounded by solar-heated water coming from the solar panel.
13. Taco 009-BF5 pushing reservoir water up to the solar panel
14. 8 gallon water reservoir
15. 10K sensor
The system is expandable to generate significant savings for up to 8 to 10 adults by adding more solar panels and more water storage capacity. Contact us for information about how to expand the system.
Call (602) 867-3176 to schedule a no cost inspection and bid. Act now! Federal, State and utility credits now available.
Click here To contact Horizon Energy Systems via email


Web page design and maintained by B Rad Design Group
Copyright 1997-2012 all images, text and HTML copyrighted by Horizon Energy Systems.
All rights reserved and violators will be prosecuted.