Tubular skylights , solar tub es, sol atube, frequently asked questions, how can I install my own tubular skylight?
Frequently Asked Questions about
Tubular Skylights
"How does it work?"
Tubular skylights collect then transfers the visible light spectrum down a highly reflective tubular shaft. This effectively brings in the beauty of sunlight without the heat and UV problems associated with conventional skylights. Since the dome is crystal clear all of the light is transmitted unlike traditional skylights that have a white roof lens.





Looking down into the light pipe from the roof you see the dome is crystal clear.
Using a polycarbonate dome instead of a cheaper injection molded dome like other manufactureres allow us to offer a 15 year warranty on this item. You won't find this
feature on other units that may turn yellow in as little as three years.
Further, the patented aircraft aluminum T-6 spun aluminmum flashing you see
here is standard on all units.
Frequently Asked Questions:
"I live where it snows and there are many cloudy days, would a Tubular Skylight be a benefit in my home?"
To see a tubular skylight covered with snow during a cloudy day, click here
Let's look inside and see how much light it produces click here
"Is the dome durable? I would like to be sure it's not going to break and make a mess in my home or ruin my ceiling"
The dome is vacuum formed from 3/16" modified acrylic. This is a much more expensive and laborious process than injection molding but insures high strength, decades of performance and is virtually impervious to damaging UV rays. This is the same plastic used on W.W.II bombers for gunner bubbles on the sides, bottom and top. Over fifty years old and these domes are still crystal clear!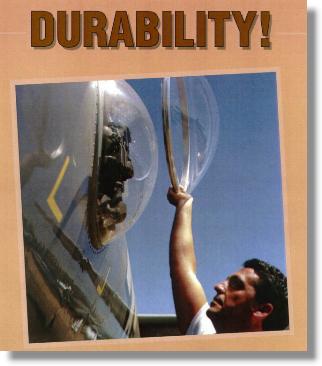 Dome and B-29 Bomber
"How many tubular skylights do I need?"
Many customers purchase one tubular skylight to take care of a dark room and wind up ordering more after experiencing the difference it makes.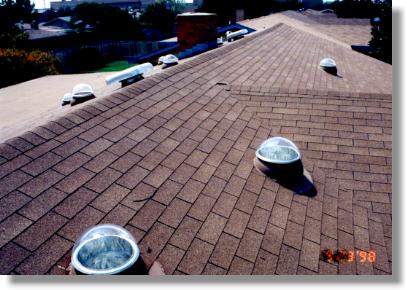 Seven tubular skylights installed.
"I like the concept and it makes sense, but I'm concerned about leaks after it's installed because I have a tile roof".
Aircraft aluminum flashings, close tolerances, quality materials and 25 year silicone sealer insure you won't be having leaks. Our new tile roof flashing is an industry first using a proven commercial roofing membrane. This insures you will enjoy free light without the worry of roof leaks. There are thousands installed in all types of climates. The one you see below is over our office and sits in 2" of water for weeks on end....it doesn't leak.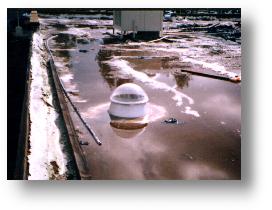 "Why don't they leak?"
Traditional skylights are notorious for leaking. Why? Water flows down hill right? Well, what happens when rainwater rushing down your roof hits a traditional square tubular skylight? It dams or finds a small hole up under the flashing and enters your attic or room. Since tubular skylights are round and don't have holes that can let water in, the design is inherently leak proof.
As a contractor, I need to be confident that once installed I won't be going back and paying for leak damage in my customers homes. This is why we carry this brand of skylight. This is also why I've installed five in my own home.
To order a Tubular Skylight click here
Return to Tubular Skylight click here
See our other energy saving products and services click here
Web page design and maintained by B Rad Design Group
Copyright 2002-2014 Horizon Energy Systems. All rights reserved.
Information in this document is subject to change without notice.
Other products and companies referred to herein are trademarks or
registered trademarks of their respective companies or mark holders.