Tubular skylights with internet pricing. Home Depot, Arizona Public Service, Skylight guys, solar tubes, tubular skylights, light tubes, solatube, radiant barrier saves energy, e energy conservation starts at home, do it yourself energy products, save energy with skylights, new construction, home builders, home builders, home builder, architects, daylighting, radient barrier, LED lighting




Tubular Skylights
Pure spectrum light and a fraction of the heat


This site is dedicated to those who want to take advantage of the greatest and most powerful source of energy known to man: The Sun. Bringing this source into your home or office will forever change the way you feel about being inside.
Pure spectrum light has no comparison. There is no man made source of light that can make you feel better about the room you are in and make colors come alive. See color in your tile floor or granite counter you have never seen before!
"Sunlight is as effective as antidepressant medications are, perhaps more so." (who can't use some of that in this economy?)
Anna Wirz-Justice, Ph.D., Professor of Psychiatry
Kitchens:
Before, mid day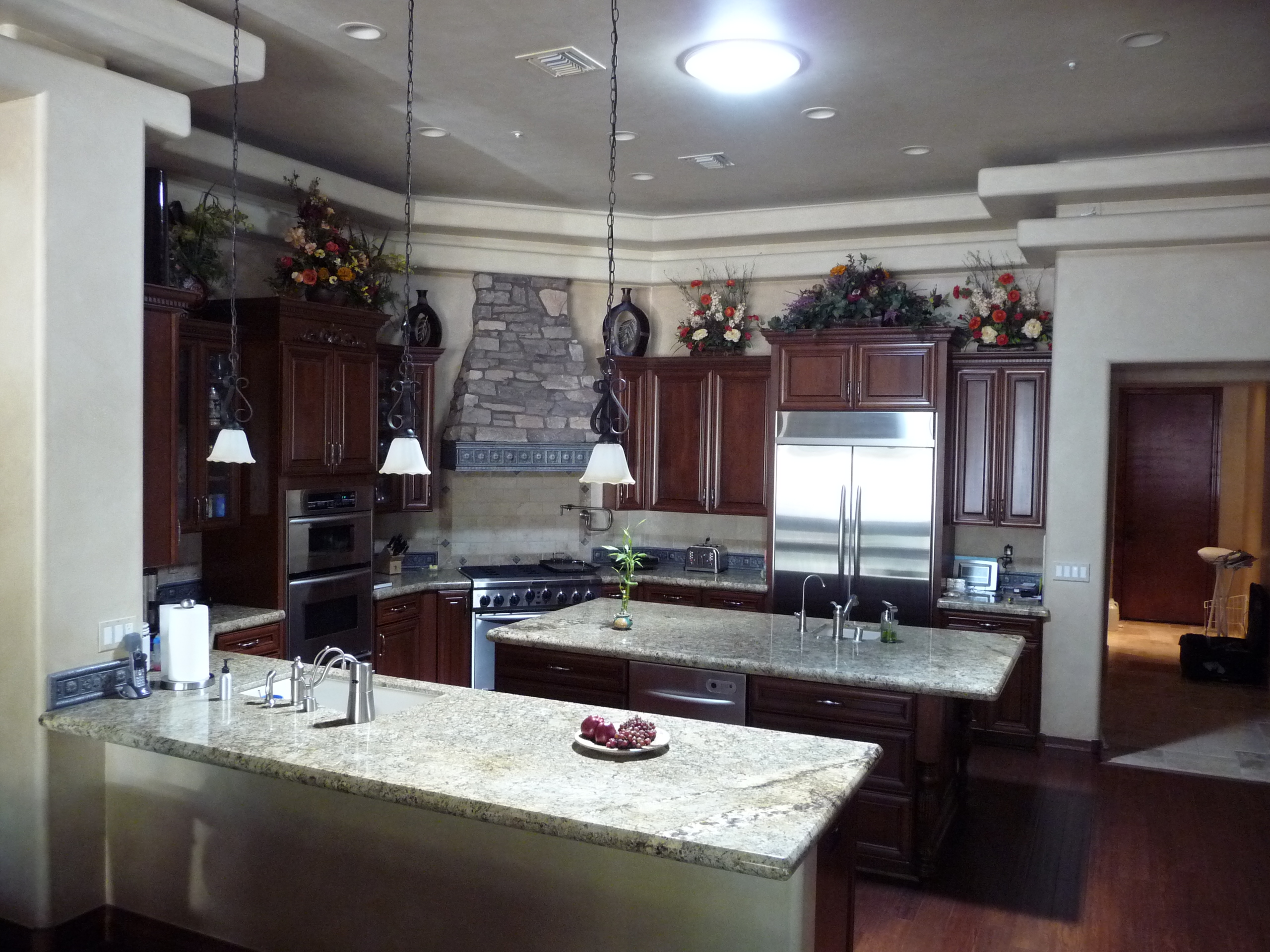 What good are $8,000 granite countertops if you can't see the beauty? Pure spectrum lights makes them come alive! This light was provided by one 18" tubular skylight with a prismatic lens.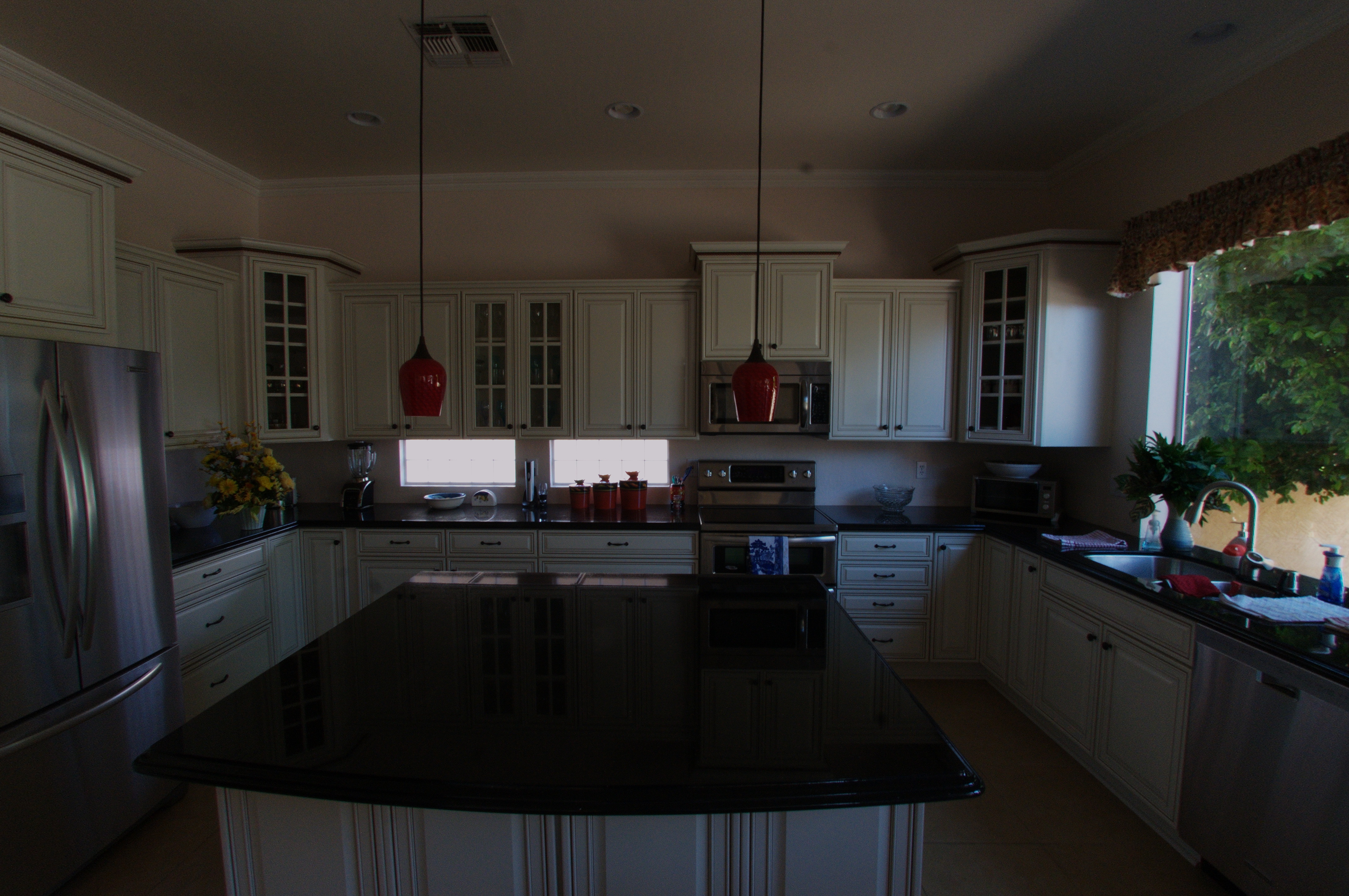 Kitchen with two windows, West facing glass block, a gorgeous black granite countertop with copper flecks
in it and not enough light to see it.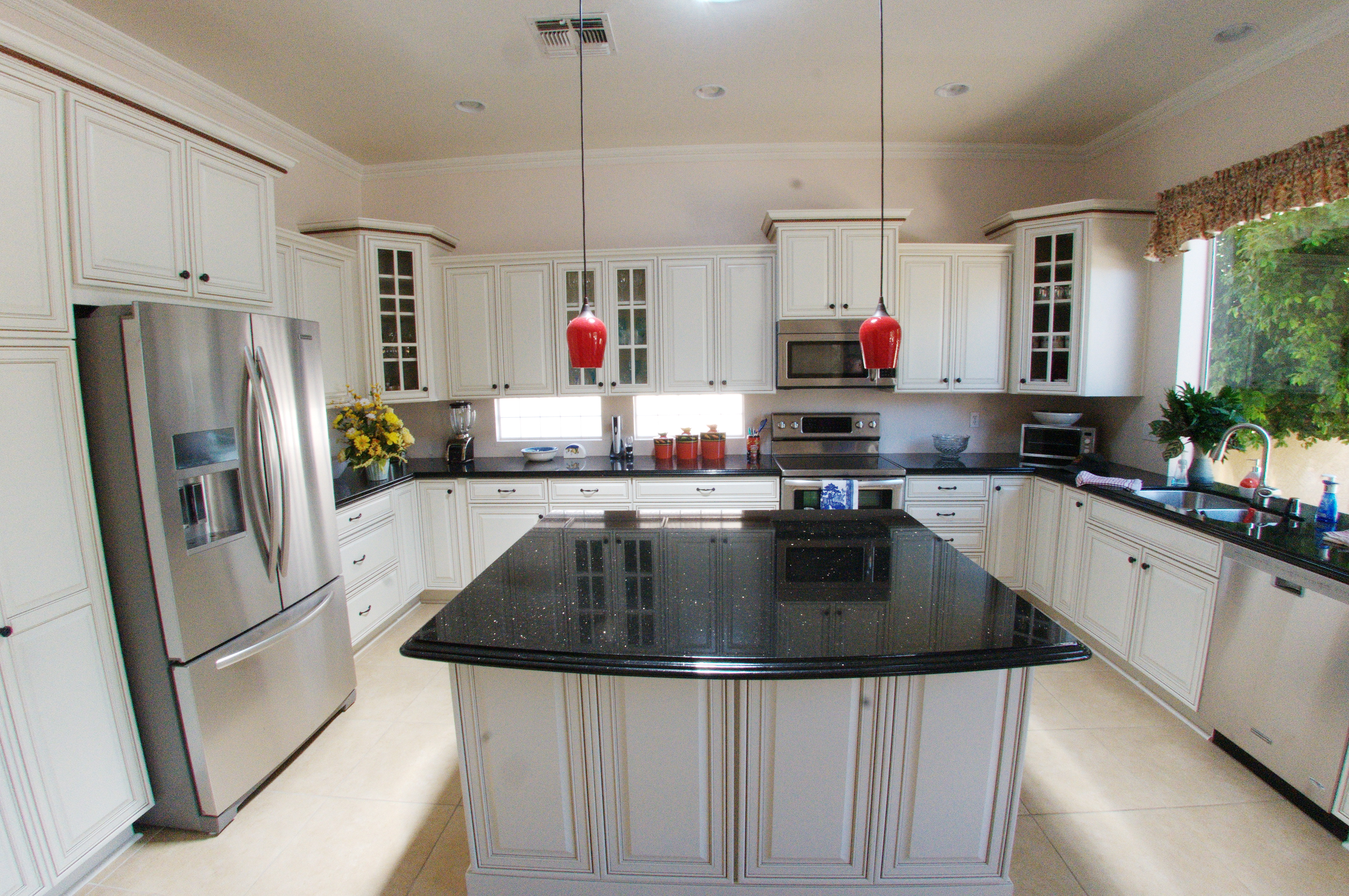 This is after the installation of an 18" tubular skylight. Pure spectrum light, less heat gain than a
25watt bulb. This kitchen has nine 150watt lights in the ceiling. That's 1350 watts not being
consumed and the related heat. And, the nine lights don't even compare to the amount of lighting
in this kitchen now. Isn't this what you want to wake up to when you make coffee in the morning?
Closets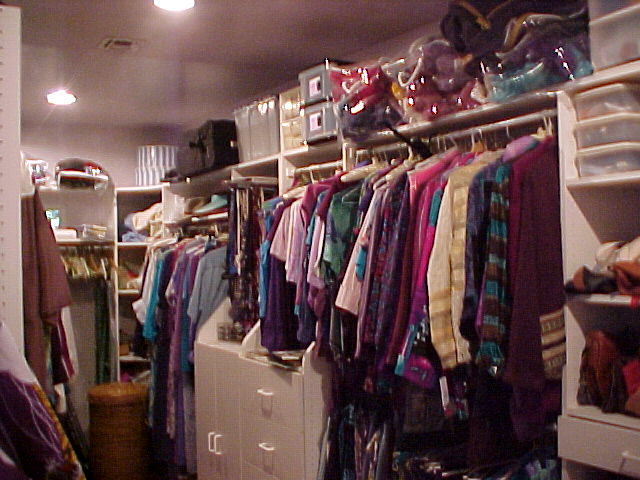 This closet with three 300 watt halogen light bulbs in ceiling cans. Look at the colors (or lack thereof)
The A/C needs to remove 900 watts of heat. Forget to turn these lights out and it will cost you.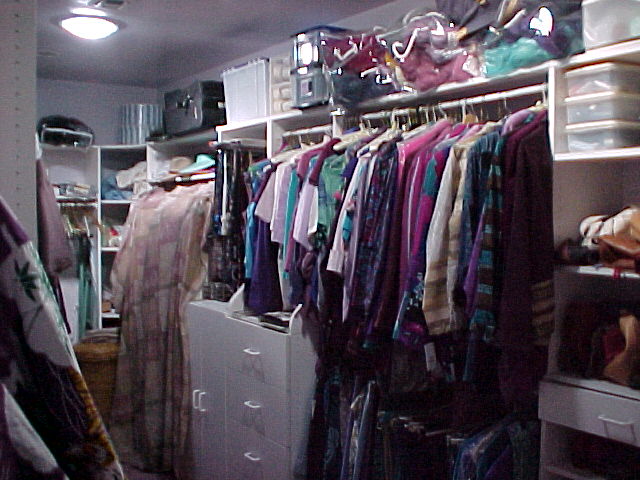 Here's the same closet with pure spectrum, diffused sunlight using only
two of our 10" tubular skylights. Look at the colors.
White is white not yellow, navy blue is blue not black.
Wallpaper, floor tile, upholstery, paintings, art and your face will look more
natural, full of color and you will never have to change the bulb!
Secure online ordering and options on tubular skylights click here.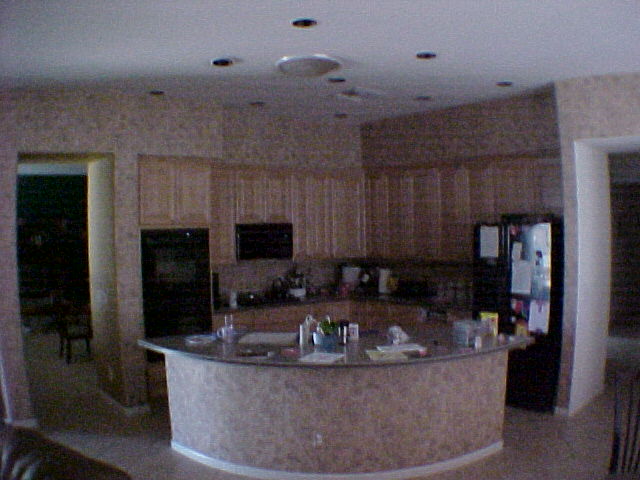 A gorgeous custom kitchen before (notice the 9 lights in the ceiling)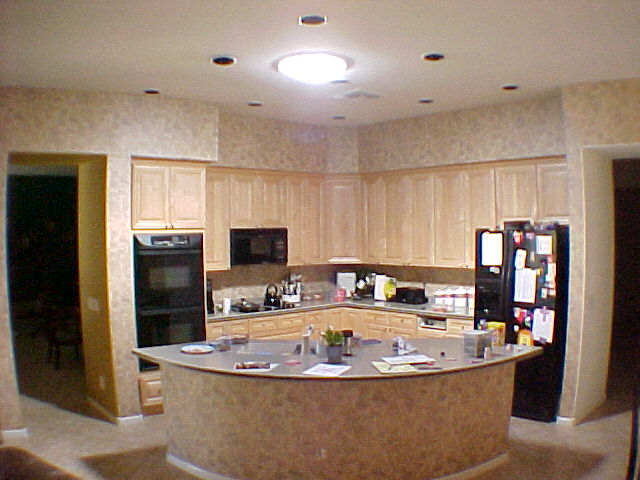 This is not an unretouched photograph. The image had to be darkened a bit in the camera to bring out the color!
9 - 150watt spot light ceiling fixtures (along with the associated heat gain), will remain off all day.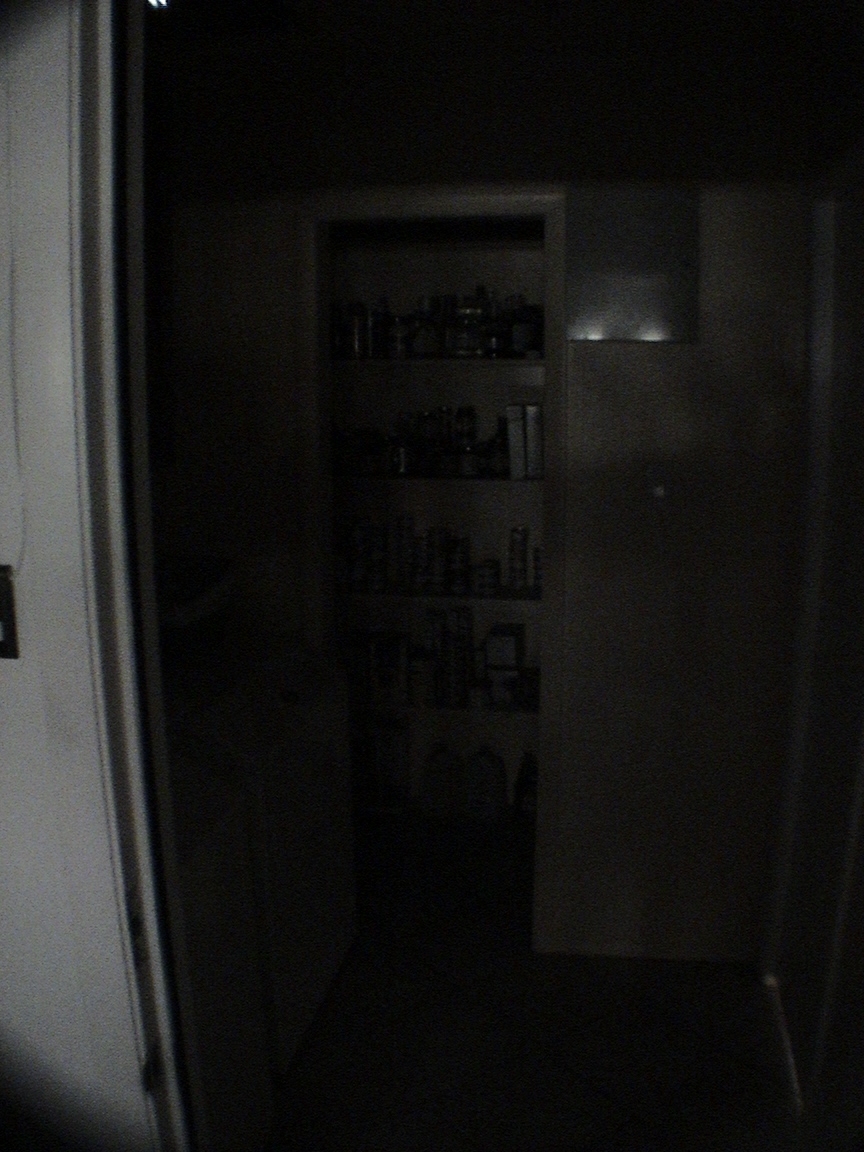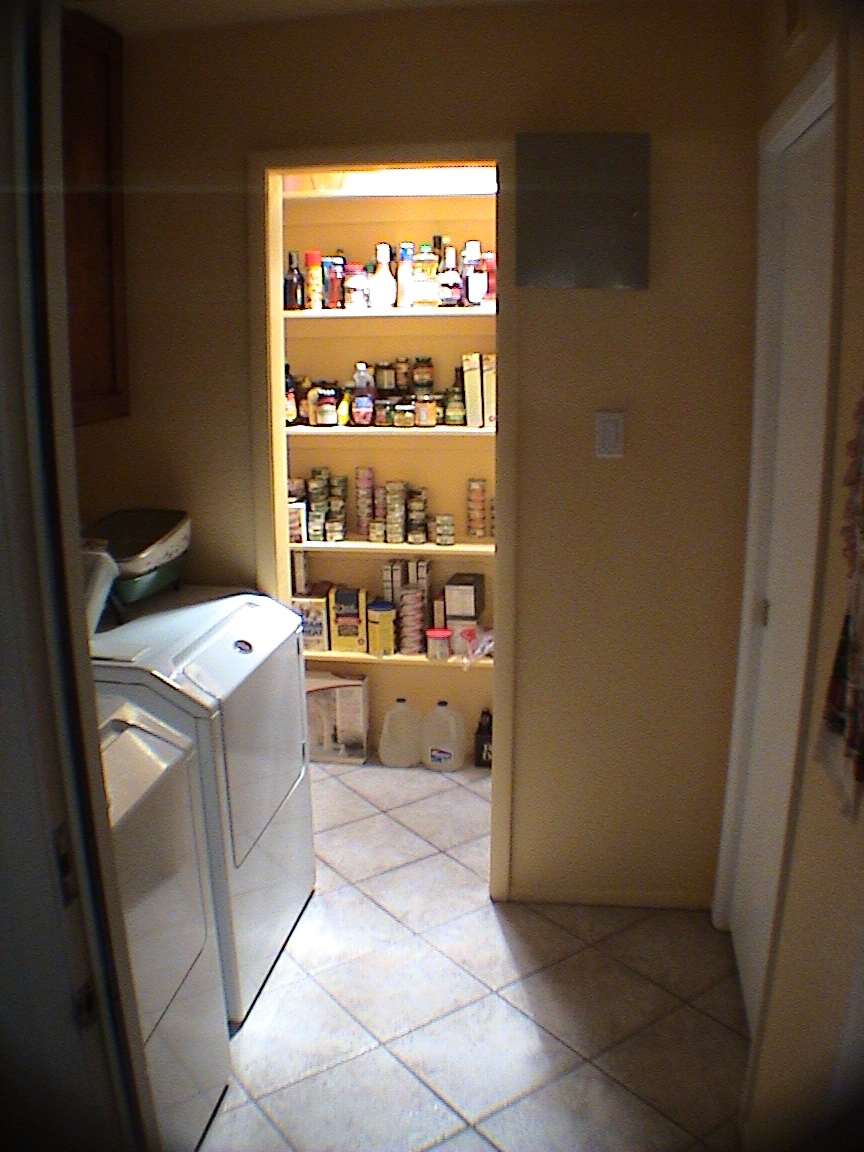 Is this your laundry room? This is how it would look with a 10" unit!
Secure online ordering and options on tubular skylights click here.
Free, natural, pure spectrum light in your home
"But how does it work?"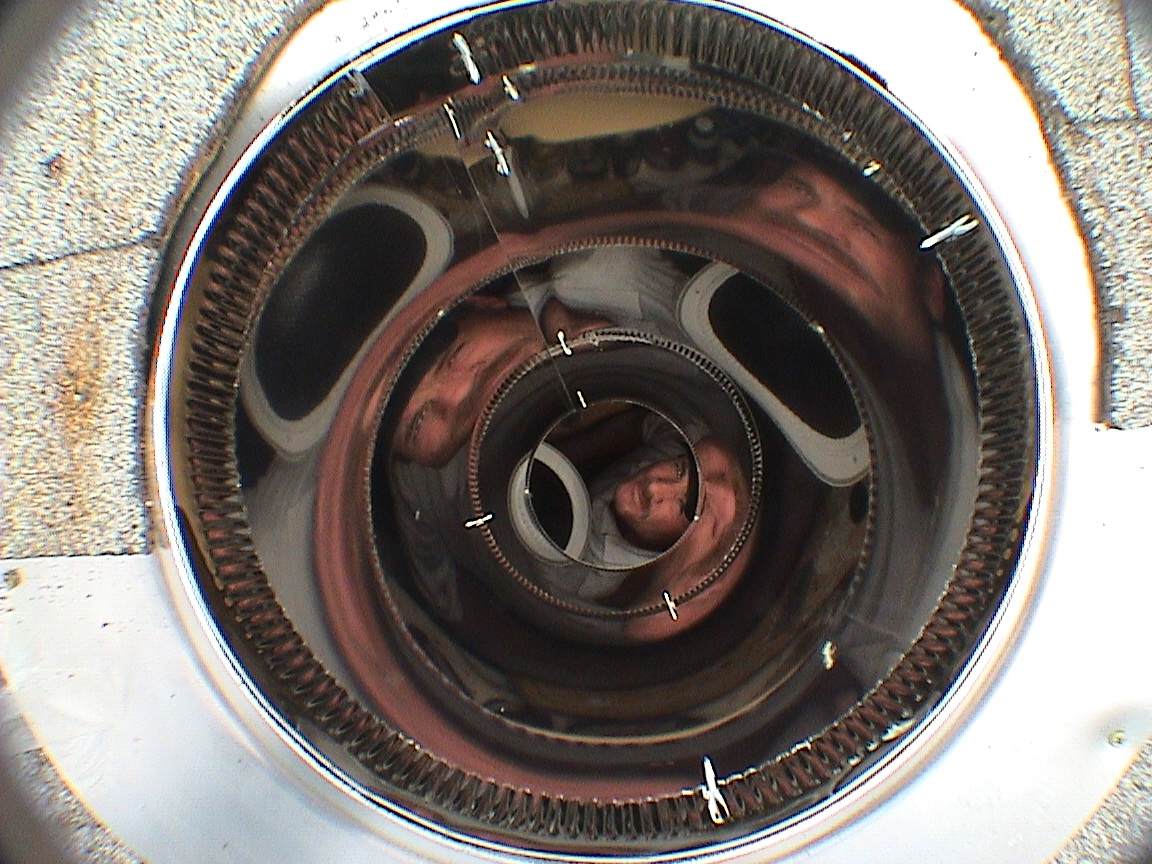 The reflective light pipe you see here captures the light from the sun and
it reflects down the tube just as the face from below you see here is
reflected up the tube. Pretty basic really. This method of letting
sunlight into your home is more efficient, controls heat gain and heat loss
and since it's round not square it's virtually leak proof.
What is a tubular skylight?
In layman's terms: The transfer of natural sunlight by using a clear dome over a reflective shaft which ends at your ceiling with a sealed diffuser.

Why Tubular Skylights? 

Tubular Skylights efficiently provide pure natural light while effectively minimizing heat gain and heat loss since it is a sealed system. 


Tubular Skylights will change the way you feel about your home.  Dark rooms will be bright, plants will thrive and your home will have a new feeling. 


It has been proven that children learn faster in natural light.  Why use anything else? 



More Questions? Click here
Secure online ordering and options on tubular skylights click here.

How Much Light Can a Tubular Skylight Bring In?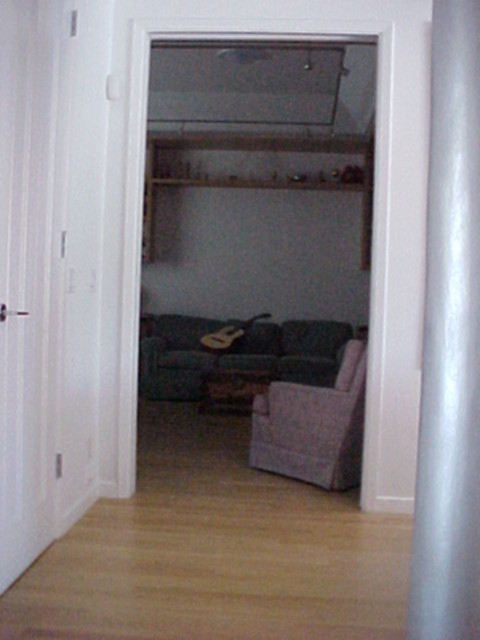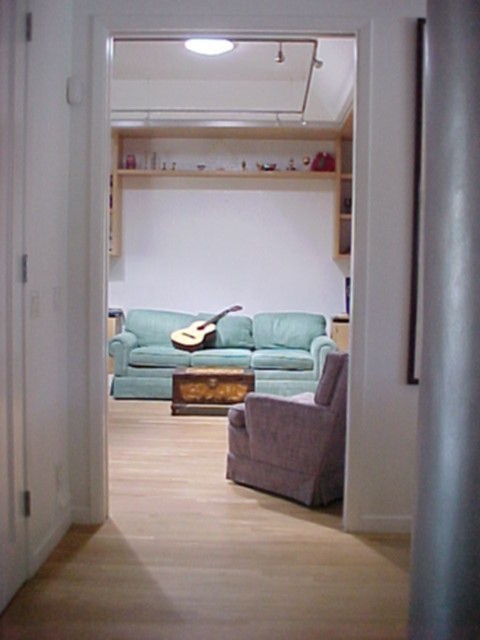 This room has 4'x4' window and is still dark Notice the $1200 halogen lights that are off
These are unretouched photos showing the beautiful difference a tubular skylight can make. In fact, the photo at the left was taken with a flash, you can tell by the reflection on the silver post to the right.
This customer chose two 13" units so she could have sufficient light anywhere she went in the room for reading or working. During the day, the halogen track lighting you see installed (which cost more than the tubular skylights), was used previously to create light (and heat). The room is now brighter, cooler and does not contribute to the electric bill.
---
Our Tubular Skylight Flashings Don't Leak!
Our tubular skylight flashings are made of rigid 6061 T-6 aircraft grade aluminum, not molded plastic. This rigid one piece spun flashing is the reason the leak warranty is so strong. Plenty of flat surface area to apply sealant and rigid enough to withstand hurricane force winds. Look at the photo below. These flashings adapt to any roof: Shingle, tile, shake or flat. Please specify when ordering. If you have a flat roof with a urethane foam finish, please specify on your order so we may provide you with the correct sealant.
Tubular Skylight installed on a shingle roof.
On tile roofs, an aluminum skirt is used for extra leak protection (extra cost)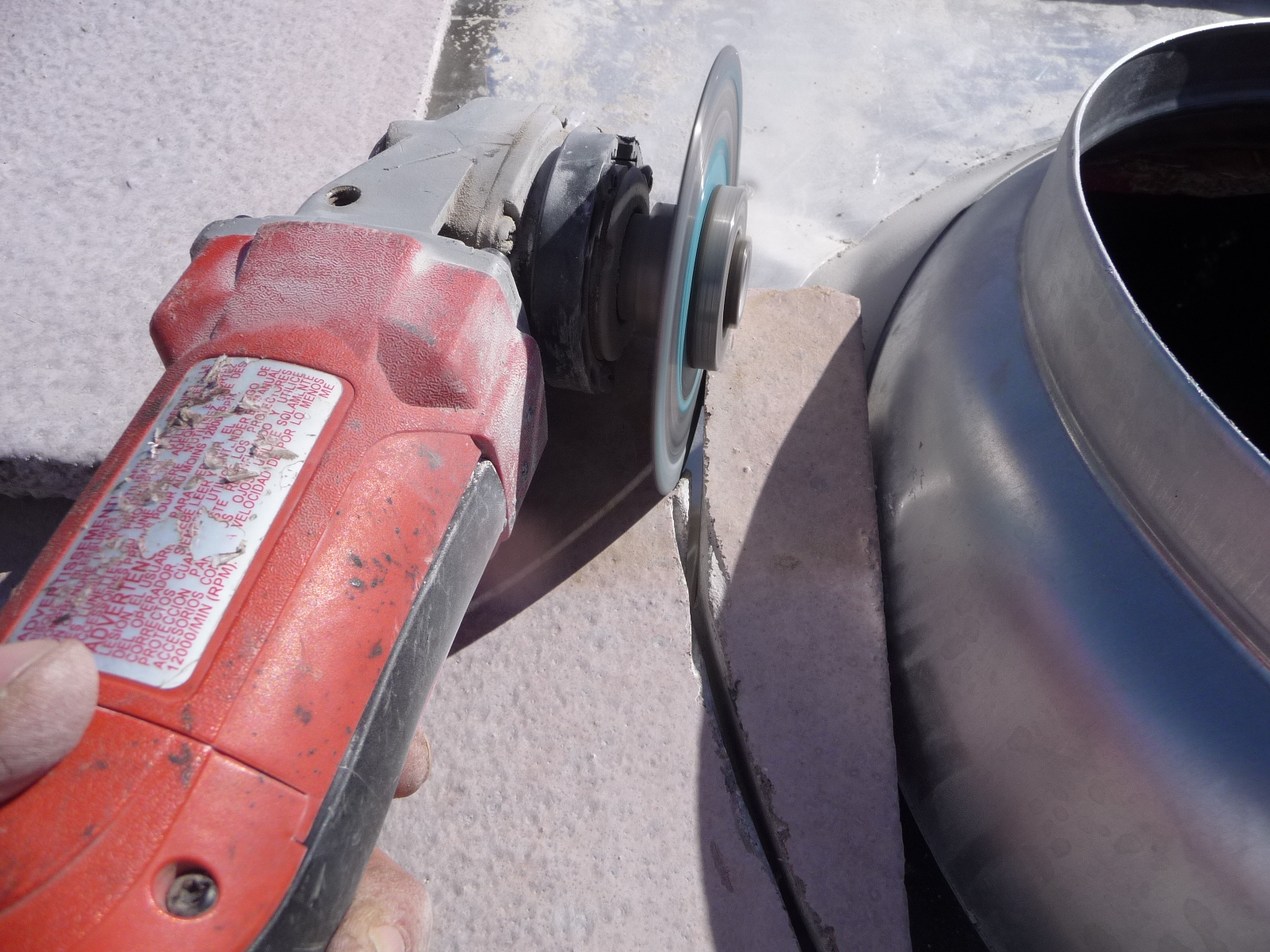 Many companies do not cut tiles with a diamond saw like we do.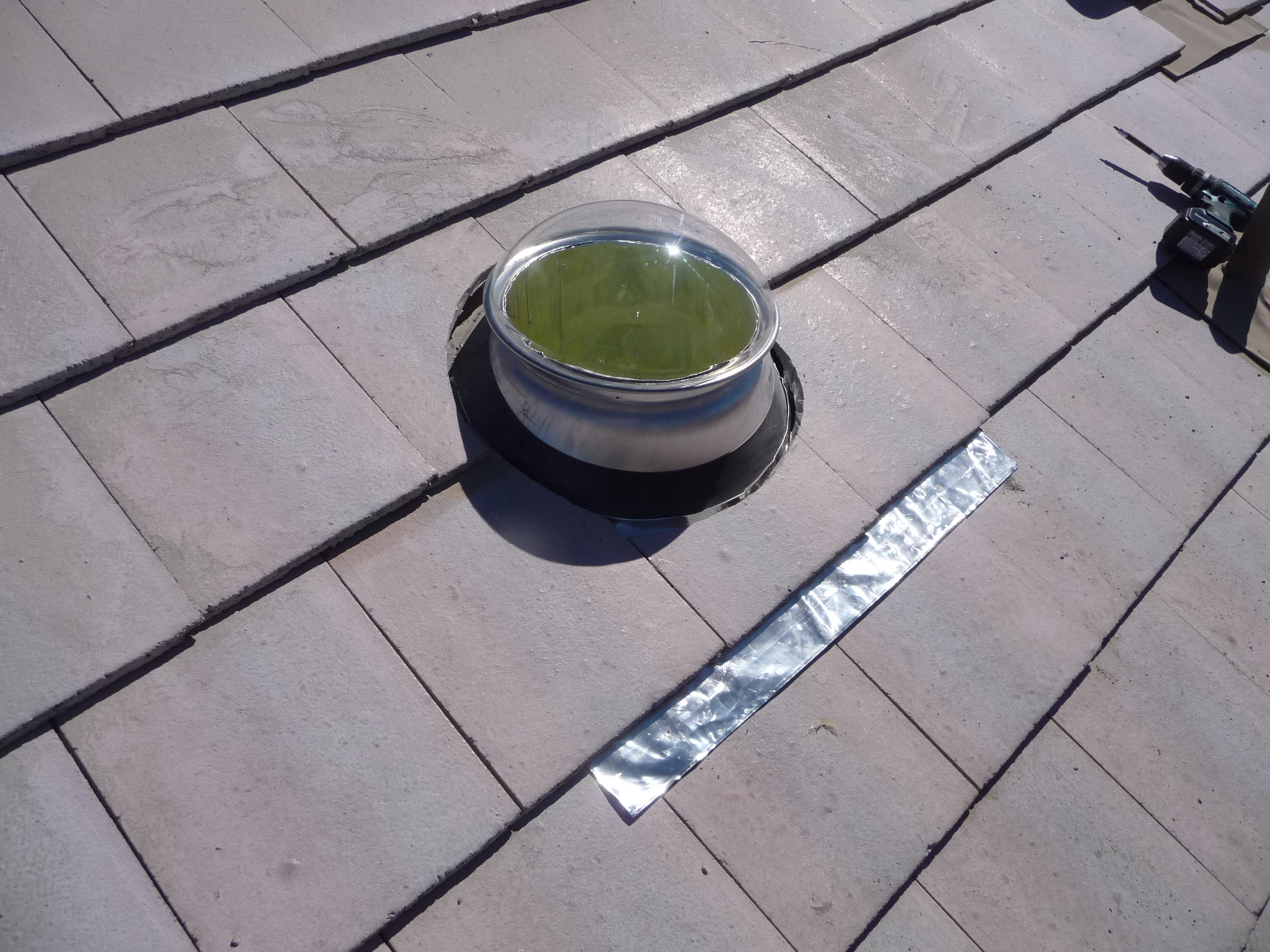 Tubular Skylight installed on a flat tile roof.

Tubular Skylight Light Kit Options
Lenses:
There are two types of ceiling diffuser lenses that are available with each kit. The first is a clear lens with diamond shapes embossed into it. The second option is a milky white lens. See the photos below: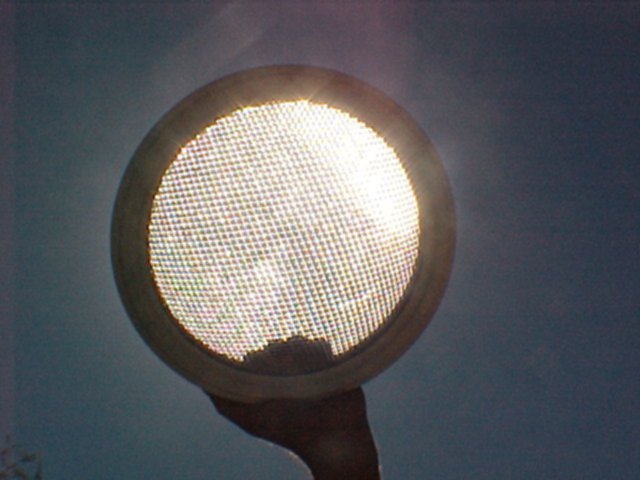 This prismatic lens outputs more light than the milky white lens and
creates sharp, distinct shadows.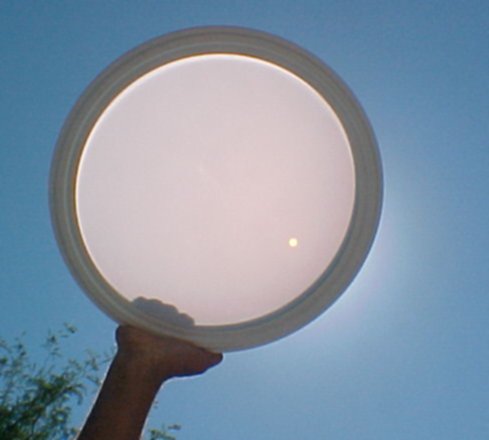 The milky white lens offers a softer, more subtle light with soft shadows.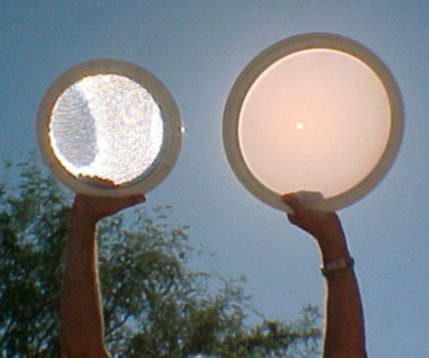 10" on the left, 13" on the right
Every tubular skylight can be fitted with an internal light kit so it can be used at night like a conventional ceiling light.
The 10" unit has an adapter that allows the integration of a bathroom fan.
Secure online ordering and options on tubular skylights click here.
Do it yourself home kits available in 10", 13" and 18" sizes. Our prices may be a bit higher than other online sources but you get what you pay for: Technical (installation support), better light output, better diffusion (lights up the entire room not just a round spot on the floor), domes that will never yellow, light pipe that won't delaminate and lenses that don't need to have bugs and dust removed every month.
Pricing includes shipping
Installed prices below in the metro Phoenix area:
10" unit
$189 includes 4' light pipe, flashing, dome, diffuser and hardware
Extra 10" light pipe per 2' section: $29
Light Kit: (incandescent 60 watt screw-in bulb) $40
Energy Efficient Compact Fluorescent light kit (10,000hr 17 watt) $89
10" angle adapter $29
Installed price in Metro Phoenix area: $775.00
Tile roofs $75 extra per skylight
6' of light pipe included in installed cost. Extra pipe: $40 per 24" section

13" unit
$225 includes 4' light pipe, flashing, dome, diffuser and hardware
Extra 13" light pipe per 2' section: $39
13" angle adapter $39
Installed price in Metro Phoenix area: $675.00
Tile roofs $75 extra per skylight
6' of light pipe included in installed cost. Extra pipe: $40 per 24" section
18" unit
$340 includes 4' light pipe, flashing, dome, diffuser and hardware
extra 18" light pipe per 2' section: $49
Installed price in Metro Phoenix area: $945.00
Tile roofs $75 extra per skylight
6' of light pipe included in installed cost. Extra pipe: $50 per 24" section
21" unit Commercial applications only by bid only
TO ORDER:
Calculate how much pipe you need if the 4' that comes with each unit is
not sufficient. Remember to add at least 12" of pipe from the ceiling
to the roof to accommodate the depth of the flashing.

*Note: The 21" unit is only available with a flat flashing. Cannot be used on a pitched roof.

Discounts on multiple orders, shipping is reduced
As the internet distributor for tubular skylight products, you can purchase tubular skylights in Do-It-Yourself kits at a reduced price and enjoy the sun in your home. Installation is straightforward using simple hand tools and common sense. A complete set of easy to read, step by step, installation instructions come with each unit.
Each tubular skylight comes complete with everything you need to install it like a pro: 4' light tube, flashing, trim rings, screws, tape even two tubes of 25 year roof sealant. Installations available in the Phoenix area.
---

Hear what our customers have to say:
"I have always thought the tubular skylight was a great idea, what I didn't realize until I installed several different brands was the wide range of performance.
We installed tubular skylights in the office and showroom and I don't use any electricity for lighting at all! The light is very pleasant and easy on the eyes. Even on a cloudy day the tubular sky light emits a great deal of light. A great product for every home and office!"
T. Kindred
"I have lived in this house for twenty five years with a dark bathroom, I hated it.. My son installed a 10" tubular skylight and I can't believe the difference! Not only does the bathroom glow with a warm light, the hallway is even lit up. I do have one small problem, every time I walk past the bathroom I reach inside to turn off the light! My sister ordered two for her house.
Two years ago we remodeled the kitchen and we had a two foot by four foot conventional skylight installed in the center for more light. The light is nice, but every winter we have to tape a piece plastic over the opening at the ceiling because cold air seems to go right down my back when I'm doing dishes. I wish I would have had tubular skylights installed instead.
Rose L. Detroit Michigan
"Since the addition on the south side of my home, my kitchen, dining room and living room required the use of lights, even during the day. Horizon Energy Systems installed three 10" tubular skylights and I can't believe the difference! My kitchen is bright and I don't need lights to read during the day. I was amazed to see them even putting out light on a full moon! My only regret I have is not installing them in the bathroom, hallway and garage. I'll be doing that soon. Thanks for a great job!
Dane Cutting Phoenix, AZ
"Our kitchen was dreary and dark, even during the day since the rear addition was built and took away my sunshine. A 12" tubular skylight brought life back to my kitchen. The plants are growing, the lights are off and the whole room is more enjoyable to be in. We need three more and I can't wait to get them! I highly recommend this product"
L. Trump Phoenix, AZ
"Horizon Energy came to my home to do an energy audit and upon walking into my kitchen the autitor said: "you are not going to believe what your granite countertops will look like with full spectrum light on them". I wasn't sure of the terminology but he impressed upon me the benefits and state and federal incentives of tubular skylights and I must say, of the upgrades Horizon did to my house which in itself is nothing short of amazing (dropped my energy bill by over 40% and made my home more comfortable), the 18" tubular skylight makes me not want to leave my formerly dreary kitchen. I feel alive when I'm in there and enjoy not only the light but knowing I'm not using power to make my home beautiful. I'm getting two more, one in the master bath and one in office.
S. Knudsen Scottsdale, AZ
Click here to check out energy incentives across the US.
Secure online ordering and options on tubular skylights click here.
Don't plug in more cords, bring in more light with

Tubular Skylights
More questions? Email us click here
We accept VISA, certified check or money order as payment
Phone: 602-867-3176
To return to our main page click here

Web page design and maintained by B Rad Design Group
Copyright text, HTML and photos 1997-2022 Horizon Energy Systems. All rights reserved.
Violators will be prosecuted
Information in this document is subject to change without notice.
Other products and companies referred to herein are trademarks or
registered trademarks of their respective companies or mark holders.