Radiant barrier, radiant barrier for your attic. Cut your energy costs. Great energy conservation product barrier radiant barrier, home insulation, insulation
no, RD factor radiant barrier,
Tempe, heat
Contact us: 602-867-3176

PROPRIETARY PATENTED SUSTAINABLE BUILDING PRODUCTS

What our customers have to say
(Reprinted with permission from Arizona Republic)
Reflective shields touts energy advantages
As the extreme heat of summer and high electric bills approach, an inventor in Phoenix says he has an under utilized option for bouncing heat out of houses.
Horizon Energy Systems Inc. in Phoenix manufactures a reflective, radiant barrier for attics that can save 35 percent or more on the cooling energy needed to keep houses at comfortable temperatures. That's dramatically more than the conventional wisdom in the utility industry, which holds that 10 percent or less of the heat entering a house comes through the attic.
The conflicting information sets up a sort of mystery in thermodynamics, with some experts only recommending the barriers in new buildings. Customers, though, claim that retrofitting their attics with the Mylar-looking, triple-layered reflective sheeting has saved them big money.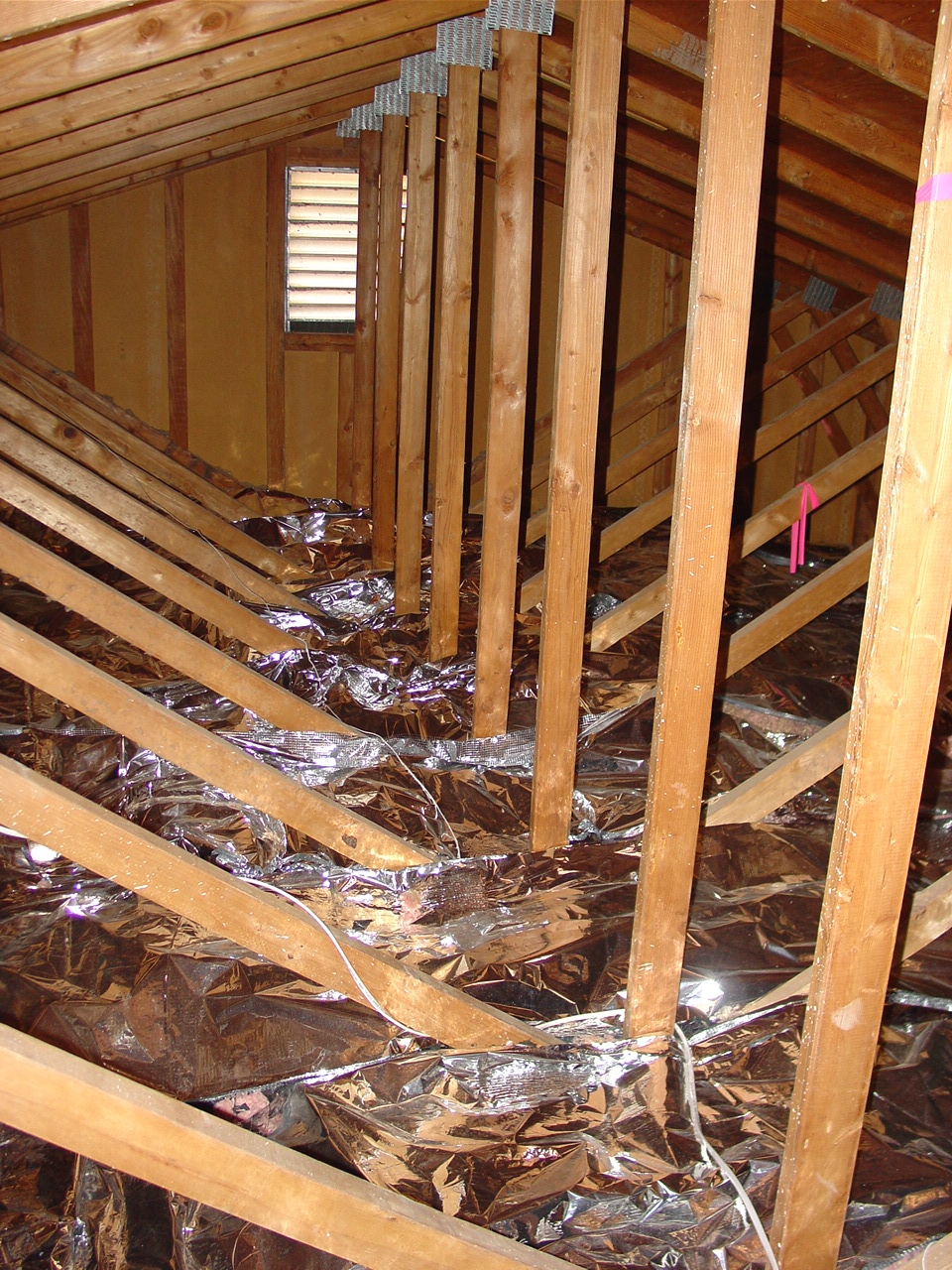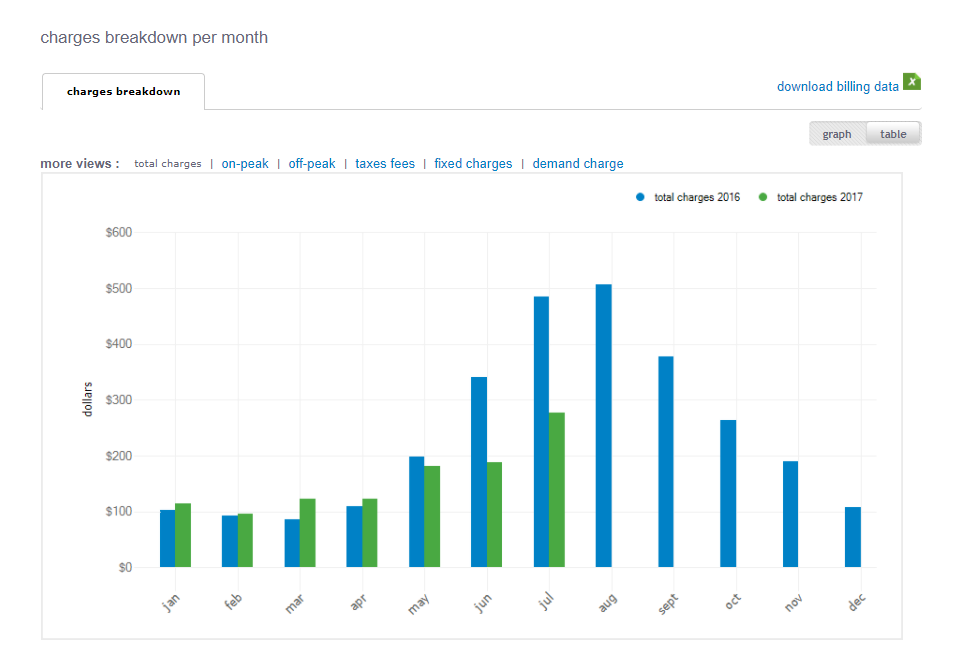 TCM Space Quilt. Like a flexible Thermos bottle 2018 APS customer before and after bill. And more comfort

"For 20 years, Horizon Energy Systems has been reinventing and installing their products in Arizona. "Better insulation would cut the need for more power
plants. "Uncomfortable homes, high energy bills, blackouts, brownouts, these are not the problems, these are the symptoms," They said, "The problem
is too much heat coming into our buildings."
Horizon offers this product installed for $1.40 per square foot of attic space, or 79 cents a square foot to people who want to install it themselves.
The barrier works the same way as a thermos bottle that keeps a cold drink chilled even when placed in the sun by redirecting not just the visible
sunlight but the infrared heat waves from the bottle, he said. ABC's television show Extreme Makeover: Home Edition used Horizon's reflective
product for an episode filmed last year on the Navajo Nation in northeastern Arizona, when contractors replaced a family's trailer home with a
self-sufficient energy home.
Customers praise the barrier.
Jackie and Tom Connolly had Horizon install a radiant barrier on their home in north Phoenix in March 2007. With an attic fan and resetting a load
controller, they said they've saved $800 in ten months on electric bills. At that rate, they'll pay off the $5,000 investment in a little more than six years.
"We were having all sorts of problems with hot spots in the house," Tom said. "The house wasn't cooling at all. We had one horrendous summer
after we did some construction." First, the family put more insulation in the attic. "That was a waste of money," he said. "It didn't work."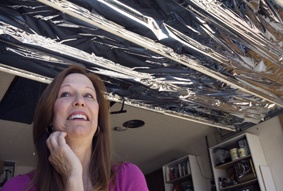 He found Horizon on the Internet, and after a consultation decided to try the barrier and attic fan, which Lindsay says is necessary to keep from
overheating the attic with the reflective material. The family also put the barrier on the inside of a garage door and immediately could feel the difference
in the garage and bordering rooms.
"We've definitely seen a difference," Jackie said.
Evan Mitton of Litchfield Park also was having problems keeping his place cool, and he was getting quotes from companies that wanted to install
a larger air-conditioner on his home for as much as $5,000. For that price, Horizon installed a smaller, more efficient heat pump, which qualified
for a rebate from a utility, and put a barrier in his attic. Mitton's bills have gone from $151 a month to $96, he said. He is on a payment plan that
charges a flat monthly fee so his bills don't fluctuate month to month. He expected the savings by replacing the 25-year-old air-conditioner with
one of the same size, but not when replacing it with a smaller model, he said.
"It works really well," Mitton said of the barrier. "It keeps the house a lot cooler."
Phoenix utility experts have known about radiant barriers similar to what Horizon makes for decades, but they say their potential is limited in well
insulated attics. Salt River Project and Arizona Public Service Co. both offer rebates for things like air-conditioner tuneups that save electricity,
but they don't have rebates for radiant barriers.
Neither SRP nor APS would speak specifically about Horizon products.
An APS official said that the least amount of heat entering a home comes from the ceiling and attic. "(Radiant barriers are) in that category of
things that certainly help, but is it cost effective or not is the big question," said Tom Hines, manager of the residential energy efficiency program at APS.
"When I see claims out there of saving 30 percent or more on bills, it's hard to do that when not that much heat is coming in the house (through the attic),"
Hines said.
A spokesman with the American Society of Heating, Refrigerating and Air-Conditioning Engineers said that the figures cited by APS are out of date
and that modern research shows 20 percent to 25 percent of the heat entering homes comes from the attic and ceiling, making radiant barriers
economical, although not as productive as Lindsay says.
"The number quoted by the utility is much too small," said Andre Desjarlais, chairman of the ASHRAE committee on building "envelopes" or barriers
and insulation. He also is the program manager for building-envelope research at Oak Ridge National Laboratory in Tennessee.
"The attic and ceiling are taking the biggest load from the sun," he said. "It can't be the smallest contributor (to home-heat gain). That doesn't pass the
common-sense test." Desjarlais said that radiant barriers make the most sense in super-hot places like Phoenix, especially on older homes with
minimal attic insulation. For heavily insulated homes, the return on cost is much smaller, he said.
Sempra Energy in San Diego has been communicating with Horizon to set up tests to determine the true energy-saving value of the product,
spokeswoman Rachel Laing said. If proved valuable, it could qualify for rebates in California, she said.
"In concept, it seems worthwhile to test," Laing said.
SRP officials said that the barriers can be effective, but the utility focuses its rebates on areas that its experts see as more cost efficient, such as shade
screens that keep heat from moving into homes through windows. They certainly can be (useful)," said Jerry Thieken, a senior project manager and
energy expert for SRP who has reviewed data about radiant barriers. "You will find them a lot in new construction where it is easy to install during the
construction process.
"In a retrofit, it's a little more difficult because you have to squeeze it into tight spaces."


New Construction
How is it possible, without insulation in the walls, to heat and cool this 2300 sq foot home with a family of nine...

For under $300.00 per YEAR???
The data is accurate: less than 80 cents per day for heating and cooling in the desert of Phoenix, Arizona!
If you are planning a new home, allow us to design unparalleled energy savings into your home that will insure a lifetime of comfort and energy savings.

Scroll down to read what the Senior Project Manager of one of the largest building corporation in the United States has to say, or the Arizona Corporation Commissioner, or just a few of our very satisfied (and comfortable) customers:

Horizon Energy Systems
Radiant Barrier Testimonials
"Our 2300 sq. ft., all electric cinder block home was built without conventional insulation in the walls, only Radiant Barrier. Our attic has an R-19 cellulose product covered by the Radiant Barrier product"
"We spend an average of 80 cents per day for heating and cooling and this is one of the most comfortable homes I have been in, even on the hottest days or coldest nights. As a builder I long suspected that fiberglass insulation stored heat and this home design sure proves it. Radiant barrier is the technology of the future and should be included in every new home built today. The initial high price is soon forgotten when your electric bill 1/2 of what your neighbors are paying with smaller houses and fewer kids!
Block home, pitched roof, south orientation, dual pane glass
Steve Neil, Phoenix AZ Home Builder

I am writing this letter for the purpose of relating my experience with and opinion of the Radiant Barrier Systems (RBS), that Horizon Energy Systems produces. My qualification to support these opinions and experiences include the following:
I am a registered Professional Architect in Arizona and Wyoming (inactive), with 20 years of experience in commercial and residential design. In this capacity, I have designed houses and many types of commercial and institutional buildings in both northern and desert southwest climates.
I am currently the Senior Construction Project Manager for Opus Southwest Corporation in Phoenix, AZ. Opus Southwest is one of the group of Opus companies, with offices in 15 American cities. Opus is currently the largest developer of commercial real estate in the United States and combines building design, construction and property management with real estate development.
I have, since 1978, studied solar energy and energy efficient design issues. I have completed a 4-part American Institute of Architects seminar series called "Energy in Architecture" that explored all aspects of energy efficient designs issues, including computer aided energy modeling for commercial and institutional buildings.
I have recently installed Horizon Energy Systems RBS in the walls and ceiling of a 1.000 sq foot addition to my home in Phoenix, Arizona. Horizon Energy Systems installed RBS in the walls and ceiling of this addition.
Although I had not specified RBS in this addition, I quickly decided to include a reflective barrier beneath the roof deck and between the wall sheathing and exterior stucco finish. As the RBS was being installed during August of 1995, my wife and children reported that they definitely felt cooler in the areas that the barrier RBS was installed as compared to the areas immediately adjacent, which had not yet received the RBS.
I chose to include the RBS in this addition because I know that by reducing the radiant heat gain through the walls and roof deck, my fiberglass insulation would absorb less heat, thus increasing its' efficiency. This will prevent the insulation from becoming a "heat sink" and storing unwanted heat in the structure. The RBS will also keep heat from leaving during the winter by re-radiating infra-red heat back into the conditioned space.
I strongly recommend the use of Radiant Barriers to reduce heat gain, heat loss, reducing energy consumption and increasing interior comfort. I also endorse Brad Lindsay personally as an educated and experienced proponent of energy efficient building systems.

Allan Torvie, Senior Project Manager
OPUS SOUTHWEST CORPORATION

"We own a 2353 sq. ft home built in 1982. The home is slump block and cinder block construction with a southern orientation. In January of 1995, Horizon Energy Systems installed Radiant Barrier our attic. We have realized significant savings and increased interior living comfort since the installation."
"In just nine months, our consumption was reduced 20.6% and we saved $394.28 or 32.3% over last years bill! I also installed Horizon's Radiant Wrap on the inside of our garage door and around my hot water tank near the end of September which increased the temperature of our hot water and dramatically reduced the temperature in the garage."
"In closing, we are very pleased with the result of the Radiant Barrier products an strongly endorse the use of these products."
Slump block home, pitched roof, south orientation, dual pane glass
Robert R. Shields, BS, C.E.T., D.C.

"After observing the performance of Radiant Barrier in my shop, I decided to have Horizon Energy Radiant Barrier installed in my home. I left the cooler on accidentally all morning and by 9:00am, the house was 64 degrees, colder than it has ever been using the cooler. I shut the cooler off and went to work. Upon returning at lunch the house was still 70 degrees. This is by far the highest performing insulation product I have seen, a great investment!"
Framed home, pitched roof, south orientation, dual pane glass
Barry Noblitt, Phoenix, AZ

"After having the Horizon Radiant Barrier installed in our attic, we have been able to shut our air conditioning off at noon and coast until 9pm. On the hottest day of the summer, the upstairs is still 79 degrees even though the a/c has been off for nine hours! Also, before the radiant barrier was installed on the garage door, the garage was terribly hot and the freezer ran continuously. Doing laundry was miserable! Now the garage is comfortable and the freezer cycles on and off as it should. I wish I would have installed this years ago! This is the best investment I have ever made!"
Framed two story home, pitched roof, west orientation, dual pane glass
Deborah Carpenter, Phoenix, AZ

"I can't believe the difference in my home since you added the aluminum insulation. I have lived in the 2900 sq. ft. home for more than 8 years and the summers have been dreadful. The upstairs of my home was unbearable, you could hardly sleep at night. As you walked up the stairs you would feel the difference in temperature and the upstairs thermometer was always 15 degrees hotter than downstairs.
It was until now! The difference is unbelievable. There is no temperature difference between upstairs and down, my electric bill is less than a third of last years for the same month, and the degree days this year for the same month is much higher.
I just wanted to let you that you have a very happy customer in Phoenix and I strongly recommend Horizon Energy to everyone!"
Two story frame home, pitched roof, south orientation, dual pane glass
Thanks Again, Carl Hosier, Sr.

"A before and after test of Radiant Barrier was performed in my home which clearly illustrated the performance of this unique product. But the real test is that the installation of Radiant Barrier in our home significantly increased the comfort of our living space."
Converted chiken coop, pitched roof (no insulation only RBS), West orientation, single pane glass
Renz Jennings, Arizona Corporation Commissioner

"Horizon Energy Systems designed energy savings into our new home while in the planning stages. One of outstanding features of our 3450 sq. ft. desert home is the Radiant Barrier System on the walls and ceiling which keeps our electric bill much lower than any of our neighbors...with smaller homes.
The builder of our custom home was skeptical as were several of the tradesmen working on the home. I must admit, our began to look like a space station during construction. However, the proof in performance was quickly realized as it became more comfortable to be in the house than standing outside in the shade once the radiant barrier was installed!
Our reassurance of this unique product became apparent in August after a severe storm which left us and all of our neighbors without power for 52 hours. It doesn't take long to be uncomfortable during August in Phoenix Arizona without air conditioning. Our neighbors fled their homes for hotels, friends and family. We stayed in our home WITHOUT ANY AIR CONDITIONING. Although it wasn't cool, it was bearable with the windows open due solely to the effects of the radiant barrier. We would strongly recommend the installation of radiant barrier and the professional services of Horizon Energy Systems"
Framed home, flat roof, nouth orientation, dual pane glass
Joe and Tish Bedard, Waddell, Arizona

"Our two story home was miserable upstairs, two of the three upstairs bedrooms were too hot to live in. We called air conditioning contractors, the builder all without satisfaction, the heat was still there. When Horizon Energy Systems showed us there was too much radiant heat emitting from the upstairs ceiling. They first recommended placing radiant barrier on the garage door which lowered the temperature of the garage twenty degrees and also adding radiant barrier chips to the attic.
What was once the hottest part of the house is now comfortable! I can't believe the difference! I turn my thermostat down to 70 degrees and at 9am shut off the A/C...the house goes 10 hours before needing to be turned back on again. I can't wait to get my next electric bill!"
Two story framed home, pitched roof, south orientation, dual pane glass
Richard Knipple, Phoenix, AZ

These are just a few of our customers who have experienced the benefits of a quality and properly installed Radiant Barrier System. For more information on our patented products or energy consultation services, drop us some email or give us a call and start putting more of your taxed income into your pocket, not the utilities!
Contact us at: 602-789-1699 for ordering product or application questions.
Click here to email us
Back to our main page
click here
Visit our Ductless Mini Split page
click here
Space Quilt cuts heating and cooling bills
click here
Email: pleasesavenrg@gmail.com

Web page design and maintained by B Rad Design Group
Copyright 1997-2019 all images and text copyrighted by Horizon Energy Systems.
All rights reserved and violators will be prosecuted.