Radiant barrier, radiant barrier for your attic. Cut your energy costs. Great energy conservation product barrier radiant barrier, home insulation, insulation
no, RD factor radiant barrier,
Tempe, heat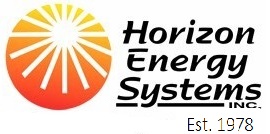 Contact us: 602-867-3176
Read Reviews

What our customers have to say
(Reprinted with permission from Arizona Republic)
Reflective shields touts energy advantages
As the extreme heat of summer and high electric bills approach, an inventor in Phoenix says he has an under utilized option for bouncing heat out of houses.
Horizon Energy Systems Inc. in Phoenix manufactures a reflective, radiant barrier for attics that can save 35 percent or more on the cooling energy needed to keep houses at comfortable temperatures. That's dramatically more than the conventional wisdom in the utility industry, which holds that 10 percent or less of the heat entering a house comes through the attic.
The conflicting information sets up a sort of mystery in thermodynamics, with some experts only recommending the barriers in new buildings. Customers, though, claim that retrofitting their attics with the Mylar-looking, triple-layered reflective sheeting has saved them big money.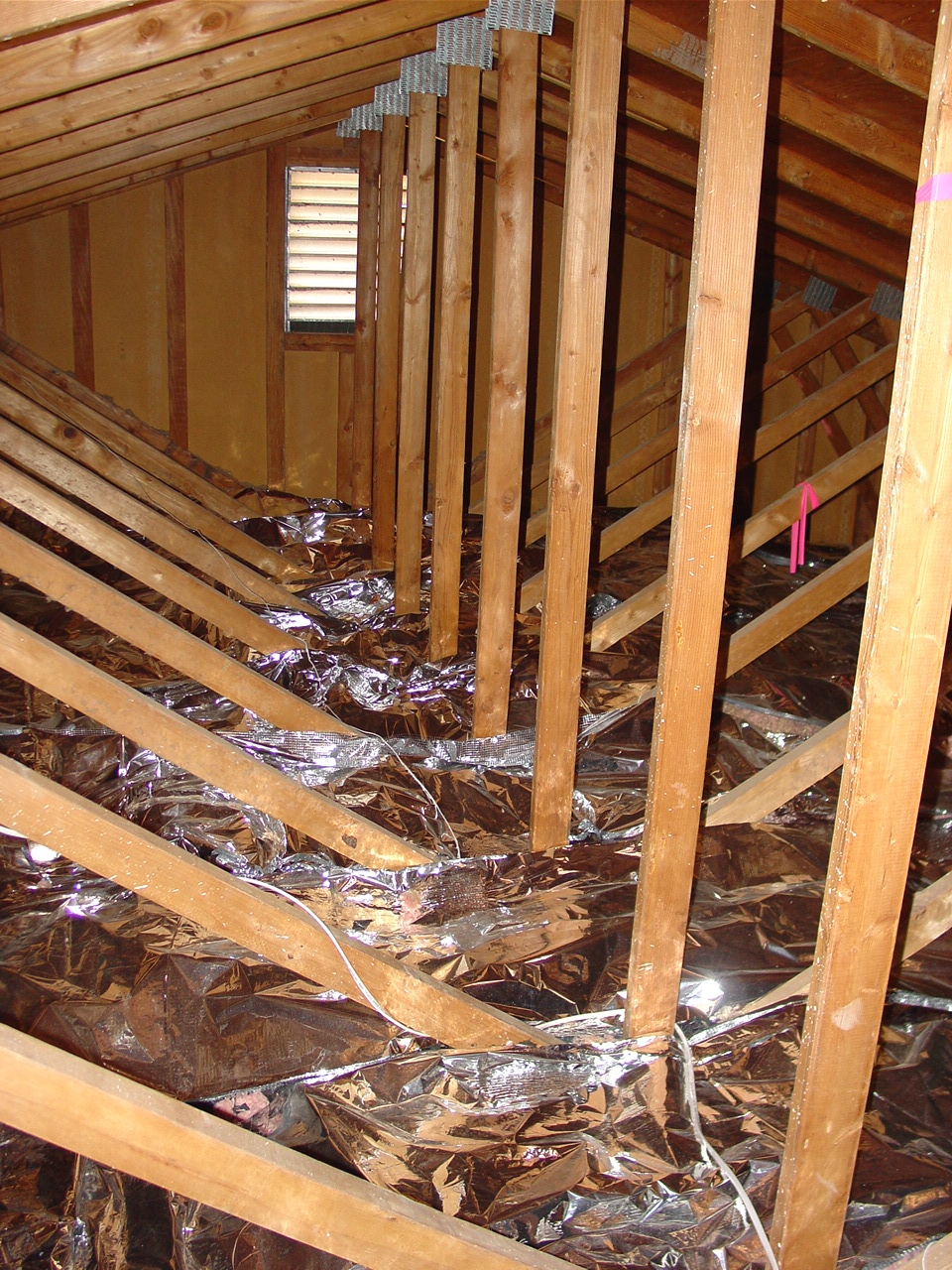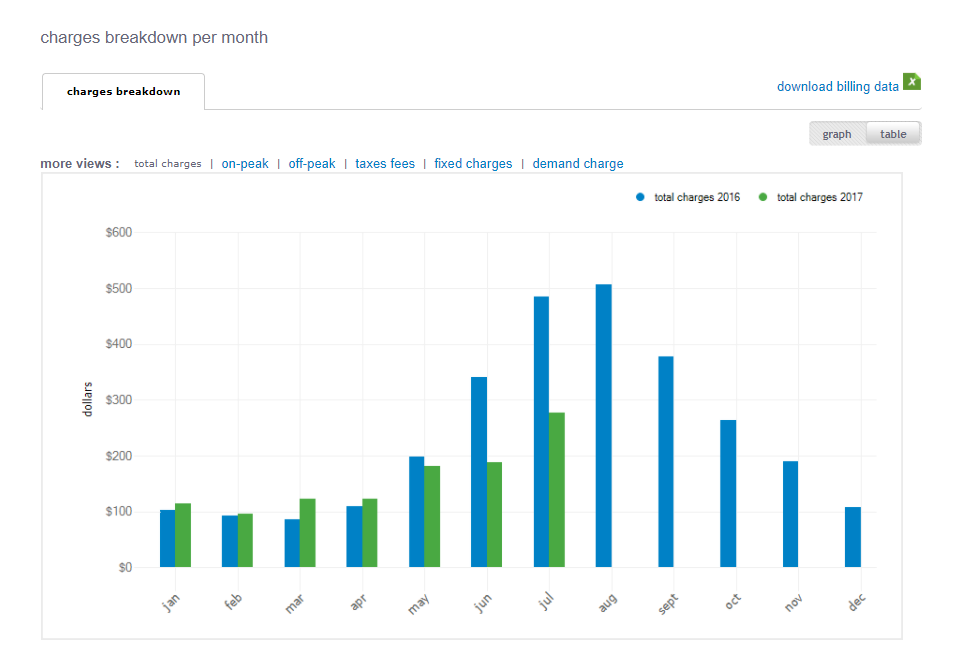 This is a 2018 APS customer before and after bill. And more comfort



"For 20 years, Horizon Energy Systems has been reinventing and installing their products in Arizona. "Better insulation would cut the need for more power plants. "Uncomfortable homes, high energy bills, blackouts, brownouts, these are not the problems, these are the symptoms," They said, "The problem
is too much heat coming into our buildings." states the CFO Alex Johnson
Horizon offers this product installed for $1.60 per square foot or 79 cents a square foot to people who want to install it themselves.

The barrier works the same way as a thermos bottle that keeps a cold drink chilled even when placed in the sun by redirecting not just the visible sunlight but the infrared heat waves from the bottle, he said. ABC's television show Extreme Makeover: Home Edition used Horizon's reflective product for an episode filmed last year on the Navajo Nation in northeastern Arizona, when contractors replaced a family's trailer home with a self-sufficient energy home.
Customers praise the barrier:
Jackie and Tom Connolly had Horizon install a radiant barrier on their home in north Phoenix in March 2007. With an attic fan and resetting a load controller, they said they've saved $800 in ten months on electric bills. At that rate, they'll pay off the $5,000 investment in a little more than six years.
"We were having all sorts of problems with hot spots in the house," Tom said. "The house wasn't cooling at all. We had one horrendous summer after we did some construction." First, the family put more insulation in the attic. "That was a waste of money," he said. "It didn't work."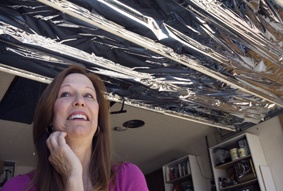 He found Horizon on the Internet, and after a consultation decided to try the barrier and attic fan, which Lindsay says is necessary to keep from overheating the attic with the reflective material. The family also put the barrier on the inside of a garage door and immediately could feel the difference
in the garage and bordering rooms.
"We've definitely seen a difference," Jackie said.
Evan Mitton of Litchfield Park also was having problems keeping his place cool, and he was getting quotes from companies that wanted to install a larger air-conditioner on his home for as much as $5,000. For that price, Horizon installed a smaller, more efficient heat pump, which qualified for a rebate from a utility, and put a barrier in his attic. Mitton's bills have gone from $151 a month to $96, he said. He is on a payment plan that
charges a flat monthly fee so his bills don't fluctuate month to month. He expected the savings by replacing the 25-year-old air-conditioner with one of the same size, but not when replacing it with a smaller model, he said.
"It works really well," Mitton said of the barrier. "It keeps the house a lot cooler."
Phoenix utility experts have known about radiant barriers similar to what Horizon makes for decades, but they say their potential is limited in well insulated attics. Salt River Project and Arizona Public Service Co. both offer rebates for things like air-conditioner tuneups that save electricity, but they don't have rebates for radiant barriers.
Neither SRP nor APS would speak specifically about Horizon products.
An APS official said that the least amount of heat entering a home comes from the ceiling and attic. "(Radiant barriers are) in that category of things that certainly help, but is it cost effective or not is the big question," said Tom Hines, manager of the residential energy efficiency program at APS.
"When I see claims out there of saving 30 percent or more on bills, it's hard to do that when not that much heat is coming in the house (through the attic)," Hines said.
A spokesman with the American Society of Heating, Refrigerating and Air-Conditioning Engineers said that the figures cited by APS are out of date and that modern research shows 20 percent to 25 percent of the heat entering homes comes from the attic and ceiling, making radiant barriers economical, although not as productive as Lindsay says.
"The number quoted by the utility is much too small," said Andre Desjarlais, chairman of the ASHRAE committee on building "envelopes" or barriers and insulation. He also is the program manager for building-envelope research at Oak Ridge National Laboratory in Tennessee.
"The attic and ceiling are taking the biggest load from the sun," he said. "It can't be the smallest contributor (to home-heat gain). That doesn't pass the common-sense test." Desjarlais said that radiant barriers make the most sense in super-hot places like Phoenix, especially on older homes with minimal attic insulation. For heavily insulated homes, the return on cost is much smaller, he said.
Sempra Energy in San Diego has been communicating with Horizon to set up tests to determine the true energy-saving value of the product, spokeswoman Rachel Laing said. If proved valuable, it could qualify for rebates in California, she said. "In concept, it seems worthwhile to test," Laing said.
SRP officials said that the barriers can be effective, but the utility focuses its rebates on areas that its experts see as more cost efficient, such as shade screens that keep heat from moving into homes through windows. They certainly can be (useful)," said Jerry Thieken, a senior project manager and energy expert for SRP who has reviewed data about radiant barriers. "You will find them a lot in new construction where it is easy to install during the construction process. In a retrofit, it's a little more difficult because you have to squeeze it into tight spaces."


New Construction
How is it possible, without insulation in the walls, to heat and cool this 2300 sq foot home with a family of nine...

For under $300.00 per YEAR???
The data is accurate: less than 80 cents per day for heating and cooling in the desert of Phoenix, Arizona!
If you are planning a new home, allow us to design unparalleled energy savings into your home that will insure a lifetime of comfort and energy savings.

Scroll down to read what the Senior Project Manager of one of the largest building corporation in the United States has to say, or the Arizona Corporation Commissioner, or just a few of our very satisfied (and comfortable) customers:
Commercial Applications




Frank Luke Senior Center. 65 units and a 8,000 sq foot community center building. All were wrapped
in Space Quilt and covered in our patented Diamondback Stucco foam. So efficient it broke records
and won awards.

Finsished Project: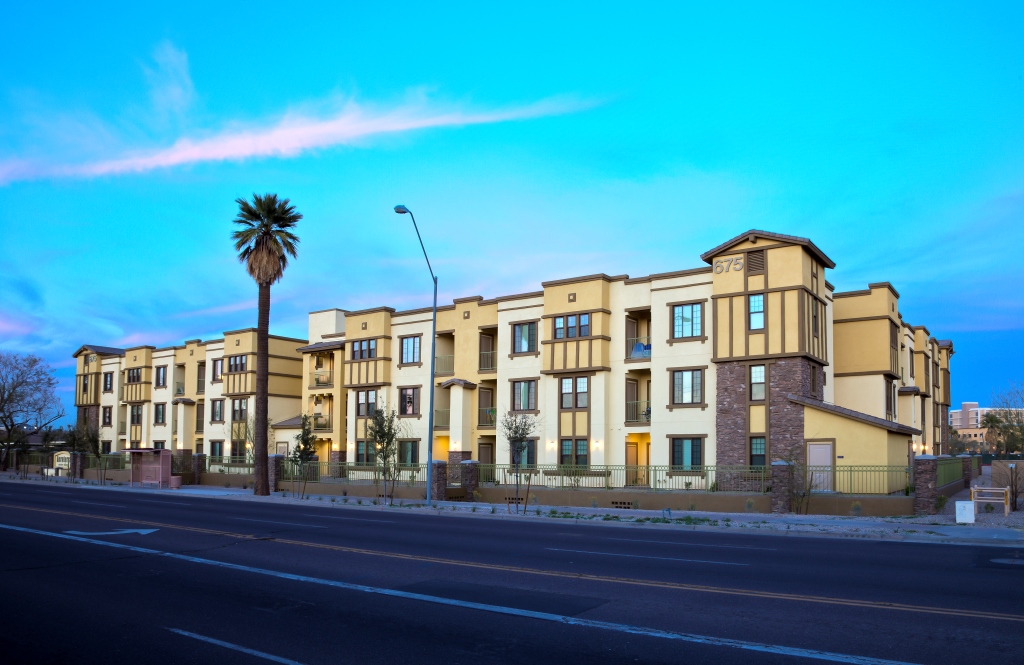 Horizon Energy Systems
Space Quilt Testimonials
"I am writing this letter for the purpose of relating my experience with and opinion of the Radiant Barrier Systems (RBS), that Horizon Energy Systems produces. My qualification to support these opinions and experiences include the following:
I am a registered Professional Architect in Arizona and Wyoming (inactive), with 20 years of experience in commercial and residential design. In this capacity, I have designed houses and many types of commercial and institutional buildings in both northern and desert southwest climates. I am currently the Senior Construction Project Manager for Opus Southwest Corporation in Phoenix, AZ. Opus Southwest is one of the group of Opus companies, with offices in 15 American cities. Opus is currently the largest developer of commercial real estate in the United States and combines building design, construction and property management with real estate development.
I have, since 1978, studied solar energy and energy efficient design issues. I have completed a 4-part American Institute of Architects seminar series called "Energy in Architecture" that explored all aspects of energy efficient designs issues, including computer aided energy modeling for commercial and institutional buildings.
I have recently installed Horizon Energy Systems RBS in the walls and ceiling of a 1.000 sq foot addition to my home in Phoenix, Arizona. Horizon Energy Systems installed RBS in the walls and ceiling of this addition.
Although I had not specified RBS in this addition, I quickly decided to include a reflective barrier beneath the roof deck and between the wall sheathing and exterior stucco finish. As the RBS was being installed during August of 1995, my wife and children reported that they definitely felt cooler in the areas that the barrier RBS was installed as compared to the areas immediately adjacent, which had not yet received the RBS.
I chose to include the RBS in this addition because I know that by reducing the radiant heat gain through the walls and roof deck, my fiberglass insulation would absorb less heat, thus increasing its' efficiency. This will prevent the insulation from becoming a "heat sink" and storing unwanted heat in the structure. The RBS will also keep heat from leaving during the winter by re-radiating infra-red heat back into the conditioned space.
I strongly recommend the use of Radiant Barriers to reduce heat gain, heat loss, reducing energy consumption and increasing interior comfort. I also endorse Brad Lindsay personally as an educated and experienced proponent of energy efficient building systems."

Allan Torvie, Senior Project Manager
OPUS SOUTHWEST CORPORATION
---
"When we were in the market for a new heat pump, we were initially looking to save money on electrical costs. Our existing problems included a kitchen that would not cool and a front bedroom that was always hot. We got bids from several A/C contractors and all of them recommended we upgrade from a 3.5 ton unit to a 4 ton unit to gain more cooing capacity. Then we got an energy audit from Horizon Energy Systems. Our home was inspected not just for a new unit but also for existing problems. The NRG audit revealed our attic ventilation was not adequate, the ducts in the attic were leaking, there was insulation missing over the kitchen and the front bedroom. All the soffit vents were completely plugged with insulation.
Horizon Energy Systems and their energy auditors outlined the existing problems and made the common sense improvements like Space Quilt to reduce the heat load, increased attic venting and fixing the leaking ductwork. We not only ended up saving electricity, our house is more comfortable as well. Horizon installed a smaller 3 ton heat pump, added the Space Quilt and venting and installed the new heat pump in a downdraft configuration instead of the side draft using an elbow. We are using far less electricity and our house is much more comfortable than ever before. I highly recommend Horizon Energy Systems and the products and services they provide."
Will Klemovage, Phoenix Arizona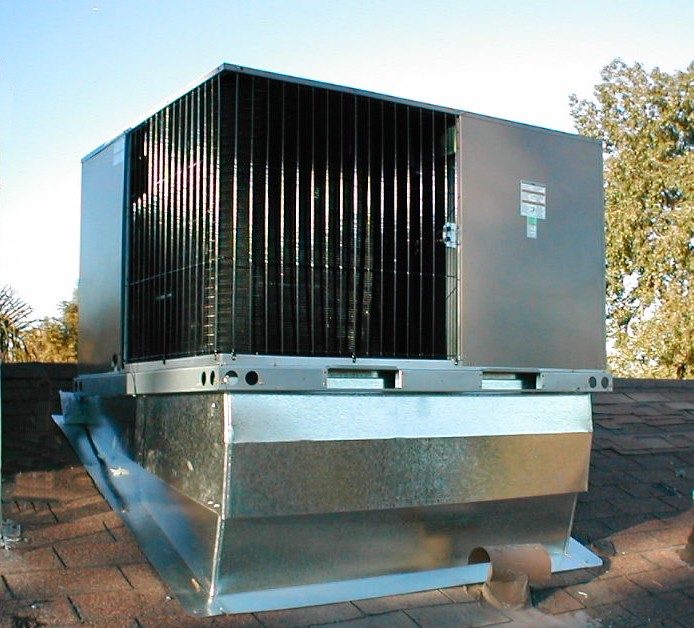 ---
Our home was hard to cool, the heat pump ran continuously during triple digit days and the house was always uncomfortable. While shopping for a new heat pump, every contractor we talked to suggested increasing the capacity from a 3 ton to a 3.5 ton. That was until we got a quote from Horizon Energy Systems. They suggested going to a smaller unit (2.5 ton), and installing Thermal Control Membrane in the attic with a German fan exhauster. This energy package was a bit more expensive than our highest bid but it made sense. We had this work done and our home is more comfortable (winter and summer), the unit stays off longer than it runs and our APS bill has dropped by 50% from last year as shown on our APS bill! One reason is being able to take advantage of the off peak power as suggested by Horizon Energy Systems. If you are considering a new system this is the way to go. Obvious is the performance as we now have a smaller unit and the house is much more comfortable.
We are really happy with the professional installation, follow up and support. On a ending note, I had installed a new thermostat which has a timer on it. I wired it wrong and when it came time to use the heat only the fan would run.
With a measured outside temperature in the morning last week of 34F the house stayed at 68F USING NO HEAT for days on end. The Thermal Control Membrane in the attic is just an amazing product! We called Horizon to fix the thermostat and even though is was not related to the heat pump installation they re-wired at no charge! Thank you!
Evan M. Phoenix, AZ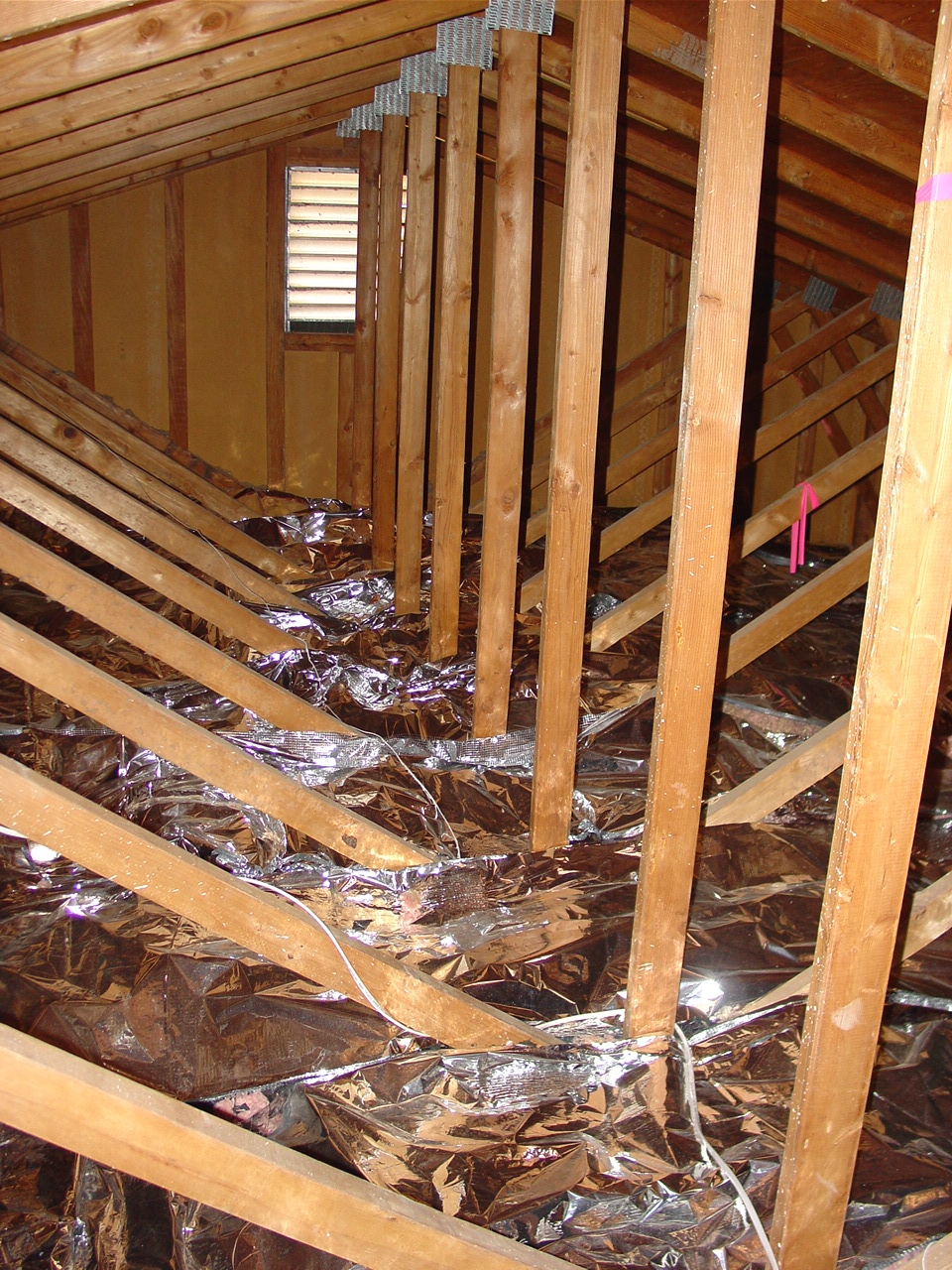 ---
"During the summer, our two a/c units ran non stop and could never get the house below 80 degrees. We run a home office and my wife and assistant were miserable so I knew I had to do something different this time around. We had a 4 ton unit and a 3 ton unit, both Carrier split systems providing our comfort needs (if you want to call 80 degees "comfort"). We got several bids and after talking to the reprentatives, every company suggested take out the 7 tons of cooling and install two 5 ton units to make the house more comfortable. The quotes we got were over $26,000. While surfing the net, I came across the Horizon Energy Systems page on heat pumps and making homes more efficient and comfortable so we decided to have them do an energy audit and quote us on new heat pumps. After an extensive inspection and an infrared camera scan we were told we had plenty of cooling capacity in fact more than enough due to how the existing ducts were picking up heat along the way and with the camera, we could see the heat pouring through the vaulted ceiling! Brad Lindsey advised us that we did not need to replace the air handlers, only the ouside condensing units which were replaced with a 3.5 ton on the 4 ton unit and the existing 3 ton down to a 2 ton unit. I must admit that I was very skeptical that we were taking off 1.5 tons of cooling on a house that in the past that could not get below 80 degrees with both units running non stop!
Our home now is just unbelievable! We had Horizon install their TCM attic membrane, wrap all our ducts, change the outside units, both thermostats and add two 18" tubular skylights. We now are able to SHUT OFF the a/c units from noon until 7pm which is the more expensive APS on peak rate and incredibly, the house stays in the 70's all day! Unbelievable would be an understatement and I would not have believed this could be possible had I heard someone tell me this could be done, especially on my own home! If you are considering having a heat pump replaced you are making a big mistake by not getting a quote by Horizon Energy Systems. Our home is more comfortable, our bills are less than 50% of what they were and our home is much brighter with the tubular skylights! "
Makenzie K, Peoria AZ Click here to see an interview.
---
"Wrapping our ducts in the crawlspace made a huge difference in evening out the temperature throughout the house. We even stapled the Duct Wrap up under the floor! What a difference! To get the family room and kitchen warm you had to cook the bedrooms. If you wanted comfortable bedrooms, we were freezing while watching TV. Easy to install too, I was amazed at how much came out of the little box."
R.MA.L. Michigan
---
"I stapled duct wrap inside my wooden building out back, sorta like a shed/workshop. It was just about impossible to work out there when the sun was up so I had to time my activities either early morning or late evening due to the heat. Once the duct wrap was stapled up, I can work in the hottest part of the day! It's really amazing, great support from the folks at Horizon as well. They answered all my questions and are energy experts"
Mitch M. Lake Elsinore CA
---
"My dog would not go into his dog house when the sun was out. I purchased a small amount of TCM Duct Wrap after talking to the folks at Horizon and they recommended this product for my application.
Believe it or not, the dog now loves his more comfortable home!"
L. Houston St. Croix, USVI
---
January 21, 2008 To: Horizon Energy Systems, Inc.
Mr. Lindsay,
I had to write you to say that as somewhat of a skeptic, I have been more than "amazed" at the immediate impact of the installation of your products in my home two days ago. I'll have to give credit where credit is due, you told me what to expect and you were 100% correct. The difference was immediate, your installation team finished up in the late afternoon and within an hour I was able to lower my thermostat by 3 degrees and felt warmer everywhere in my home all night long. The energy savings will prove more than worth the investment I am making, and I look forward to see just how quickly my ROI will develop.
Thanks so much for your amazing new technology and speedy implementation in my home. I look forward to being a reference for your company whenever and wherever your requirements dictate.
Thanks again & Best Regards,
Stephen Knudsen Scottsdale, AZ
Same customer above, a year later:
October 4, 2008 To: Horizon Energy Systems, Inc.
Well, I finally received my highest APS bill for the year in August 2008. September actually dropped from August and same month LAST year was $658.00, THIS year.....$330.!!!!!! Absolutely amazing! That's almost half! You told me that I could expect to be even MORE comfortable in my home, saving energy and money at the same time, but this is over-the-top! I could not be happier, only wish I'd found out about you a couple of years earlier. Hope all is well on your end, please feel free to use my endorsement anytime, anywhere.
Homeowners and Businesses alike NEED to know about this technology! Get Cracking!
Steve Knudsen Scottsdale, AZ
---
"Our new Sante Fe home originally was designed to have 14 tons of cooling per the specifications of the architect. Two 5 ton units on each wing and a 4 ton unit to serve the great room (with 14' high ceilings) and the kitchen.
Brad Lindsay of Horizon Energy Systems encouraged us at a recent home show to have a plan review done on the plans of our new home. Knowing a home of this size could have large energy bills to keep it cool we decided to have this service done.
When we received the modified plan back we were surprised to see the 14 tons of cooling reduced to 7! 2 ton units were to replace the five ton units and a 3 ton mini split, to reduce the conventional 4 ton unit in the center of the home. This reduction was made possible by wrapping the entire home in Horizon's TCM6 product which impressed us from the day it was installed. During the nights, even before the windows were installed, it was noticeably more comfortable inside than a wooden building we use on the property for storing construction materials. However, the real proof was when the 90+ degree weather hit and the electricity had not yet been connected. With the windows and doors installed the inside temperature remained between 78 and 80 degrees all day! The shed outside was unbearable to be in and felt like a convective oven! This product is just amazing and we are very impressed not only with the product but the extensive knowledge of Brad Lindsay and Horizon Energy Systems.
The attic venting was redesigned to keep the hot air out, and look forward to reduced energy bills and a much more comfortable home. Our only regret is building with frame this time around and not employing the OPERA house that Brad designed.
I highly recommend the professional services and unique products of Horizon Energy Systems."
J. Tatum/J. Escobedo Phoenix Arizona


---
October, 2006
Our home was hard to cool, the heat pump ran continuously during triple digit days and the house was always uncomfortable. While shopping for a new heat pump, every contractor we talked to suggested increasing the capacity from a 3 ton to a 3.5 ton. That was until we got a quote from Horizon Energy Systems. They suggested going to a smaller unit (2.5 ton), and installing Thermal Control Membrane in the attic with a German fan exhauster. This energy package was a bit more expensive than our highest bid but it made sense.
We had this work done and our home is now more comfortable (winter and summer), the unit stays off longer than it runs and our APS bill has dropped by 50% from last year as shown on our bill! One reason is being able to take advantage of the off peak power as suggested by Horizon Energy Systems. If you are considering a new system this is the way to go. Obvious is the performance of the TCM6 as we now have a smaller unit and the house is much more comfortable.
We are really happy with the professional installation, follow up and support. On a ending note, I had installed a new thermostat which has a timer on it. I wired it wrong and when it came time to use the heat only the fan would run.
With a measured outside temperature in the morning last week of 34F the house stayed at 68F USING NO HEAT for days on end. The Thermal Control Membrane in the attic is just an amazing product! We called Horizon to fix the thermostat and even though is was not related to the heat pump installation they re-wired at no charge! Thank you!
Evan M. Phoenix, AZ


---
"My garage/workshop is now more comfortable than my house! I used to dread thinking about going out into the garage and doing anything out there. Before this, I could only go in there early morning or hours after the sun went down. Any other time was brutal. And my refrigerator in there ran constantly.
The venting system the mini split, the TCM barrier, it's really amazing the difference and with the garage wall being cooler the rooms on the other side are noticibly more comfortable. If you want to take your work space back from the summer, this is the solution.
Best investment I've made for my business!"
Chris, Slickboy Industries, Surprise, AZ
---
"Since you have installed the radiant barrier chips in my home I have noticed a significant difference. Our home is plenty warm even in the bitter temps of Michigan. I have had my thermostat dialed down at least 6 - 8 degrees cooler. Just so my husband and I won't break out in a sweat watching T V. All of my rooms are surprisingly comfortable. We no longer have a cool drafty feeling when we enter a room. I can't thank you enough for all the hard work. Fox 2 news ran your spot on Saturday and again on Monday night. You got two nights of Detroit area exposure. Also a friend of ours was so impressed about your product he placed your business card on his classified ad page. Radiant Barrier chips will soon be all the rage here in Michigan. (next to ice and snow)."
Colleen Beattie - Sterling Heights, Michigan
---
"It's good to know your business is swamped. We love our Radiant Barrier Chips insulation. This house stays much cooler in this heat. Our neighbor came over last week in 90+ degree heat and humidity and the first thing she said when she entered the house was "Wow - you guys are so lucky to have air conditioning!" She couldn't believe that we didn't when I told her it was a new insulation product. There is an immediate, noticeable difference in temperature from the outside to the inside. We used 28% less propane for heating last winter and no more icicles or ice dams on the gutters! All of our neighbors had ice problems this year. We highly recommend this product to everyone we know! Good luck, you have a great product!"
Caryl L. - Oxford Michigan
---
"I could not believe the immediate difference in comfort of our upstairs bedrooms. I thought my kids kept playing with the thermostat because the upstairs, which was normally cold, was very warm. We had to lower the temperature of our boiler to maintain comfort at the thermostat settings we used to use. We have had the chips for two years and have already realized a return on our investment, a more comfortable home, no ice dams on our roof and oh yeah, so much cooler in the summer."
L. L. Butcher, Rochester
---
"I am so thrilled with the new Radiant Barrier that was installed in my attic yesterday. Already I notice a difference. You may think that's unusual but as I was getting ready for work this morning it felt as though I could feel heat coming down on my head and shoulders. It reminded me of the electric heat that was put in ceilings nearly thirty years ago when I was in Idaho. I was surprised myself. My furnace has hardly ran yet I am very comfortable with the temperature of the house. There are no hot or cold spots, just an even temperature no matter what part of the room you are in. My heating bill went down 60%!!
Thank you for the excellent job"
Audrey Hawker, Rochester Michigan
---
"I have always thought the tubular skylight was a great idea, what I didn't realize until I installed several different brands was the wide range of performance. We installed tubular skylights in the office and showroom and I don't use any electricity for lighting at all! The light is very pleasant and easy on the eyes. Even on a cloudy day the tubular sky light emits a great deal of light. A great product for every home and office!"
T. Kindred
---
"I have lived in this house for twenty five years with a dark bathroom, I hated it.. My son installed a 10" tubular skylight and I can't believe the difference! Not only does the bathroom glow with a warm light, the hallway is even lit up. I do have one small problem, every time I walk past the bathroom I reach inside to turn off the light! My sister ordered two for her house.
Two years ago we remodeled the kitchen and we had a two foot by four foot conventional skylight installed in the center for more light. The light is nice, but every winter we have to tape a piece plastic over the opening at the ceiling because cold air seems to go right down my back when I'm doing dishes. I wish I would have had tubular skylights installed instead."
Rose L. Detroit Michigan
---
"Since the addition on the south side of my home, my kitchen, dining room and living room required the use of lights, even during the day. Horizon Energy Systems installed three 10" tubular skylights and I can't believe the difference! My kitchen is bright and I don't need lights to read during the day. I was amazed to see them even putting out light on a full moon! My only regret I have is not installing them in the bathroom, hallway and garage. I'll be doing that soon.
Thanks for a great job!"
Dane Cutting Phoenix, AZ
---
"Our kitchen was dreary and dark, even during the day since the rear addition was built and took away my sunshine. A 12" tubular skylight brought life back to my kitchen. The plants are growing, the lights are off and the whole room is more enjoyable to be in.
We need three more and I can't wait to get them! I highly recommend this product"
L. Trump Phoenix, AZ
---

"Our 2300 sq. ft., all electric cinder block home was built without conventional insulation in the walls, only Radiant Barrier. Our attic has an R-19 cellulose product covered by the Radiant Barrier Chip product"
"We spend an average of 80 cents per day for heating and cooling and this is one of the most comfortable homes I have been in, even on the hottest days or coldest nights. As a builder I long suspected that fiberglass insulation stored heat and this home design sure proves it. Radiant barrier is the technology of the future and should be included in every new home built today. The initial high price is soon forgotten when your electric bill is less than 1/2 of what your neighbors are paying with smaller houses and fewer kids!

(Note: Steve added a 6kw solar system and now has negative energy bills and charges two electric cars.)
Block home, pitched roof, south orientation, dual pane glass
Steve Neil, Phoenix AZ Home Builder
---

"We own a 2353 sq. ft home built in 1982. The home is slump block and cinder block construction with a southern orientation. In January of 1995, Horizon Energy Systems installed Radiant Barrier Chips in our attic. We have realized significant savings and increased interior living comfort since the installation."
"In just nine months, our consumption was reduced 20.6% and we saved $394.28 or 32.3% over last years bill! I also installed Horizon's Radiant Wrap on the inside of our garage door and around my hot water tank near the end of September which increased the temperature of our hot water and dramatically reduced the temperature in the garage."
"In closing, we are very pleased with the result of the Radiant Barrier products an strongly endorse the use of these products."
Slump block home, pitched roof, south orientation, dual pane glass
Robert R. Shields, BS, C.E.T., D.C.

"After observing the performance of Radiant Barrier in my shop, I decided to have Radiant Barrier Chips installed in my home. I left the cooler on accidentally all morning and by 9:00am, the house was 64 degrees, colder than it has ever been using the cooler. I shut the cooler off and went to work. Upon returning at lunch the house was still 70 degrees. This is by far the highest performing insulation product I have seen, a great investment!"
Framed home, pitched roof, south orientation, dual pane glass
Barry Noblitt, Phoenix, AZ

"After having the RBS Chip installed in our attic, we have been able to shut our air conditioning off at noon and coast until 9pm. On the hottest day of the summer, the upstairs is still 79 degrees even though the a/c has been off for nine hours! Also, before the radiant barrier was installed on the garage door, the garage was terribly hot and the freezer ran continuously. Doing laundry was miserable! Now the garage is comfortable and the freezer cycles on and off as it should. I wish I would have installed this years ago! This is the best investment I have ever made!"
Framed two story home, pitched roof, west orientation, dual pane glass
Deborah Carpenter, Phoenix, AZ

"I can't believe the difference in my home since you added the aluminum insulation. I have lived in the 2900 sq. ft. home for more than 8 years and the summers have been dreadful. The upstairs of my home was unbearable, you could hardly sleep at night. As you walked up the stairs you would feel the difference in temperature and the upstairs thermometer was always 15 degrees hotter than downstairs.
It was until now! The difference is unbelievable. There is no temperature difference between upstairs and down, my electric bill is less than a third of last years for the same month, and the degree days this year for the same month is much higher.
I just wanted to let you that you have a very happy customer in Phoenix and I strongly recommend Horizon Energy to everyone!"
Two story frame home, pitched roof, south orientation, dual pane glass
Thanks Again, Carl Hosier, Sr.

"A before and after test of Radiant Barrier was performed in my home which clearly illustrated the performance of this unique product. But the real test is that the installation of Radiant Barrier in our home significantly increased the comfort of our living space."
Converted chiken coop, pitched roof (no insulation only RBS), West orientation, single pane glass
Renz Jennings, Arizona Corporation Commissioner

"Horizon Energy Systems designed energy savings into our new home while in the planning stages. One of outstanding features of our 3450 sq. ft. desert home is the Radiant Barrier System on the walls and ceiling which keeps our electric bill much lower than any of our neighbors...with smaller homes.
The builder of our custom home was skeptical as were several of the tradesmen working on the home. I must admit, our began to look like a space station during construction. However, the proof in performance was quickly realized as it became more comfortable to be in the house than standing outside in the shade once the radiant barrier was installed!
Our reassurance of this unique product became apparent in August after a severe storm which left us and all of our neighbors without power for 52 hours. It doesn't take long to be uncomfortable during August in Phoenix Arizona without air conditioning. Our neighbors fled their homes for hotels, friends and family. We stayed in our home WITHOUT ANY AIR CONDITIONING. Although it wasn't cool, it was bearable with the windows open due solely to the effects of the radiant barrier. We would strongly recommend the installation of radiant barrier and the professional services of Horizon Energy Systems"
Framed home, flat roof, nouth orientation, dual pane glass
Joe and Tish Bedard, Waddell, Arizona

"Our two story home was miserable upstairs, two of the three upstairs bedrooms were too hot to live in. We called air conditioning contractors, the builder all without satisfaction, the heat was still there. When Brad Lindsay of Horizon Energy Systems showed us there was too much radiant heat emitting from the upstairs ceiling. He first recommended placing radiant barrier on the garage door which lowered the temperature of the garage twenty degrees and also adding radiant barrier chips to the attic.
What was once the hottest part of the house is now comfortable! I can't believe the difference! I turn my thermostat down to 70 degrees and at 9am shut off the A/C...the house goes 10 hours before needing to be turned back on again. I can't wait to get my next electric bill!"
Two story framed home, pitched roof, south orientation, dual pane glass
Richard Knipple, Phoenix, AZ
"Our aging heat pumps needed to be replaced and we got several bids from at least six companies, we wanted to know the most efficient method going forward because we plan on being in this house awhile and wanted it to be comfortable and efficient.
We had two 3.5 ton systems with a high APS bill in the summer on our two story 2850sq foot house of $700. First we considered solar to cut the bill down but didn't want a leased system and even cutting the $700 summer bills in half would be a $40,000 solar system.
Then we got a bid from Horizon Energy Systems. Upon arrival, there was zero discussion about pricing, options or brands. It was a comprehensive analysis and data collection on comfort, lighting, air quality and lifesytle. It was more like getting a lesson in physics as we were made aware of heat moves into our house and were really amazed to see it in real time standing behind the energy auditor who walked around the house holding an infrared camera! He found huge areas above the kitchen where the insulation was missing and there was surface temperatures inside the house that were 125f!!! The ceilings had large areas where the heat was just pouring through.
We where told that we could drop 1 ton off of each unit and that's when we began to get skeptical because during the hottest days of the summer with both systems running non stop the house wasn't comfortalbe until the sun went down. It was embarassing during get togethers and became uncomfortably hot during parties.
No other company showed us the heat coming in
No other company explained how our demand charge on our APS was costing us $250/month!
No other company had anything but a new heat pump, a "free" ten year service contract
No other company had solutions for a more comfortable house
We chose Horizon Energy because there wasn't a question that could not be answered and their Space Quilt product made a lot of sense. Two smaller outdoor units were changed, the Space Quilt installed in the attic and around the ducts and a German attic fan was put behind the gable vent.

Now for the good part! We are SO happy!!!! We keep the house at 70F up until 3pm then shut off both heat pumps. Between the performance of the Space Quilt and the attic fan the house never makes it to 80F even on the hottest days! And are you ready for this? Our $700 APS in the summer is now $199 and APS owes us $1200 because our equalizer plan keeps stacking up the difference!
To say we are happy with the system, the performance, the no pressure meeting would be an understatement.
If you listen to what this new product can do that this company has created your home will never be hot again. It keeps it warmer in the winter too. Some winters we never run the heat!
It's really amazing!"

Trish and Ron B. Scottsdale AZ

Mini Splits

"We had Horizon Energy Systems design and install Daikin ductless systems in our new remodel. This is the second home Horizon Energy Systems has done for us and our builder was skeptical about using anyone but his HVAC contractor.
The architect got involved and had concerns that the plan Horizon had presented included down sizing the 11 tons we had in the house down to 6.5 tons for our 4400sq foot Arcadia ranch home. They didn't know what I already knew in my last house: TCM Space Quilt is an amazing product!
We lived in the home a year before the remodel and with all the ac units running non stop the house would not go below 80F and it was always noisy.
With remodel now completed, Space Quilt in the walls and attic and nine ductless systems installed in every room the Daikin systems provide more comfort than we ever had before. Our high bill from SRP for July and August used to be $510 and went down to $174!! And we keep the house at 74F all summer. I couldn't be happier!

The builder and architect were were justifiably amazed but after experiencing what Space Quilt did to our comfort and energy bills in my last house it wasn't surprising to me.

Do it right first time, call Horizon Energy, you will be sorry if you don't!

J. Morgan, Scottsdale AZ


---
I had contacted Brad back in March and had everything done at the end of April. I moved into this house in March of this year so I don't have prior bills to go off of, only what my neighbors said they paid(550-600 without a pool). My house is two story, 3300 sqft, and we have a single speed pool pump that runs 10 hours a day. I had Brad install the TCM, Sense unit, auto switch for my hot water heater, and a 1 ton mini-split downstairs (a month later). We haven't ran ac in this house during the 3-8pm peak time. The upstairs got up to 81 during the hottest part of summer when you would have 4 days or so in a row of 115. Other than that the upstairs usually only gets up to 78. We precool before peak time of course then the ac shuts off. I have nest thermostats and just set the schedule. Anyway, the entire downstairs is cooled by the 1 ton mini split now. Around 6 when I get home my wife and kids will be on the couch with a blanket, thats, 3 hours of mini split ac only. My demand is usually 2-3 kwhr. That includes cooking dinner with all electric stove/oven. My highest power bill thus far is 268. We homeschool so my wife and kids are here all day and are never hot. I was skeptical when Brad told me what his products can do but decided it was extremely lower priced than the 40k the solar company wanted. I'm so glad I called Brad. I saved a ton of money by not going solar and also by my electric bill being less that half of what I was told it would be from my neighbors experience. As for the other reviewers giving one star, I had originally called brad about a load controller. He asked me questions about my house and said I don't need one and recommended the other products that I had installed. If he only wanted my money for a 3k load controller he could have got it because thats what I called wanting. He actually talked me out of it and got me on the right path.
---
Our master bedroom is facing west and it is difficult to cool it around bedtime. I contacted Horizon Energy Systems and Brad installed a mini-split (about 6 months ago) in the master bedroom. My wife and I are extremely pleased with the results, we sleep longer and better in the hot summer month. Great investment and lower electric bills too.
Brad the owner was great, they were here on time, did the job right. I am very pleased with this company and I highly recommend it.
---
Bought a attic fan almost nine years ago for the home we were building. Worked wonderfully up until about three weeks ago. Thought that I could not complain as we live in lower Alabama and have long hot humid summers. Called to ask about a replacement and the man said not to replace it but replace the capacitors. Told me he would ship me the replacements. He did so and we are now back in business and ready for summer. Brad was very knowledgeable and a great help. I had been an industrial electrician for forty years. So I knew he was giving me sound advice. Would recommended this company to anyone looking for a superior product and the company to back it up.

John K.
---
I've been a customer of Horizon for decades. Started off with radiant barrier products like the TCM sheets and the blown-in chips, then an attic fan, then a mini-split heat pump in the central living area of my house and the main unit never runs during the heat. Every time Brad and crew works on the house, the power bill drops. I appreciate him being patient selling me what I was ready to purchase and being sincerely interested in having my business, but if I'd bought the whole package from the start, I'd have saved more and paid it back already!
---
Recently I contacted Brad at Horizon Energy with the idea of adding 1 mini-split unit to my Kitchen, which had been perpetually difficult to heat and cool. After a thorough evaluation I discussed some problem areas, some of which I didnt already know about. His proposal was to proceed with another idea- replacing the exiting 5 ton roof unit, with 5 mini-split units instead. He also suggested installing 2 high performance exhaust fans, increasing intake vents in the opposite end, and covering the attic area with TCM thermal control membrane-a radiant barrier insulation. In my case, the job was staggered due to product availability. The TCM was installed first, then the existing roof unit removed. I immediately noticed an improvement in heat loss, even with no heating system. Then a few days later after the new minisplits were installed, I notice that I dont need to use them nearly as much as the old system, to accomplish the same level of heating. I literally cant wait to see how this system performs in summer!
---
---
We needed a way to cool and heat our soon-to-be-enclosed Arizona room. We were considering both a portable ac/heater and a mini split system.
When researching mini-splits, I came across minisplitguys.com, which is part of the larger company Horizon Energy Systems. Horizon does some
amazing things with the latest technology, including solar powered systems of all kinds.
I knew we didn't need anything too elaborate for our Arizona room, but after reading reviews on Yelp and elsewhere, I decided to give them a call to
get a quote. The owner, Brad Lindsay, right there and then switched over to Facetime, and I showed him the Arizona room and the building details he
needed to put together a quote. He promised a quote by email later in the day and delivered as promised. His quote was a little less than HALF of
what I was quoted from the HVAC company we normally use. Granted, the system we ended up getting is not the top of the line Mitsubishi that the
other company quoted, but it's still a highly rated dependable brand (Thermal Zone).
Long story short, we had the system installed by Horizon and they did a fantastic job. Dan the installer was very professional and friendly, and it was
obvious he cared A LOT about the quality of the install and of the system itself. It was only 5 days from the day of the Facetime quote to the installation
date, and Brad the owner was very responsive and patient with my many questions over that short timeframe.
We highly recommend minisplitguys.com / Horizon Energy Systems...they are very professional, caring, and offer a great value for your money.
---
Click here to email us
TO our mini Split Page More>>>
Back to our main page
click here
Visit our Ductless Mini Split page
click here
Space Quilt cuts heating and cooling bills
click here
Email: pleasesavenrg@gmail.com

Web page design and maintained by B Rad Design Group
Copyright 1997-2020 all images and text copyrighted by Horizon Energy Systems.
All rights reserved and violators will be prosecuted.