SEARCHING FOR A NEW HEAT PUMP?

APS and SRP have heat pump rebates, or ATTIC INSULATION, ENERGY CONSERVATION? Solar powered mini splits.
ARIZONA PUBLIC SERVICE AND SALT RIVER PROJECT HAVE INCENTIVE FOR ENERGY PRODUCTSDo not install radiant barrier incorrectly! Home Depot sells , APS, Arizona Public Service and Salt River Project don't support it,SRP, attic insulation, radient barrier, radiant barrier for attic, inergy systems, inergysystems.com, inergy systems, SP 3000, load controller, Pensar load controller, APS load controller, demand controller, inergy systems SP 3000, Electrosem, what is a load controller?, combined advantage rate, PV solar, solar systems, solar hot water,
ar PV on my roof, "how much is solar" or "solar Arizona, Tempe solar, Phoenix solar and don't forget PV Solar residential.
Free solar powered air conditioning is here! 4 panels, 1 ton, no battery
Insulation is 50 year old technology. This is what you need. insulation Phoenix, solar phoenix, solar Scottsdale,
Free solar air conditioning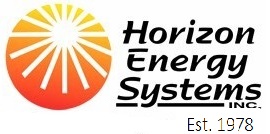 Contact us: 602-867-3176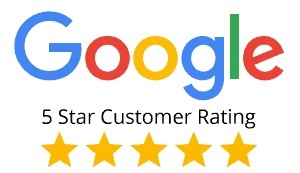 Read Reviews

SEARCHING FOR DUCTED MINI SPLITS, ATTIC INSULATION, ENERGY CONSERVATION?
ARIZONA PUBLIC SERVICE AND SALT RIVER PROJECT HAVE INCENTIVES FOR ENERGY PRODUCTS
CALL US FOR MORE INFORMATION
Considering a new rooftop heat pump?
Powerful, quiet and efficient. If you have found this site you are ready to make a very important decision affecting:
Rising APS & SRP bills for years to come
Your comfort every month
Indoor air quality
Duct losses
Reliability and Repair Cost

Increased Home Value

How long your new heat pump will last

How long your existing roof will last (cooler roofs last longer)
Our focus is not just selling you a new heat pump, but the reduction of energy and comfort in your home. Since our focus is your comfort, energy bills and indoor air quality, there is much more to consider than just changing out the heat pump.
We have been refining our NRG System® since 1981 and can apply what we have learned to your home.
Rather than give away this knowledge to our competitors, we prefer to meet with you at your home, define your specific needs, identify the existing problems and offer cost effective solutions. Digital photos are taken and archived in our growing library inspections. Below is a photographic representation of the heat pump change. Best to start with an in home energy audit. Email us with your contact info so we can schedule your appointment and show you how we can help you save energy, double the life of your new heat pump, lower your carbon footprint and improve your indoor air quality.

What is an "NRG System"?
Rather than just replace your existing system with the same size unit, we install our patented "Space Quilt" product over your existing attic
insulation. This reduces so much heat gain that we are able to downsize your original system by 1 ton.
This package has been shown to lower bills by 40%-50% and increase the comfort of every room in the house. If you currently have rooms that are hard to maintain comfort, this is the solution. No other company can offer this as we are the manufacturers of Space Quilt.
Step by step images of replacing a roof elbow with a downdraft unit: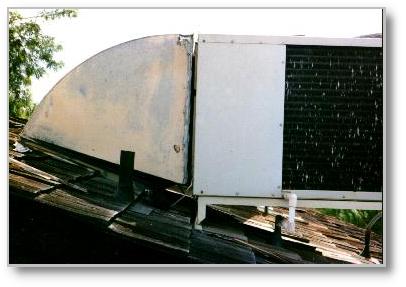 If you have a roof mounted unit this is how your heat pump probably looks right now. Notice the sheet metal elbow on the back? This type of installation is prone to air and water leaks, gets hot from the sun, is not efficient and is lined with fiberglass which puts fibers into the air your family is breathing. While the unit is off, this elbow becomes a solar oven and every time the unit starts up, this superheated air is blown into your home wasting money, causing longer run cycles, increasing your APS or SRP bills and puts dust and fiberglass into the air. Further, once the elbow is installed, the evaporator coil cannot be cleaned without cutting holes in the side of the elbow. This is especially important if you have any pets.
Rooftop mounted heat pumps like this are on many homes in Phoenix with the popular duct elbow attached at the rear. Lined only with 1" of duct insulation it becomes a solar oven as soon as the sun comes up. Every time the thermostat calls for cooling the hot, stagnant, superheated air comes pouring into the house along with the fiberglass that is lining the duct. Since it is upstream of the air filter, these fibers are blown continuously through the duct system from the day it's installed. Fiberglass was identified by the EPA to be a known carcinogen, read the warning label on a Pink Panther bag next time you are in Home Depot. Click here for more information on elbows.

HOW WE DO IT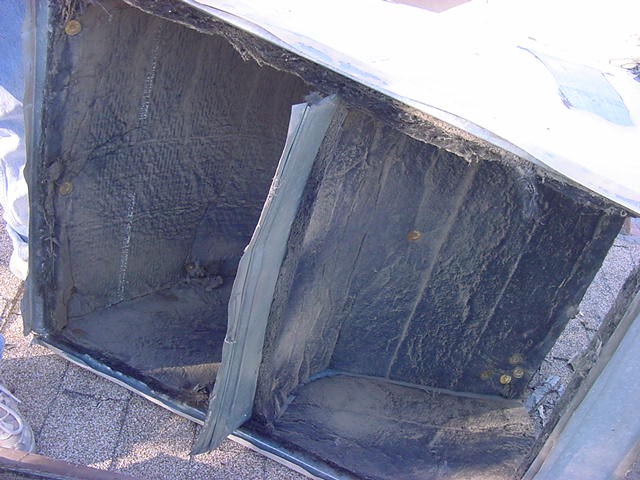 First, we remove the duct elbow. All the air that exits from your grills must pass through this elbow which is not filtered and is then delivered into your home. Further, there is no way to access this area once the elbow is installed to clean it unless the unit is removed or a large access hole is cut into the side (very common). Further, Roof elbows are notorious for being a major source of energy wasting air leaks which reduces the performance of the heat pump. Eliminating this elbow has many benefits but is more work and more costly. Anything done right the first time typically has a higher cost.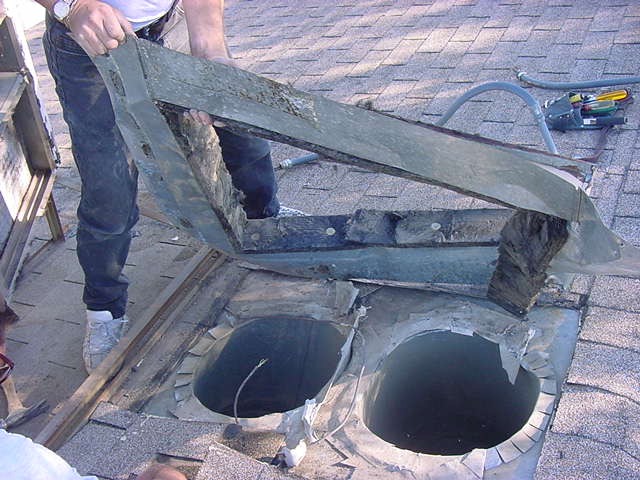 Once the elbow is off we can remove the existing supply and return ducting between the roof and the main ducts below. Through experience we have found this ducting to be a source of air leaks and in most cases, uninsulated.

The existing ducting you see here is completely removed and replaced with energy efficient, clean flex duct which is sealed at the bottom and at the top of the new adjustable roof stand.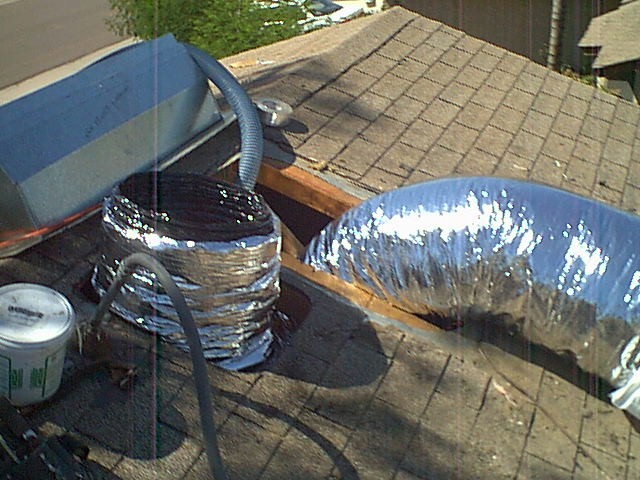 These are the new insulated, efficient supply and return ducts that replaces what you have now. In homes, the original ducts are not of sufficient size to adequately move the air and typically we upsize these to insure you new heat pump will be operating at maximum efficiency (done right the second time).
The highly reflective outer duct cover you see here is very resistant to the infrared heat found in Arizona attics. We also wrap these and all exposed ducts with our patented Thermal Control Membrane . This means while the unit is off the air inside the ducting stays cooler in the summer and warmer during cold winter nights thus making the entire system more efficient. Most companies replacing heat pumps

do not

address these ducts and only change the elbow on the roof and add the new heat pump. Most every a/c company changing a heat pump ignores existing duct leaks and problems in the attic are typically not addressed as it's more work, more parts and less profit.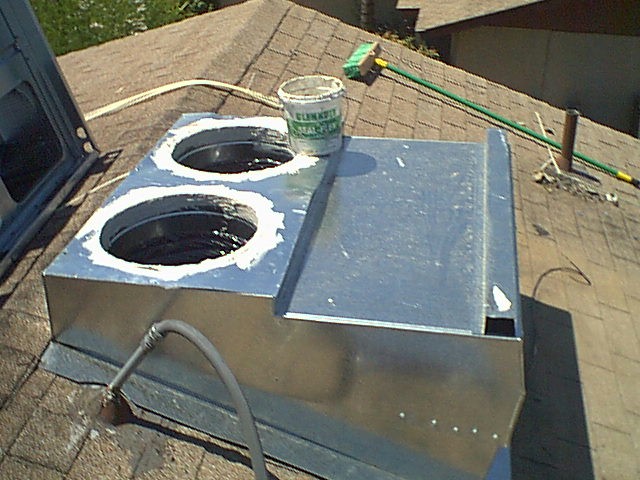 This shows the new ducting sealed into the adjustable roof stand. Waterproof, no fiberglass to breath, new larger supply and return ducts and no leaks.
This design increases overall efficiency, delivers colder, cleaner air. What you see here at the left is a galvanized steel, high quality adjustable roof jack this is less likely to leak water and does not allow room below the unit for pigeons to make nests.
One important benefit of this type of installation is the ability for the installer to visually inspect the mating of the unit to the jack when the crane lowers it onto the roof. ZERO duct leakage is now possible with this type of installation if done correctly.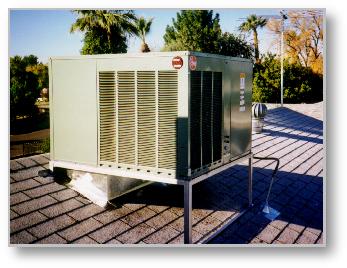 Other valley HVAC companies that do offer a down draft configuration opt for a less expensive steel stand combined with a duct drop as seen here. This is not as efficient as our full down draft jack, is a haven for pigeons and more prone to water leaks.

This custom fabricated adjustable down draft roof curb securely mounts the new heat pump to the roof.
The ducts are below and insulated from the hot
sun. The wide flange and inside drip guards
means it will never leak water (never had one leak yet)
Being enclosed prevents unwanted pests
from nesting or living under the unit.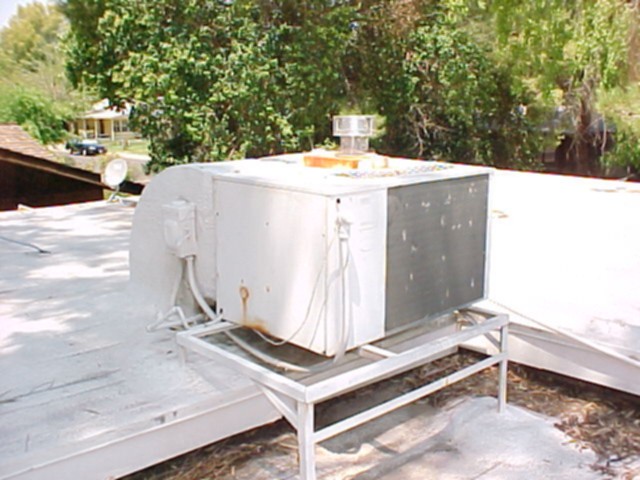 Before: inefficient 30 year old unit, leaky elbow, exposed wiring (2.5 ton Gas Pack)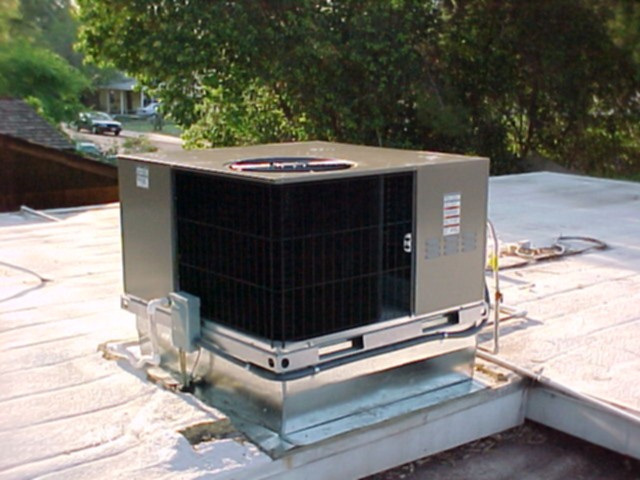 After: Down draft install is efficient, healthy and quiet. Why would you want it installed any other way?
Email us for an estimate and a home energy audit.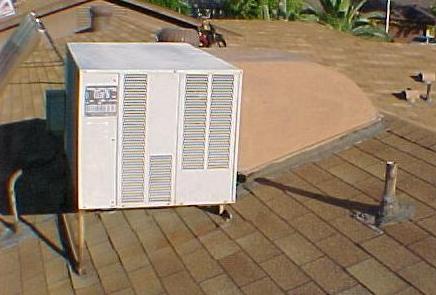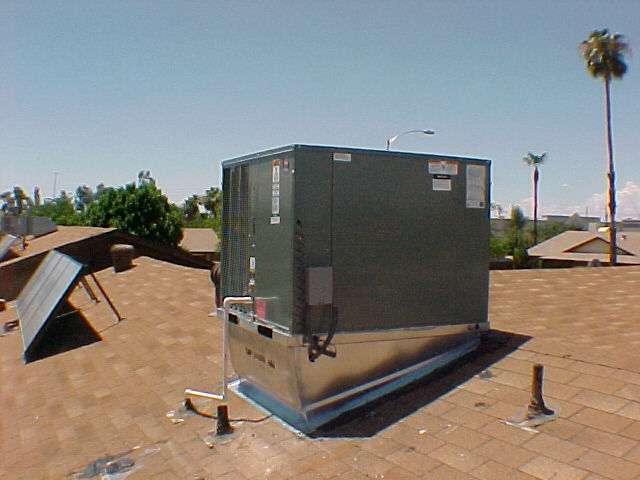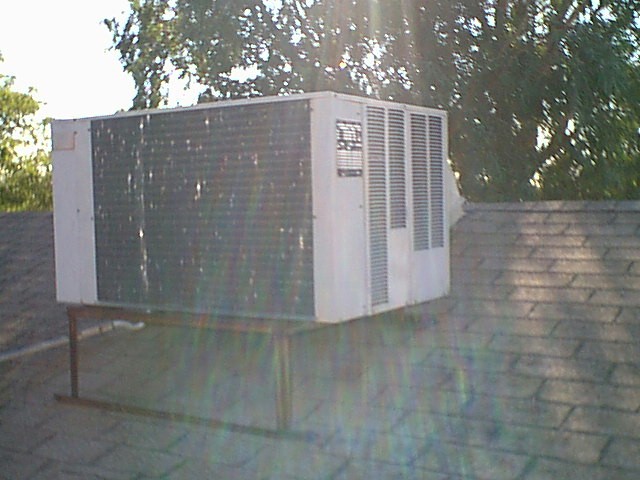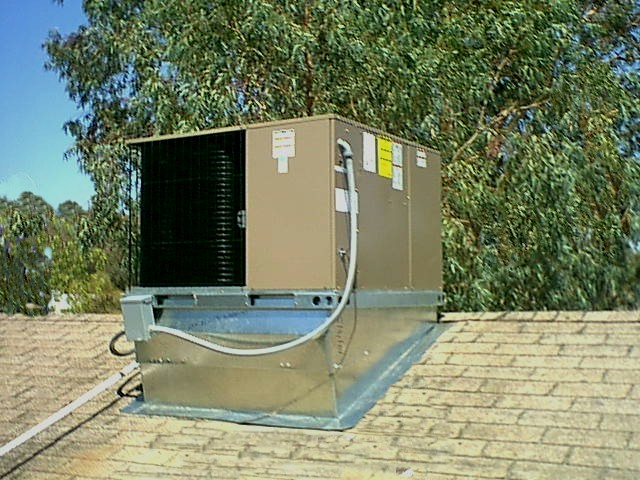 Frequently asked questions:
"Why don't other companies install heat pumps like this?"
It costs more and requires additional labor to install which means less profit. Why put an efficient new heat pump or a/c unit on a leaking, fiberglass lined elbow which turns into a solar oven everytime the unit turns off.
"Does it take longer to install than other systems?"
Yes, but doing anything right the first time typically requires more time and expense. Typically the total change out is done with two man crew starting at 6 am and turning on the new unit at noon depending on the condition of the existing ductwork.
"Is all the ductwork changed in the attic?"
No. We do replace the supply and return ducts between the new unit and the ceiling box for the return and the supply to the existing ducting.
"What else is included in the installation?"
All ducts joints are checked for leaks and sealed if needed a new service disconnect is installed with each system return grill is checked for noise (new units move much more air) balancing of air ducts to ensure maximum performance check utility rate and suggest options removal of existing equipment commitment to doing the job right the first time.
"Do I need more attic venting?"
Attic venting in most homes we have inspected in the valley are grossly under vented and are solar ovens. This greatly reduces the overall efficiency of your new heat pump, increases the load and decreases the life of the unit. Our venting web site illustrates what we have found in homes like yours and what we have developed to overcome existing anomalies.
"What does it cost?"
All the pricing for new heat pumps are listed below. Order your change out online and pay no sales commissions! We will send out an installer to inspect your home to obtain pertinent data and insure a smooth and safe installation.
Given the choice, wouldn't you want the most efficient installation? Most people would but are not given the option.
TESTIMONIALS (this is typical of our customers and how we install new heat pumps)
"When we were in the market for a new heat pump, we were initially looking to save money on electrical costs. Our existing problems included a kitchen that would not cool and a front bedroom that was always hot. We got bids from several A/C contractors and all of them recommended we upgrade from a 3.5 ton unit to a 4 ton unit to gain more cooing capacity.
Then we got an energy audit from Horizon Energy Systems. Our home was inspected not just for a new unit but also for existing problems. The NRG audit revealed our attic ventilation was not adequate, the ducts in the attic were leaking, there was insulation missing over the kitchen and the front bedroom. All the soffit vents were completely plugged with insulation.

Brad Lindsey from Horizon and his energy auditors outlined the existing problems and made the common sense improvements like Radiant Barrier Chips to reduce the heat load, increased attic venting and fixing the leaking ductwork.
We not only ended up saving electricity, our house is more comfortable as well. Horizon installed a smaller 3 ton heat pump, added the RBS Chips and venting and installed the new heat pump in a downdraft configuration instead of the side draft using an elbow. We are using far less electricity and our house is much more comfortable than ever before.
I highly recommend Horizon Energy Systems and the products and services they provide."

Will Klemovage, Phoenix Arizona

Our home was hard to cool, the heat pump ran continuously during triple digit days and the house was always uncomfortable.
While shopping for a new heat pump, every contractor we talked to suggested increasing the capacity from a 3 ton to a 3.5 ton. That was until we got a quote from Horizon Energy Systems. They suggested going to a smaller unit (2.5 ton), and installing Thermal Control Membrane in the attic with a German fan exhauster. This energy package was a bit more expensive than our highest bid but it made sense. We had this work done and our home is more comfortable (winter and summer), the unit stays off longer than it runs and our APS bill has dropped by 50% from last year as shown on our APS bill! One reason is being able to take advantage of the off peak power as suggested by Horizon Energy Systems. If you are considering a new system this is the way to go. Obvious is the performance as we now have a smaller unit and the house is much more comfortable.
We are really happy with the professional installation, follow up and support. On a ending note, I had installed a new thermostat which has a timer on it. I wired it wrong and when it came time to use the heat only the fan would run.
With a measured outside temperature in the morning last week of 34F the house stayed at 68F USING NO HEAT for days on end. The Thermal Control Membrane in the attic is just an amazing product! We called Horizon to fix the thermostat and even though is was not related to the heat pump installation they re-wired at no charge! Thank you!
Evan M. Phoenix, AZ

During the summer, our two a/c units ran non stop and could never get the house below 80 degrees. We run a home office and my wife and assistant were miserable so I knew I had to do something different this time around. We had a 4 ton unit and a 3 ton unit, both Carrier split systems providing our comfort needs (if you want to call 80 degees "comfort"). We got several bids and after talking to the reprentatives, every company suggested take out the 7 tons of cooling and install two 5 ton units to make the house more comfortable. The quotes we got were over $26,000. While surfing the net, I came across the Horizon Energy Systems page on heat pumps and making homes more efficient and comfortable so we decided to have them do an energy audit and quote us on new heat pumps. After an extensive inspection and an infrared camera scan we were told we had plenty of cooling capacity in fact more than enough due to how the existing ducts were picking up heat along the way and with the camera, we could see the heat pouring through the vaulted ceiling! Brad Lindsey advised us that we did not need to replace the air handlers, only the ouside condensing units which were replaced with a 3.5 ton on the 4 ton unit and the existing 3 ton down to a 2 ton unit. I must admit that I was very skeptical that we were taking off 1.5 tons of cooling on a house that in the past that could not get below 80 degrees with both units running non stop!
Our home now is just unbelievable! We had Horizon install their TCM attic membrane, wrap all our ducts, change the outside units, both thermostats and add two 18" tubular skylights. We now are able to SHUT OFF the a/c units from noon until 7pm which is the more expensive APS on peak rate and incredibly, the house stays in the 70's all day! Unbelievable would be an understatement and I would not have believed this could be possible had I heard someone tell me this could be done, especially on my own home! If you are considering having a heat pump replaced you are making a big mistake by not getting a quote by Horizon Energy Systems. Our home is more comfortable, our bills are less than 50% of what they were and our home is much brighter with the tubular skylights!
Makenzie K, Peoria AZ Click here to see an interview.
For a quote on one of our energy systems, email us with your contact information and a free home energy audit. It just makes cents.

Pricing does not reflect:
Changing out the existing duct system which is by quote only.

Removing existing swamp coolers

Removing existing swamp cooler duct work

Improving air flow with a redesigned duct system

Adding a new power supply line
Pricing does include:
Equipment and related stand and roof jack

Connecting to existing duct system and return box

10 year compressor, 5 year parts warranty

Federal Energy Incentives now available for 14 and higher SEER ratings.

The prices listed above are for a Rheem 14 SEER package rooftop unit in a down draft configuration. Higher SEER units available at about an 8% increase in cost. Price also includes sealing al existing duct connections. Other brands, models and split systems available and vary slightly in price. This unit uses R-410a Freon, not R-22. We also specialize in installing mini split
A/C systems and heat pumps. Another option instead of replacing the entire existing system is having two mini splits installed. One in the master bedroom and one in hte main living area. Leave the old unit where it is and only run one mini split at a time.
Many choose this more efficient and less costly means of achieving comfort. Mini splits are our specialty. We even have solar powered mini splits.

CONVENIENCE
Many of our customers are not home when the work is being done. All the work in the attic can be accessed from the roof so we don't need to get into the home until 4:30 or 5pm to check the thermostat for operation.

(pricing may vary slightly due to existing evaporative cooler ducting, removing coolers, wiring or existing problems. trades considered).
We are competitive and do more work because we are efficient. This is one investment that you want done right the first time. We do more than change your A/C or heat pump, we are dedicated to your keeping your home comfortable and lowering your utility bill. Drop us email for a free estimate. Please leave your name, address, size of home and best time to contact you. click here
Back to the Phoenix page click here

Visit our main page with all of our energy saving products click here

Web page design and maintained by B Rad Design Group
Copyright 1997-2023 all images, text and HTML copyrighted by Horizon Energy Systems.
All rights reserved and violators will be prosecuted.
Information in this document is subject to change without notice.
Other products and companies referred to herein are trademarks or registered trademarks of their respective companies or mark holders.