Window tinting, Phoenix, window tint, window treatment, 3m window tint, Madico, heat pumps Phoenix AZ, APS, SRP, energy conservation, window tint phoenix, Arizona Public Service, Salt river project
CONTROLLING WINDOW HEAT GAIN IN HOT SUNNY CLIMATES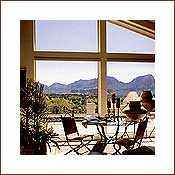 For Residential and Commercial applications. We do not install on automobiles.


Controlling heat gain or heat loss through windows is easy by using a coated film product. The days of bubbling, purple window tints are over.
The 90's ushered in a new realm of sputter coated high performance films which have stable, water based adhesives that don't bubble or change color. Guaranteed. We carry several different types of films from several manufacturers. You can be certain we have the right film for your needs be it privacy, comfort, security, energy conservation or any combination. We only carry brands that have warranties and protection against glass breakage from heat transfer be it dual pane glass or the new low E windows.
These films fall into two categories:
* Films with a slight tint to them and a reflective surface (most common), lower cost
* Films that are clear with a very thin coating of gold or titanium. Higher cost, better value
The tinted films reduce heat flow by over 50% and UV by 90%, the clear films reduce heat flow by 88% and UV by 95%.
Follow the links below for more information or to order window treatments for your home.

Types of windows
Single pane glass: allows transfer of radiant heat, UV and conducts heat in both directions.
Dual pane glass: better for cold climates as the dead airspace (or argon filled), limits conduction and convection.
Low E ("E" stands for emissivity...click here for an explanation) windows control the movement of radiant heat by using a thin, almost clear metalized film between the double panes of glass.

Shade screens or window film? Click here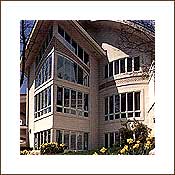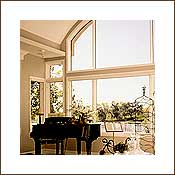 CUT OUT THE MIDDLEMAN AND COMMISSIONS
How to save: Simply measure your windows in inches, how many panes per window and what room they are located in. Only measure the glass area, not the frame.
Then, email us the dimensions as seen below:

Example:
Kitchen: 35" x 43" x 4 panes
Living room: 48" x 53" x 2 panes 34" x 53" x 2 panes
Front bedroom 23" x 23 x 2 panes
French doors near patio 12" x 12" x 20 panes

Use the following table to approximate what it will cost installed (we will email a firm quote):
Standard glass windows (single or dual pane) $6.00/square foot installed (more than $1/sq foot lower if you measure and send
us the dimensions).
This is SunTek "neutral gray" tint. 80% infrared rejection, over 90% UV rejection, 40% reduction in light transmission. (shade screens have 75% or higher reduction in light transmission) This is our biggest seller.
French doors or older windows with multiple panes per window add $1.50/square foot installed.
Huper Optix view film is almost imperceptible and has the highest heat rejection $9.50 per sq. foot installed. The highest performing window treatment available with an impressive 88% heat rejection and cannot be detected once installed.

WARRANTY
All of the films we carry have a 25 year warranty which covers bubbling, fading, turning purple or glass breakage due to heat expansion. In short, the best warranty in the business, this is why we only specify quality films.

Once we get your measurements, we will calculate the total square footage based on the pricing above and email you a firm quote. Should you desire a sample please indicate this in your email and we will send you one out. Be sure and include your mailing address!
Neutral gray is approved by all home owners associations and the Huper Optix cannot be seen, except on your energy bill.

Price includes installation and product. No hidden costs. Simply measure the total square footage and to obtain your free quote. Applications are completed by trained, certified installers.

Our Customers:
"Our kitchen was like an oven! Great view but between the direct sunlight and heat radiating in from the patio cement pool deck, it was miserable in there. We complained to the builder who sent out the A/C guy but all he did was close down the registers in rooms around the kitchen. More air came out in the kitchen but it was still hot.
During an energy audit, Horizon Energy Systems identified the symptom and addressed the problem. The difference is like night and day. Now I've got my kitchen back! Thank you for being a source that "knows all the answers!". My sister and neighbor will be calling you soon.
Thank you Horizon Energy Systems!"
D. Fisher Tempe, Arizona

"I didn't want to alter the view or diminish the amount of light in our great room. Your product addressed both these concerns and made an immediate difference in how the room felt. Very quick and professional installer. A date was set, he was on time and was finished in a timely fashion leaving no trace behind. Very professional.
I would recommend this product and company to anyone wanting to save energy and increase comfort without compromise."
E.W. Elderman Anthem, Arizona

Email in your dimensions today! . 602-867-3176 or click here to email us.

Click here to visit our main site for more energy conservation ideas
Click here if you are building a new home
Click here if you live in Phoenix and would like information on how to reduce your APS or SRP bill.



Web page designed and maintained by B Rad Design Group
Copyright 1997 - 2014 Horizon Energy Systems. All rights reserved.
Information in this document is subject to change without notice.
Other products and companies referred to herein are trademarks or registered
trademarks of their respective companies or mark holders.