Ductless mini split, ductless ac, mini split, Home
Dep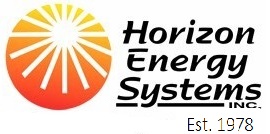 Contact us: 602-867-3176

PROPRIETARY PATENTED SUSTAINABLE BUILDING PRODUCTS
Infrared Cameras
"Call us before or after the fire"
This page is dedicated to the exciting advances of infrared camera technology. Infrared cameras are very useful for non-destructive predictive maintenance, law enforcement, building maintenance and manufacturing quality control. By visually seeing heat with the use of an infrared imaging camera it is possible to avert problems before they become problems and make the necessary repairs or changes.
Horizon Energy Systems thermography team has over 22 years of combined experience in this field and has saved untold thousands of dollars in down time, equipment losses and damage. Our biannual predictive maintenance contracts allows building owners, building engineers and insurance companies the piece of mind knowing problems are accurately located, identified, classified and repaired before any damage or down time takes place.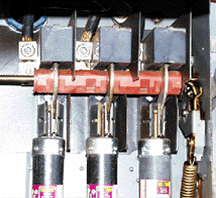 Photo Courtesy Stockton Infrared
Here is an excellent example of how a comprehensive, biannual predictive maintenance contract can save you down time, failures and money. A simple problem like this can be addressed before it gets serious.
Finding water trapped beneath a roofing system is possible using this technology and saves time and money.
Thermography scanning is also used for a variety of applications including medical, military, law enforcement, industrial and private use.
Infrared Cameras
Infrared cameras are listed in two groups: Calibrated and non calibrated. A calibrated IR camera will output not only a visual reference of your subject, but will also display an accurate surface temperature measurement within +/- .01f range of accuracy. A non calibrated unit will not display measurement of temperature, only a visual reference.
Recent advances and improvements in thermography equipment has allowed for smaller, portable scanners with exceptional sensitivity and resolution. Palmer Wahl has emerged as a key player with their new line of hand held, high resolution infrared cameras. Below is one example. Please bookmark this page as it is being updated with new products and exciting changes!
NEW! From Palmer Wahl: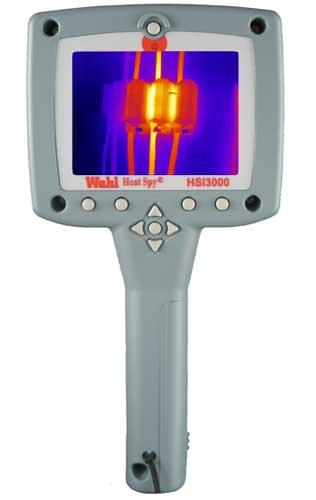 HSI3000 Wahl Heat Spy® Model Number HSI3000
Price: $5095 New, slightly used cameras may be available still under warranty
Our latest addition to our line of infra red equipment is the Palmer Wahl cameras and portable infrared imaging units. High resolution, handheld portability and a one year free repair warranty.
Warranty: 2 Years
Specifications
Model Number HSI3000
Temperature Range 14° to 482°F (-10° to 250°C)
Field of View 20° x 15°
Focus Manual
Minimum Focus Approx. 11.8 inches (30 cm)
Spectral Response 8 to 14 microns
Thermal Sensitivity 150 mK @ 25°C Scene Temperature
Detector 160 x 120 pixels uncooled microbolometer
Image Storage Up to 1000 images on supplied SD Card
Accuracy The greater of ±2% of reading or ±2°C
Display 3-1/2" Color LCD with LED Backlight and 4 Color Palettes
Laser Pointer Built in Class II Laser highlights the central measurement area
Radiometry Two moveable cursors, delta temperature measurement
Emissivity Correction User selectable 0.2 to 1.0 in steps of 0.01
with reflected ambient temperature compensation
Operating Range 5° to 113°F (-15° to 45°C)
Storage Range -4° to 150°F (-20° to 70°C)
Humidity 10% to 90% Non-Condensing
Power Lithium-ion field rechargeable, replaceable batteries
AC Operation AC Adapter included
Interfaces USB type B
Housing Impact Resistant Plastic
Dimensions 9.05 x 4.72 x 4.33 inches (230 x 120 x 110 mm)
Weight 1.65 lbs (0.75 kg) including Battery
Mounting Handheld and Tripod Mounting
Included Accessories
Rugged Waterproof Carrying Case, Wrist Strap, Battery,
AC Adapter, User Manual, Wahl Easy Report 1 Software,
Operating Software CD, USB Cable, SD Card and SD Card Reader
Plus! Free Wahl Heat Spy® Infrared
Thermometer and Money Back Guarantee*
Optional Accessories Replacement Battery Part Number #12437-01
Features
• Real Time Image and Temperature
Measurement display
• Crisp High Resolution Images
• Large 3-1/2" LCD Display with LED backlight
• Fully Radiometric - Measures the
Temperature of every Pixel
• Multiple Temperature Measurements
• Stores up to 1000 Images with supplied SD Card
• Image Browser with full image adjustment
• Includes Operating Software, Wahl Easy
Report 1 Software, SD Card & Card Reader
• Lightweight • Simple Operation
Settings and Controls
• On/Off Soft Power Control
• User Selectable Span Control
• User Selectable Level Control
• Auto Adjust Span and Level
• Trigger activated Class II Laser
• Image Capture, Time and Date
• Display palettes: Rainbow, Ironbow, and Grayscale
• Readout in °C or °F • 2x Digital Zoom
Questions and answers:
1) Is the reporting software included in the price?
-----Yes.
2) Are the units available now for shipping?
----Delivery time is 30 to 45 days after confirmation of order. ( After we receive your Payment by Letter of Credit or Credit Card ).
3) Does the unit come with a case or a bag?
----Yes, the Wahl HSI 3000 has tough, impact and water/dust resistant case
Also included: Standard Lens, battery and charger, video cable and reporting software.

Here are some sample images: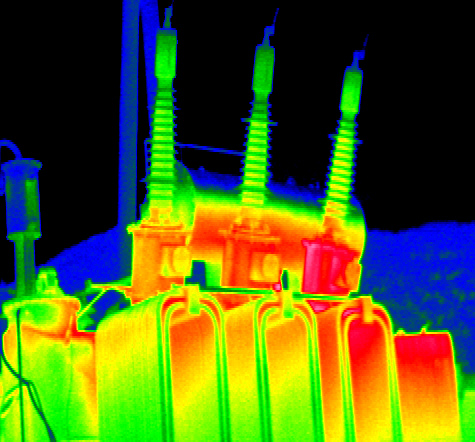 High voltage transformer under load
The resolution of these cameras rival those costing twice as much.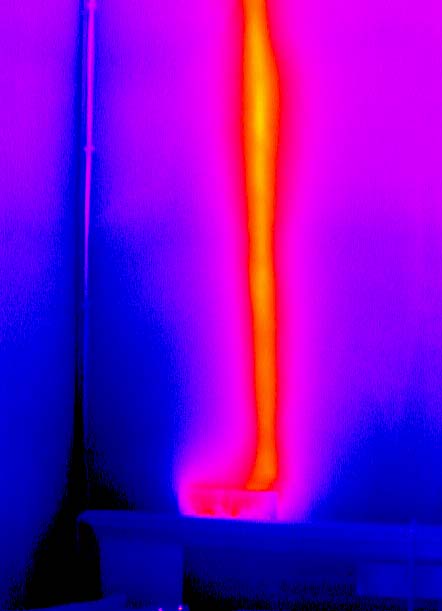 Hot wire behind a wall

Leaks at the joints in a steam pipe

Our visual world. . . The world of thermography
One of the key elements of thermography is being able to report what is found. Therefore, the reporting software is very important and must be easy to use and understood by those making the reparations. The HSI 3000 software is easy to input simple to read and for a limited time will be included with all new purchases.
New products and images coming! Bookmark this site and check back soon.
Pictures from various IR cameras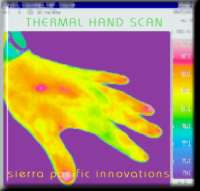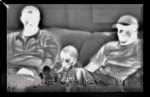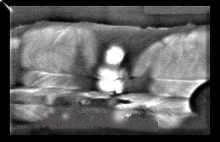 Two adults and child on a sofa The child left a warmer signature because their skin is thinner and more heat is lost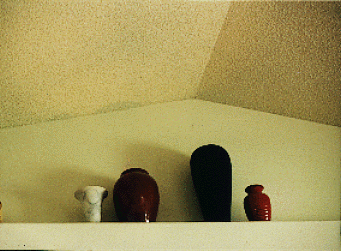 This is a typical pot shelf in a residence. On the other side
of the vertical wall is 145F degree attic air.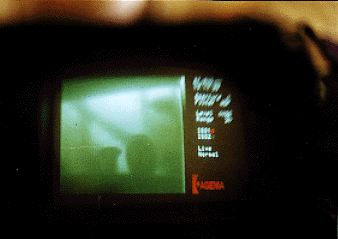 Notice the bright white areas behind the vases on the shelf? A thermography camera shows the heat being wasted from a piece of insulation that has fallen off the back of the knee wall. This is a very common scene in many of our home energy audits. In commercial applications we have found bad breakers, loose breakers, phase imbalances, overloaded lines, bad transformers, missing exterior insulation and attic insulation.
Questions? Email us at pleasesavenrg@gmail.com or call our office at 602-867-3176.

Web page design and maintained by B Rad Design Group.
Copyright 1997-2020. All images and text copyrighted by Horizon Energy Systems.