energy conservation, radiant barrier, radient b
Contact us: 602-867-3176

PROPRIETARY PATENTED SUSTAINABLE BUILDING PRODUCTS
Radiant Barrier Outsulation Project
How to make Block Homes Energy Efficient
We have found a way to turn inefficient, stuffy block homes into comfortable, energy efficient homes using our patented radiant barrier systems.
Many block homes were built without regard to cost for cooling since energy was inexpensive and affordable. Well, that sure has changed and so has your monthly commitment to your electric company. The secret is keeping the infrared heat of the sun from penetrating your walls via conduction and convection. One method is to plant trees and wait 15 years for them to mature. What you would have spent on watering trees in this time you could have installed our outsulation system and saved thousands of dollars and lived in very comfortable home. It is important to understand how radiant barrier works before we go on. If you need an explanation, click here.
Radiant barrier works by changing the direction of heat. By comparison, conventional insulation products simply slow down conductive and convective heat flow. By placing a quality RBS on the exterior of an existing block home, energy consuming radiant heat can be reflected back out through the wall system taking conductive and convective heat with it.
The bonus is being able to re-design the look of your home with the easy to work with stucco foam used in this process (see below). You can add pop-outs around windows and doors, turn posts into arches...it's only limited by your imagination. If you don't have any ideas, forward a picture to us and we can suggest some architectual upgrades.


Before
This is a solid block home built in the '50s when energy was inexpensive

Step One:
Wrap all walls subjected to solar heat with two layers of EcoGuard Radiant Barrier Wrap by using silcone and a caulking gun. The silicone is only used to hold the wrap on until the firring strips can be secured. The finished home should look like this when finished: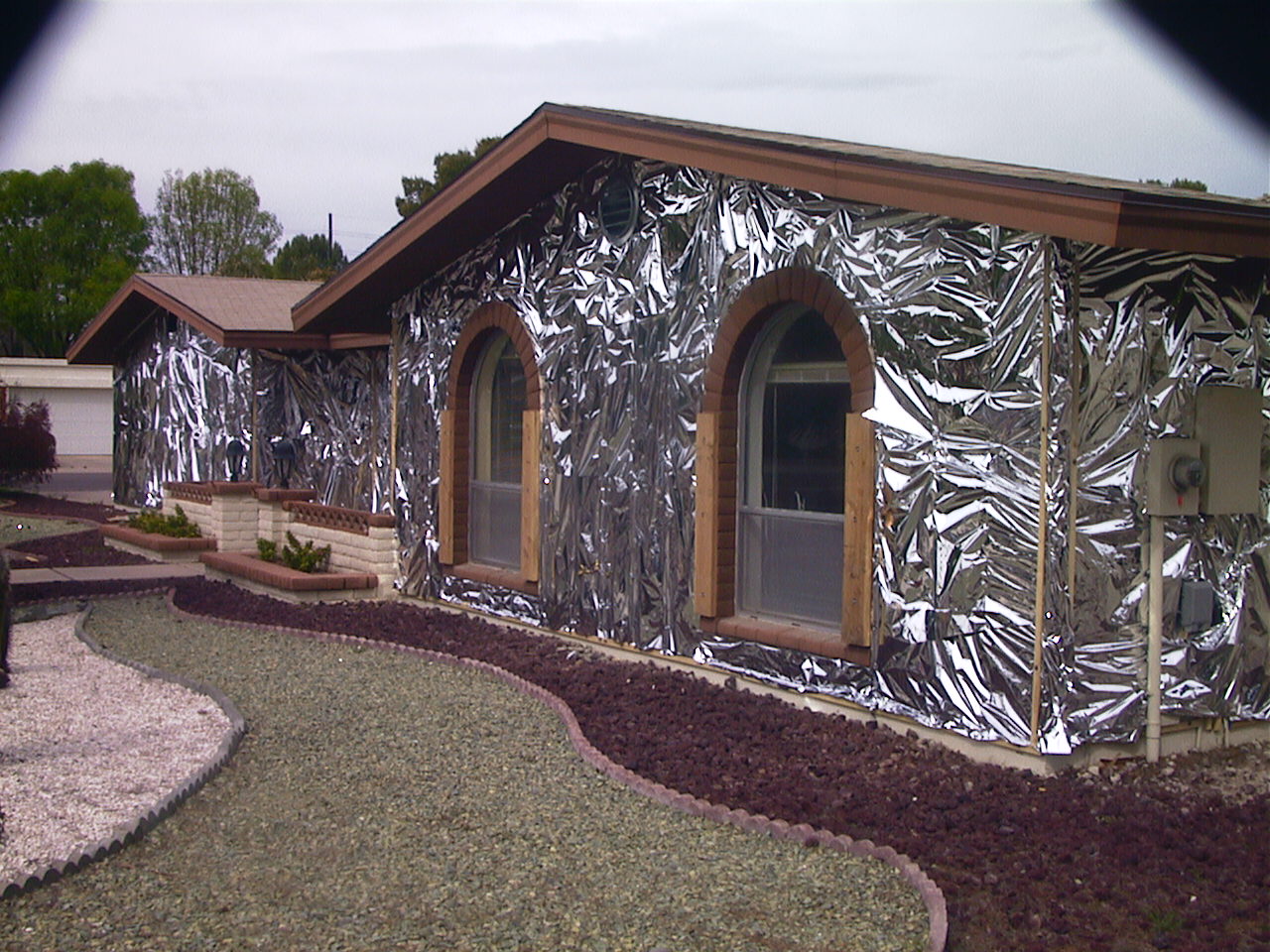 Step Two:
Add the firring strips 16" on center to create an air gap and provide a nailing
surface for the exterior stucco foam.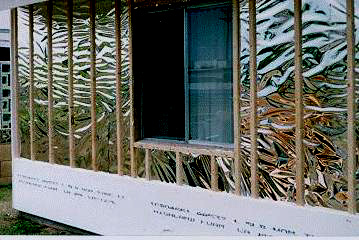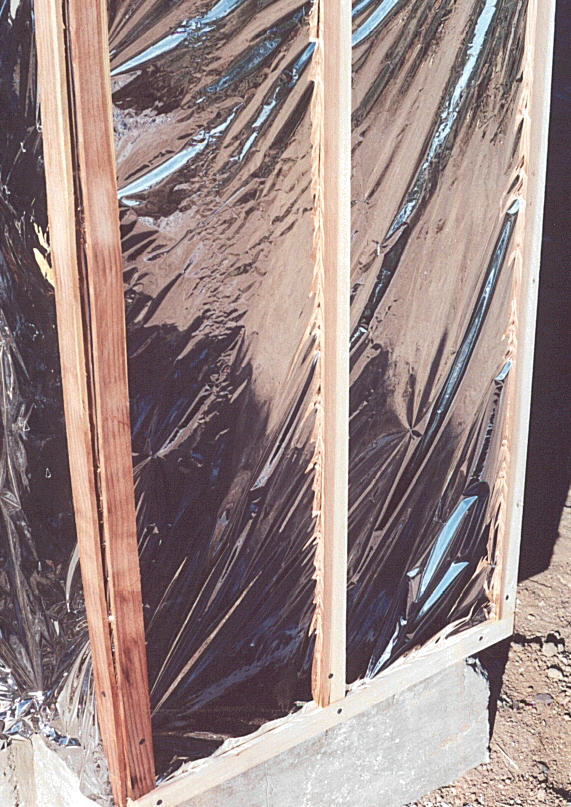 This shows how each corner and change in the surface of the walls must be done. Shown here are 1/4" firring strips as this customer planned on securing the stucco foam with a Hilti gun (a.k.a. power nails).
We have had great success and excellent results using 1" thick pine strips as it's easier to apply the exterior stucco foam and less expensive.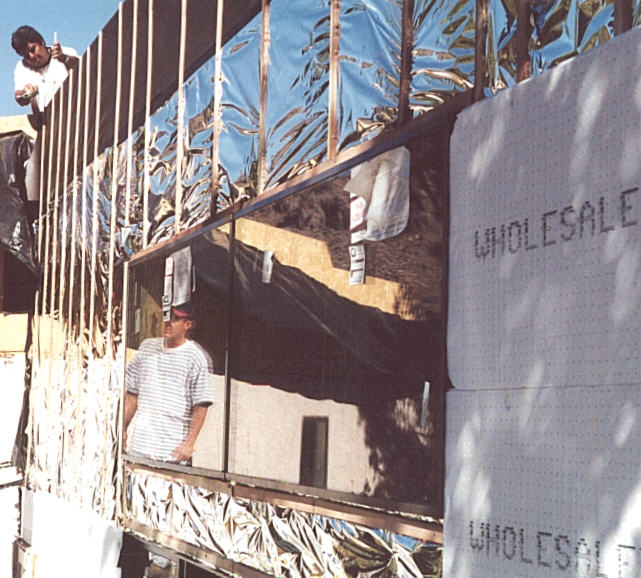 Note the firring strips around the window...VERY imporatant.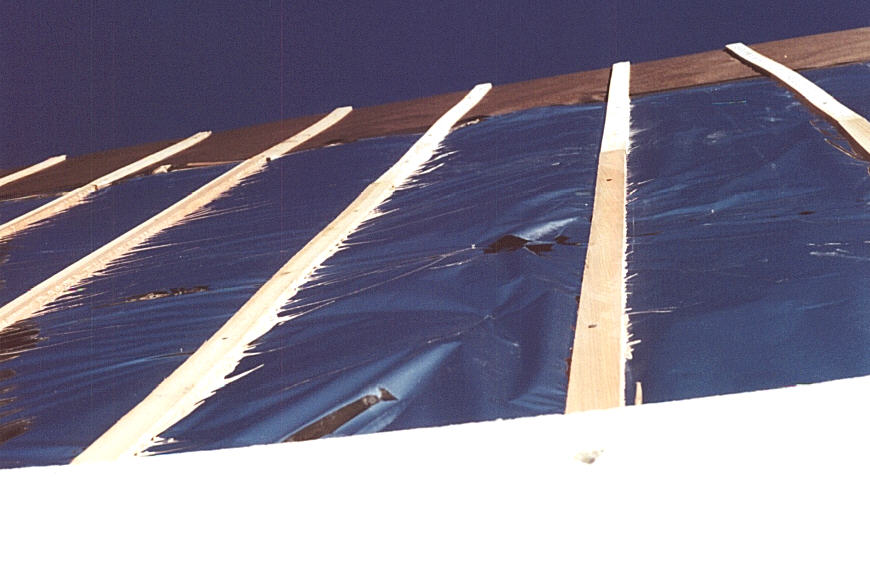 This is looking up the wall as the foam is being applied 16" on center.





Stucco over the foam and finish with colored stucco...no more painting or maintainence! The finished product. Notice the arches where the 6" wooden posts used to be.
Step Three:
Cover with stucco and start living in a comfortable, energy efficient home
Finished projects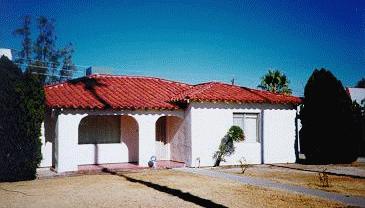 Bartz residence



O.P.E.R.A. House I

Install our patented EcoGuard Radiant Barrier Chips in the attic.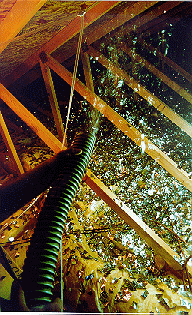 What was once an uncomfortable, inefficient block home is now comfortable all year, consumes less than half of the energy once needed and looks like a new home! We call it "NRG Arttm". We can supply you with detailed plans, product and testimonials. CALL TODAY!

Now for the real bonus: With the deregulation of electric utilities just around the corner, you can buy power from any supplier of electricity. This home can be heated or cooled during inexpensive "off peak" hours and has been proven to outperform all other types of building construction known to date.

To find out how you can obtain detailed plans on this exciting upgrade, drop us your name via email or just call. We will guide you through every step of the upgrade and can supply you with the products and tools needed to do the job right...the first time.
We accept all major credit cards, money orders and checks as payment
Questions? Call us! 602-867-3176
To email us, Click here
Questions? Email us at

pleasesavenrg@gmail.com

or call our office at 602-867-3176.

Web page design and maintained by B Rad Design Group.
Copyright 1997-2018. All images and text copyrighted by Horizon Energy Systems.